If your dentures feel uncomfortable or a bit strange, it might be that your NHS dentures don't fit. Dentures should be a natural-looking and comfortable way to replace missing teeth. Unfortunately, this isn't always the case with some full and partial dentures.
To learn more about NHS dentures and their alternatives, keep reading. This article will discuss the following:
What can you do if your dentures don't fit?
Can dentures be reshaped?
Common problems with full or partial dentures
Differences between NHS dentures and private dentures
What are the alternatives to NHS dentures?
It's important that your false teeth are a good fit. So, if they are causing you discomfort it might be time to see your dentist and find a solution or alternative.
What can you do if your dentures don't fit?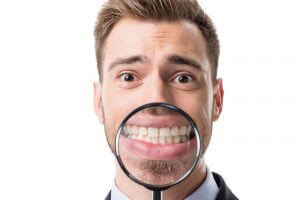 If you are concerned that your new dentures aren't a good fit, don't worry. The NHS has a 12-month guarantee that means that you can return your dentures if they are broken or unsuitable. But, make sure you complain within the first 12 months to ensure that your dentist can adjust or fix them for free.
Even small adjustments can make your dentures fit a lot better and feel more comfortable. However, if your dentures are brand new they might just need a little more time to settle in. But, always check with your dentist in case there is a more serious problem going on, or any adjustments need to be made.
Can false teeth be reshaped?
Our mouths can change shape, and natural teeth can move positions over time, especially if we have missing teeth. This can cause your dentures to feel loose or not sit snugly against the gums.
Over time it can become quite expensive to keep getting new dentures. Fortunately, you can get a denture reline for any type of denture, rather than a brand new set each time the fit changes.
A denture reline adds either a hard or soft layer to your denture. This enables them to fit more snugly to your gum and fit the contours of your mouth better.
What are the common problems with a full or partial denture?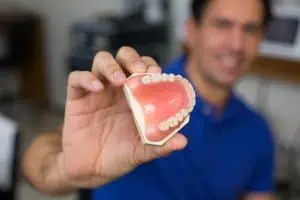 False teeth that don't fit can cause problems that affect your oral health. So, if your NHS dentures don't fit they might be causing the following problems:
Damage to your gums
Lead to mouth sores
Problems with eating and speech
Bad breath
Sometimes these problems can happen when not enough time was taken to get initial impressions or make final adjustments. On other occasions they are caused by the gums and teeth changing shape over time, resulting in the denture no longer fitting correctly
In some cases, dentures fitted immediately after tooth extractions may feel loose in a few weeks or months. This is because your gums and jawbone may alter in shape when they settle after dental work.
Single tooth dentures or dental flippers can be more prone to drying out, warping or breaking due to being less durable than other types of dentures. Both full and partial dentures should be kept moist to maintain them so that they last longer.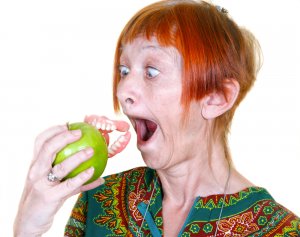 Can dentures affect eating and speech?
You may have some difficulty eating and speaking when wearing your dentures, but this should improve over time. If you don't see an improvement then speak to your dentist.
Dentures that are too big, or loose-fitting can make a big difference to your speech, and make eating very hard.
Will dentures change over time?
Your dentures can change shape and warp over time. This can happen when they dry out or from daily wear and tear. Good care and maintenance of your dentures can ensure that they last much longer.
When caring for your dentures, you should know the right way to clean them as you can cause damage by cleaning them incorrectly. See your dentist regularly so that you can report any problems right away to avoid any dental health issues in the future.
What is the difference between NHS dentures and private dentures?
The main difference between getting dentures on the NHS and privately is the cost. Private dental treatment prices are generally higher than the NHS equivalent. The price accounts for a lot of differences between the two treatment routes including:
Time spent taking initial dental impressions
Time spent making final adjustments
Type of denture and quality of materials that it is made from
The following video explains in detail the differences between NHS and private dentures:
Types of materials
The types of materials used can make a big difference in comfort, durability, fit and support. The NHS generally uses a mixture of acrylic and metal for dentures, which can be more uncomfortable than other materials.
Better quality materials can mean they are more comfortable and last longer without changing shape or warping. Unfortunately, the NHS don't generally offer alternatives to acrylic dentures.
What are the alternatives to NHS dentures?
The most obvious alternative to NHS dentures is to go privately. Opting for private treatment means that you can have more choice in treatments, dentures, and denture materials. Your other option is to try an alternative treatment altogether, such as dental implants or bridges.
The most effective alternative to removable dentures is dental implants. However, the criteria to get implants on the NHS is quite strict as they must be medically necessary. If you don't qualify for implants on the NHS, you can go privately but the cost is higher.
Some other private alternatives to consider include permanent fixed dentures and dental bridges. Again, private treatment means you will have more options and materials to choose from.
Conclusion
If your NHS dentures don't fit and are causing you pain, discomfort or trouble eating and speaking, it's time to find a solution. Badly fitting dentures can be extremely uncomfortable and cause a multitude of oral health issues if left unchecked.
Dentures that are no longer new can become loose or warp over time. If this has happened to your dentures, speak to your dentist about relining your dentures or possible alternatives.
In certain situations, dental implants and bridges are available on the NHS. Or, if you are prepared to go privately there are some alternatives to consider which include higher quality dentures.
Your false teeth will be with you for a long time so it's important that they are comfortable and fit well! So, make sure to get your dentures fitting properly, or find an alternative that works for you.
Sign up to receive the latest news and offers from Dentaly.org