What are single tooth dentures and how much do they cost in the UK? The short answer is that they are a type of denture that fills the gap left by one missing tooth. If you are concerned about replacing a missing tooth and want to know more, this article will answer the following questions:
Why replace missing teeth?
What are partial dentures?
Which types and materials are available?
How much do single tooth dentures cost in the UK?
What are the alternatives to single tooth dentures?
Replacing a missing tooth will help improve your confidence and smile, and keep you looking and feeling great.
Why replace missing teeth?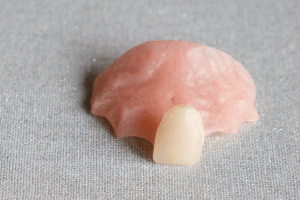 Filling gaps left by missing teeth is an important part of maintaining your oral health, so you should always seek to replace them as soon as possible. This might mean that you need to wear a temporary denture until you decide on a more permanent solution.
Missing teeth don't just affect your smile, they can cause a multitude of other problems including:
Changes in the position and stability of your remaining teeth
Difficulty eating and speaking
Appearance
Increased risk of gum disease and cavities
Bone loss
A common question many people ask is, how long does it take to get dentures after teeth are pulled? The answer in most cases is right away. This is because the longer you wait to fill a gap, the more likely you are to experience some of these dental health issues.
Replacing a missing tooth
The first step to replacing a tooth is to speak with a dental professional and work out a treatment plan. There are a few ways to replace a missing tooth, but the cheapest option is to get a custom made denture for one tooth.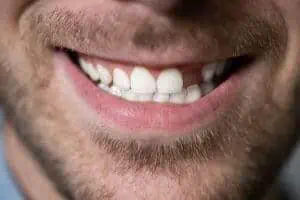 The process of creating a custom partial denture will take a few appointments to get the best fitting and comfortable result possible. The general steps to preparing a denture for a single tooth are:
Have an appointment to get impressions of your jaw and bite
The dentist will then make a model of your dentures and assess the colour, shape, and fit
Your denture will be made when you are happy with the model
Final adjustments
What is a partial denture?
Partial dentures are a type of denture that only replace a few missing teeth rather than all of them. A single tooth denture, which is sometimes known as a flipper tooth, fills the gap from just one missing tooth.
What do single tooth dentures look like?
Generally, a single tooth denture looks like a single false tooth connected to a plastic salmon pink or gum coloured retainer. Sometimes there are metal or acrylic attachments and clasps. These help secure and support the denture to your remaining natural teeth.
Types and materials available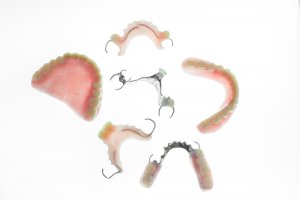 Replacement teeth can be made from a few different materials which include, chrome, acrylic and flexible base resins.
Valplast uses biocompatible nylon and thermoplastic resin to make its flexible dentures. Flexible base resins are the most comfortable materials used for dentures, but they can cost a little more. Another perk to flexible dentures is that no dental adhesive is needed to keep them in place!
Acrylic is the most durable, but it is a stiffer material and can potentially be a little uncomfortable. Dentures made from acrylic can also have metal clasps to keep them in place. Dentures made from metal are stronger, durable and fit well.
Whichever denture material you choose, make sure that you ask your dentist how to properly clean it. Different materials can be damaged in the cleaning process, so it's important to follow instructions correctly. For example, soaking your dentures in Steradent overnight can be particularly harmful to certain materials.
How much do single tooth dentures cost in the UK?
If you opt for private treatment when getting dentures you will find a wide range of prices; the price is fixed with the NHS. Private charges will be higher than dental treatment with the NHS.
However, some people find their NHS dentures don't fit as well as they would like. So, paying higher private charges may ensure more comfortably fitting dentures.
How much is a partial denture if you go privately?
Private dental charges are anywhere between £200 and £2000. The price depends on the materials used, the type of partial denture, and how long it takes to make. Prices also range from dentist to dentist so we recommend shopping around before making a decision.
How much is a single tooth denture with the NHS?
The price of a denture for one tooth with the NHS in England is £282.80, which is a Band 3 treatment price. Wales has a similar system to England, but the price of Band 3 treatment is £203.00. Scotland and Northern Ireland have similar systems and payment is 80% of the treatment up to £384.
It is possible to get free dental care with the NHS if you meet certain criteria. This can include being eligible for any low-income benefits, under the age of 18, or a full-time student under the age of 19.
What are the alternatives to single tooth dentures?
While single tooth dentures are the cheapest option there are plenty of other alternatives for replacing missing teeth. Some of your options include dental implants and bridges.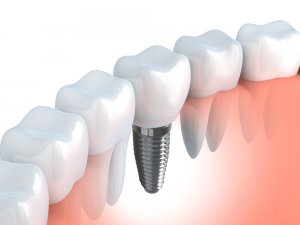 Dental implants are the solution that is most like replacing your natural teeth. Implants can support a crown or several adjoined crowns, also known as a bridge or fixed bridge.
These are more permanent solutions to missing teeth, but they usually cost more than dentures.
Conclusion
It's a good idea to replace any gaps in your smile to maintain your dental health and prevent further problems down the line. There are plenty of options to choose from to replace missing teeth, depending on your budget and your needs. Your dentist will help you make the right decision, as they will assess your teeth and make a treatment plan.
A denture for one tooth can be a temporary solution while you make a decision or save up the funds for a more permanent solution. If need be it can also be a perfectly good permanent solution that can last for years with regular cleaning and care.
Sign up to receive the latest news and offers from Dentaly.org