Please note: Fairywill has recently removed its products from Amazon in the UK and is currently in the process of rebranding. They are still available to buy from Fairywill's own eBay stores, or for the best alternative read our full Waterpik Reviews article here.
If you are shopping for a water flosser, read our Fairywill water flosser review and find out if it's the right one for you. There are all sorts of different water flossers on the market: big ones, small ones, countertop models and portable models; there is something to suit everyone's needs.
The Fairywill Portable Water Flosser 5020E is a budget water flosser. It is in fact one of the most affordable on the market. However, the lower price mark doesn't mean that it isn't up to the job.
This water flosser is more than capable and can hold its own against many higher-priced alternatives.
This Fairywill water flosser review will cover the following points to help you decide if it's the right water flosser for you:
Features
Ergonomics and aesthetics
Efficacy
Price
As well as reviewing all of these points, this article will cover how the 5020E compares to other water flossers on the market. But first, let's start with a brief description of what a water flosser actually is for those that don't already know.
What is a water flosser?
Most people either floss their teeth or have at least thought about using traditional floss before. It's a pretty big part of any good dental hygiene routine along with brushing your teeth twice a day, yet it's so often disregarded. In fact, only 31% of the UK adult population floss their teeth daily!
It's not surprising really, as string floss can be really fiddly and take quite a bit of concentration, especially if you're ready for bed or you've just woken up.
Water flossers on the other hand are not fiddly or hard to use. They are ideally a supplement to traditional string flossing and using interdental brushes, but they can also be a substitute if you just don't like flossing or you find it difficult.
They can look very similar to an electric toothbrush, except they have a water tank in the handle and a nozzle instead of a brush head. With counter-top models such as the Waterpik Ultra Professional, the water tank can be quite big and the handheld nozzle is attached to a cord.
If you want to know more about these types of water flossers, check out our article reviewing the Waterpik range of water flossers.
The Fairywill Water Flosser 5020E is a portable model, so it looks very much like an electric toothbrush with a large handle that contains the 300ml water tank. Instead of a brush head, it has a 360-degree nozzle that shoots water where directed.
Our opinion on the Fairywill 5020E Portable Water Flosser
The most recent Fairywill water flosser, the 5020E is a budget water flosser that comes in five different colours including black, white, grey, pink and purple. It is a rechargeable handheld model making it great for travel or use on the go.
When you purchase this water flosser you will receive:
1 x handle
8 x cleaning tips
1 x USB charging cable
1 x instruction book
The water flosser itself is a stylish cordless design with an ergonomic handle making it easy to grip and use. It also includes the following features:
360-degree nozzle rotation
3 Modes – clean, soft and massage
4-hour rapid charge
21 days of battery life
300ML detachable water tank
8 extra nozzles
Fairywill's water flosser has everything you need in a portable, travel-friendly water flosser all for a great budget price point. The 8 extra tips mean that it's simple to share within the household if you don't want to splash out on a water flosser for every member of the family!
The water flow is not quite as strong as other more expensive models, but it still does the job, especially if you are using it as a supplement to traditional floss.
Overall rating: ★ ★ ★ ★ ☆ (4/5)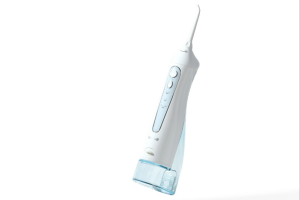 Ergonomics and aesthetics
Cordless, handheld and portable models of water flossers tend to be quite popular due to the fact that they don't take up much space and they are easy to use. The Fairywill 5020E Portable Water Flosser has an attractive design and a range of colours to choose from.
Its ergonomic handle makes it easy to hold and simple to use when used with the 360-degree rotation nozzle, even for those with limited dexterity.
The 5020E is designed with IPX7 waterproof technology, so you can get it wet or use it in the shower without worrying about breaking it. The only complaint is that there is little grip on the handle, so it may become harder to hold when wet.
Rating: ★ ★ ★ ★ ☆ (4/5)
Features
This water flosser has a lot of the features many of the more expensive models have, including a large water tank and 360 degree rotating nozzles. However, as you may expect from a cheaper option, the 5020E does have its downsides.
The materials that this model is made from seem quite cheap in some areas, so it may not last as long as more expensive water flossers. The nozzles themselves don't seem to rotate very easily which could be improved and the charging port is not in an ideal location.
One improvement that the Fairywill water flosser would really benefit from would be the inclusion of a travel pouch. However, considering the features and the price point, this water flosser provides good value for money.
Rating: ★ ★ ★ ☆ ☆ (3/5)
Use
The Fairywill water flosser is designed to be ergonomic, but some find the handle with the large water tank bulky to use. It can take some getting used to, but the larger water tank means that you don't need to refill it as much to floss your entire mouth.
The handle itself is smooth so if you get it wet it may become slippery when used. Water flossers in general can be quite messy to use as you have to allow the water to flow out of your mouth while you use it into the sink or shower. So, the lack of a rubber grip on the handle can make quite a difference to the ease of use.
Rating: ★ ★ ★ ☆☆ (3/5)
Cost
The Fairywill 5020E is a budget model of water flosser and great value for money. While parts may appear cheap it does the job and shares many features with more expensive models.
Costing around £25, the Fairywill water flosser is one of the cheapest brands of water flosser on the market and a great investment for your oral hygiene routine and health.
Rating: ★ ★ ★ ★ ★ (5/5)
Is Fairywill a good brand of water flosser?
Compared with other water flossers on the market, the Fairywill water flosser is very competitively priced. It has many of the same features and is great value for money.
While there is a range of colours, which means there is something to suit everyone, some of the materials can appear cheaper. However, this is to be expected as you pay for what you get, and at such a great price you can't really complain.
If you want a water flosser that is similar to the Fairywill water flosser but without some of the flaws, check out the Waterpik Cordless Advanced or the Oclean W10.
If you want to know more about the Oclean W10 you can read our full review here.
The following table shows how the Fairywill 5020E compares to other similar models available on the market:
| | | | |
| --- | --- | --- | --- |
| | | | |
| | | | 5020E Portable Water Flosser |
| | | | |
| | | | |
| Average cost of replacement tips | | | |
| | | | |
| | | | |
| | | | |
| | Ergonomic design comes in 2 colours - pink and green | | Removable water reservoir |
| | | | |
| | Elegant, compact and portable design | Value: low price for the features | Value: low price for the features |
Let's take a look at how you use it, as the simplicity of this model is definitely an advantage.
How do you use a Fairywill water flosser?
The Fairywill 5020E is really simple to use. The steps are as follows:
Fill the water tank with lukewarm water
Install a nozzle
Choose a suitable pressure
Put the nozzle in your mouth and aim at a 90 degree angle to your gumline
Make sure you are standing over the sink to reduce mess from the water
Press the on button when you're ready to begin flossing
To fill the water tank, simply open the little door near the bottom and fill from the tap. Make sure you check the water temperature before filling as hot or cold water may be uncomfortable to use.
What are Fairywill water flosser reviews saying?
The first review is by YouTube vlogger, Ben Paton, who previously reviewed an older Fairywill water flosser and decided to review the latest model, the 5020E. He starts the video by explaining that he has reviewed quite a few water flossers, so he has quite a bit of experience with different types.
Ben shows what comes in the box and even tries to fit his old Fairywill water flosser nozzles on the new model to see if they fit, which they don't. He also compares the newer model to the older model and found that the older model is slightly smaller.
In the video, Ben heads to the bathroom to use the product and show how to charge, fill and use the product. Overall he is not impressed with the three modes, but it does the job and is a good replacement for his old water flosser.
The next review is by Martyn Booth, who tells us right away that he has crooked teeth and would like to give this water flosser a go to help floss the back of his teeth. He has the pink and white model and explains that it was slightly cheaper than the black model, but that he's not bothered about the colour.
Martyn shows the full unboxing and explains what is included in the warranty. He uses the water flosser and afterwards explains what he thought of it. His overall opinion is that the Fairywill water flosser worked wonders on his teeth.
Conclusion
Overall, the Fairywill 5020E Portable Water Flosser is a great value for money water flosser with all the features you might find on a more expensive model. However, it does have a few disadvantages including its smooth plastic handle, and that some of the materials do appear to be cheaper.
While it has IPX7 waterproof technology, the handle could be designed with a better grip for use when wet. It is designed to be ergonomic, but many people find the handle slightly too bulky and need time to get used to it.
The fact that comes with eight extra nozzles that you can share with the whole family makes it even better value for money. We find this water flosser a great investment for anyone's oral hygiene routine, especially if you're on a budget.
FAQs
Is Fairywill water flosser waterproof?
The Fairywill 5020E is designed with IPX7 waterproof technology so you can submerge it up to one metre underwater safely. However, it has a smooth handle which may become hard to grip when wet.
Sign up to receive the latest news and offers from Dentaly.org