Are you concerned about being able to see a dentist in the UK if you get a toothache during the coronavirus outbreak? Or has a minor dental problem become worse because you couldn't see a dentist earlier in the year?
The UK's first lockdown, which began in March 2020, led many dental practices to close – or operate on a strict emergency-only basis – for several months. When they were able to re-open in June, they still had tight new restrictions and procedures to contend with, meaning that they couldn't come close to treating their usual number of patients. Routine care and cosmetic work was pushed aside so that urgent cases could be prioritised.
The British Dental Association (BDA) estimates that between March and November, dentists performed 19 million fewer dental treatments than in the same period last year.
A reduction in the number of treatments that could be performed on the NHS left some patients, like this Scottish Mum, facing an unexpected bill for private treatment. And many practices have introduced additional PPE charges for private patients, to help cover the cost of all the new protective equipment they are now required to use.
So as 2020 draws to a close, and yet more lockdowns are announced, we are left with a situation where:
Many people have been unable to attend a dental checkup this year
People with 'non-urgent' dental problems, like a mild toothache, are still struggling to see a dentist
Those who cannot afford private care may be left behind
Others might avoid visiting a dentist, even when experiencing tooth pain, because of COVID-19 concerns
But there is some good news amongst all this.
Are dentists open now in the UK?
Firstly, the government has confirmed that dentists in England can stay open during the new lockdown restrictions which began on 5th November. The guidelines for dentists this time around are much clearer. That means practices are better prepared to continue seeing patients during this time and into the months that follow. It's a similar situation for dentists in Wales during their two-week 'Firebreak' lockdown, due to end on 9th November.
In Scotland, full NHS service resumed on 1st November, although the BDA has warned that this won't necessarily translate to all patients being able to access routine care.
And in Northern Ireland, dentists are beginning to work through the backlog of patients who contacted them earlier in the year.
Secondly, with a few months' experience performing dentistry during coronavirus restrictions, there is more information about what is considered safe and which precautions dentists should take. For example, the initial advice was to have 1 hour of downtime between patients after performing an Aerosol Generating Procedure (AGP). Now, provided the room has sufficient ventilation systems in place, this time has been reduced to between 10 and 30 minutes depending on the procedure performed.
When you consider that the majority of dental procedures involve AGPs, it's clear that this makes a big difference to the number of patients that any dentist can treat in a given day. On the downside, this ventilation equipment costs around £10,000 and over half of the practices in the UK (57%) say they don't have the funds to make this investment, according to the BDA. Other precautions are still in place, including extra PPE requirements, which puts additional financial and administrative strain on practices.
Of course, these circumstances are far from what dentists would like to see. They want to be able to offer regular checkups and preventative care, and the last thing they want is to have to turn patients away. It's equally problematic if patients put off getting the treatment they need because of fear of catching the virus or worry that they won't be able to get an appointment.
Can I see a dentist during the coronavirus pandemic?
So, dentists are now open and, in theory, performing a full range of treatments. But with limited capacity, many are still having to carefully triage patients and prioritise those most in need. So, not all patients who experience a toothache during coronavirus will be able to get an appointment straight away.
That's not to say you should put off going and hope for the best, though! If you're experiencing tooth pain or have any other concerns about your dental health, you shouldn't ignore the problem.
If you have a dental emergency
First of all, there are certain circumstances in which you can abandon trying to get an emergency dental appointment and instead head straight to A&E:
You have experienced trauma to your teeth, mouth or face
You're experiencing heavy bleeding that won't stop
You have swelling in your face or neck which is making it difficult to breathe or swallow
If none of these apply but you are in severe pain and think you need urgent dental treatment, you should could your usual dentist (or another nearby) to see if you can get an appointment. If you call out of hours, they may have a recorded message letting you know what to do.
Alternatively, you can call NHS 111 for advice on your condition and help find an available dentist.
Do not just turn up at a dental clinic as they will be unable to let you in. COVID protocols mean that practices must be very strict about the number of people inside at one time. Only visit if you have made an appointment.
If you need non-urgent treatment
There are other situations that certainly warrant a trip to the dentist, but can probably wait for a routine appointment. These include:
Mild toothache that can be managed with painkillers
A chipped or broken tooth that's not causing any pain
Loose or broken fillings
Crowns or bridges that have become loose or fallen off
Broken or painful dentures
Bleeding gums
Contact your dentist and they will ask you some questions to determine the best course of action. If your condition worsens in the days before your appointment, let the dentist know. See below for some tips on managing pain and stopping the problem from worsening while you wait for treatment.
If you want cosmetic dental work
Let's not forget that dental work isn't all about decay and drilling. What if you're considering getting orthodontic work or need a teeth whitening top-up? Are dentists still accepting patients for cosmetic dentistry during the pandemic?
The short answer is yes, and in fact, some have reported a significant rise in interest in elective procedures like whitening and veneers. One reason for this is that patients have unused holiday funds from this year and have decided to put the money towards their teeth instead.
So, if you want to visit a dentist during coronavirus for a cosmetic procedure, there's nothing stopping you except a possible lack of availability.
Is it safe to get dental treatment with COVID-19 active?
This is an understandable concern, especially for those who are particularly vulnerable. You can be confident that dentists are taking numerous precautions to make their treatment rooms as safe as possible. These include:
Limiting the number of people in the clinic at any time
Removing chairs, water dispensers, magazines, etc. from waiting rooms
Disinfecting treatment rooms between patients
Using upgraded ventilation systems
Requiring patients to use hand sanitiser and use a face covering before entering
One option is to find a dentist near you that is offering virtual consultations using teledentistry software. This might involve you taking a photo or video of your mouth, and having a video call to discuss the problem. Following this, the dentist will advise you on how urgent your condition is.
You might feel more comfortable having the first appointment of the day in order to minimise contact with other people. However, please be aware that dental practices are under a lot of pressure right now and may not be able to accommodate this request, especially if you need urgent care.
Are dentists open in Tier 4?
As the government introduced Tier 4 restrictions to parts of the UK in December 2020, it released these guidelines which state:
We are supporting the NHS to carry out urgent and non-urgent services safely, and it is vital anyone who thinks they need any kind of medical care comes forward and seeks help.

-Tier 4: Stay at Home Guidelines
This means that dentists, as well as other healthcare providers, can stay open to provide a full range of treatments, subject to the usual protective measures.
So, even if you are in a coronavirus Tier 4 area, you can still visit the dentist about a toothache or any other problem. Just remember you need to make an appointment first.
Managing dental problems at home
If you do find yourself with toothache during coronavirus, or another dental problem, you may have to wait a few days before you can see a dentist. Here are some ways you can ease any pain and protect damaged teeth in the meantime.
Toothache
Tooth pain can make it difficult to concentrate, eat, and even sleep. Taking paracetamol or ibuprofen should help. Ibuprofen has anti-inflammatory properties which should reduce the swelling that's causing the pain.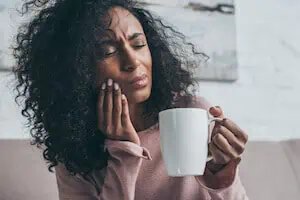 There are also various topical gels and ointments that can help relieve toothache at home, if the situation with coronavirus makes it hard to find a dentist. Even natural remedies like salt water and clove oil can prove very effective. Read more about home remedies for toothache in our separate guide if you want to know more.
If your toothache is keeping you awake at night, propping your head up with an extra pillow might ease the pain.
You may also find it more comfortable to stick to a soft food diet, since biting down is likely to cause greater pain in the affected tooth. Avoid very hot and cold foods and drinks, which can intensify pain and sensitivity.
Chipped, cracked or broken tooth
If your tooth has become damaged, try to avoid eating with it as this may worsen the problem. Sharp edges can be covered with chewing gum or orthodontic wax to avoid injury to your cheek, lips or tongue.
Loose filling or crown
Similar to the advice above, avoid chewing on the tooth in question to prevent any further damage. In both cases, a temporary filling repair kit may help protect the tooth while you wait for dental care.
Denture problems
If your old dentures are becoming uncomfortable, a DIY denture reline might help temporarily. Any damage to dentures should be repaired by a trained technician, but you might be able to arrange this directly with a dental lab rather than waiting to see a dentist.
Problems with braces
If your next orthodontic appointment gets delayed, it shouldn't affect the outcome of your treatment. The greater risk is that your braces may become damaged, for example with a wire coming loose or a ligature (elastic band) snapping.
Keeping up your oral hygiene
If you're concerned about having missed your routine dental visits during the coronavirus pandemic, the best thing you can do is pay special attention to your oral hygiene routine. Many people are changing and improving their dental habits during the pandemic to make up for the lack of dental care and appointments available.
Make sure you're brushing your teeth correctly and using fluoride toothpaste for extra protection. You should also be flossing once a day to ensure the areas between your teeth stay clean.
The situation with coronavirus is changing all the time in the UK. If you have any dental concerns, or even if you want to try and get a routine checkup, we recommend calling your dentist to see what they recommend. You can also call NHS 111 if you don't have a regular dentist.
Sign up to receive the latest news and offers from Dentaly.org