The average night guard cost depends on the type of guard, where you buy your guard, and what features or characteristics are most important to you. So, if you need a night guard for teeth grinding, TMJ, or teeth clenching, keep reading.
This article will take a look at:
Dental night guard costs
Custom mouth guard costs
Over-the-counter occlusal guard costs
Where to buy a night guard
We hope this information helps you find the best mouth guard for your budget and oral health needs.
And, if you'd like a quick glance at night guard prices, here's a table summarising the costs:
| | | |
| --- | --- | --- |
| | | |
| | | £100 - £500 privately and £282.80 on the NHS |
| | | |
| | | |
| | | |
| | | |
| | Not made to fit your mouth at all | |
What is a mouth guard?
A night guard or mouth guard is a dental device usually made from plastic that fits over your teeth to prevent your top teeth and bottom teeth from grinding or clenching. Some people may need to wear mouth guards during the day, but they are typically worn at night when many people grind their teeth in their sleep.
Symptoms that you grind your teeth at night include morning headaches, jaw pain, jaw stiffness, earaches, and sleep disruption.
If you suspect that you grind your teeth at night, you should speak with your dentist about using a mouthguard. Over time, teeth grinding can lead to enamel and tooth damage, making your teeth more sensitive and at risk for decay.
How much does a dental night guard cost in the UK?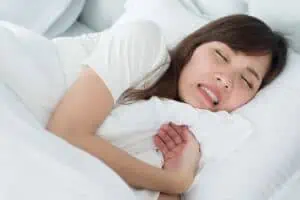 Mouth guard costs will depend on the type of guard you get, and from where you purchase it. If you purchase one from your dentist, the cost of a dental night mouth guard will be more expensive. If you opt for a one-size-fits-all guard that you can buy online, you will spend very little on your occlusal guard price.
There are also custom-made nightguards that can be ordered online, and the price for these will fall somewhere in between.
Let's have a look at the specifics of dental mouth guard costs in the UK.
Cost of a night guard from the dentist
You can buy a night guard directly from your dentist. You will begin with an in-office consultation with your dentist. They will take impressions of your teeth, and send for a mouthguard, usually made from thermoplastic material, to be crafted in a dental lab.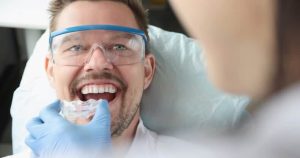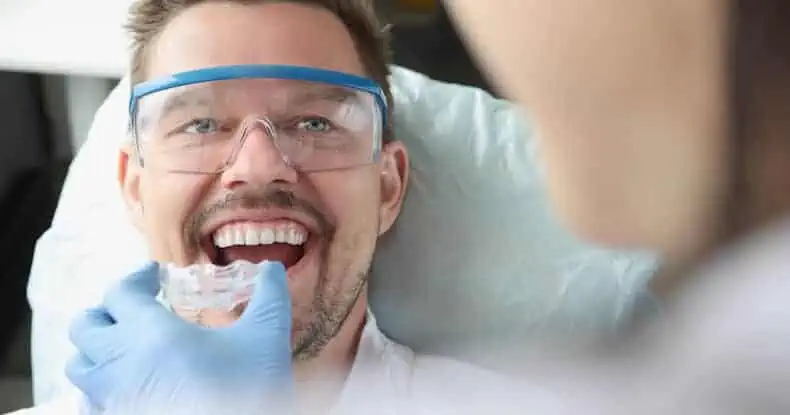 These dentist-ordered guards can be adjusted for thickness and nightguard softness based on the severity of your grinding or clenching. You may consider this option if you've consulted your dentist about your teeth grinding habits, if you need a night guard for braces, or if your case is particularly severe and requires close, professional supervision.
Because you are paying for the night guard and for the services of your dentist, this is the most expensive option. The cost of a mouthguard from the dentist is anywhere from £100 – £500 privately and £282.80 on the NHS.
The good news with this type of night guard is that if you have dental insurance, night guards are likely covered, as long as your dentist deems it medically necessary.
Dental night guard cost NHS
If you are planning to go through the NHS for your dental night guard then the full cost will depend on where you live in the UK. If you are in England it will cost you £282.80 because it is a band 3 treatment. However, because NHS costs vary from country to country it's worth checking your country of residence's NHS dental costs.
For example, in Scotland, dental charges are calculated as 80% of the total cost of treatment with a maximum NHS dental charge of £384 for a single treatment.
Custom mouth guard cost
Custom-made mail-order night guards cost less than the night guards you would get from your dentist. In many cases, they are an equally good solution for protecting your teeth from grinding and clenching.
If you want a custom mouthguard, you first order an impression kit online and then make your impressions at home. You'll send your impression to a dental lab where technicians will custom-make your guards.
The labs that these companies use to make your night guards are the exact same labs that dentists use, so you know you're getting a professional-quality product. In fact, if you have previously had impressions done at the dental office, often times you can use those impressions rather than redoing your own.
Once you receive your mouth guards in the post, you can begin wearing them. When you need new ones, you can reorder them without having to make impressions again because the company usually keeps your information on file for your convenience.
The cost of these online, custom-made guards can range from £50 to £120 on average, depending on the brand and the level of protection you need.
There are two brands of custom-made nightguards that top our lists: Sleep Pro and Biite. Let's take a closer look at how much they cost:
Biite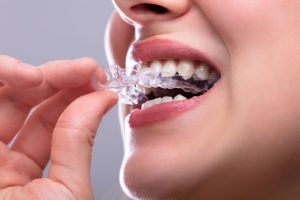 These night guards are manufactured in the UK. They are just 2.5mm thick and free of latex and BPA.
With Smile Brilliant, you can customise your night guard package based on your needs:
Upper arch: 1 upper arch night guard for £69.95
Lower arch: 1 lower arch night guard for £69.95
Both arches: 2 night guards (1 upper and 1 lower) for £119.95
Biite doesn't offer different types of night guards but they do say that if you have a preference for a certain thickness send them a message when checking out.
Sleep Pro
Sleep Pro offers a variety of custom night guards based on your needs and budget:
Night Guard Range: From £45.95
Self Fit Night Guard: From £12.99
Slimline Night Guard 1.5mm: From £45.95
Standard Night Guard 3mm: From £49.99
Self Fit Night Guard AM Option: From £14.99
Hard Night Guard 3mm: From £70.99
PLUS Night Guard (3mm): From £58.99
Standard Anti-Microbial Night Guard: From £58.99
Over-the-counter night guard price
These will be the cheapest night guards. While they may work for some people, many will find them to be too uncomfortable to wear throughout the night.
Adjustable night guards
Adjustable night guards are made from plastic that softens when placed in warm water. Once they are malleable, you place them in your mouth and bite down on them so they line up with your bite. You can adjust them as needed by sticking them in warm water again.
The adjustable mouth guard price generally hovers around £20, like this one from Echor on Amazon.
Boil-and-bite night guards
Boil-and-bite night guards are placed in boiling water. You then bite down on them until the plastic has cooled so that it fits around your teeth. These typically can't be readjusted.
Boil-and-bite guards cost £10 to £20 on average, but there are some more premium options as well like this one from The Good Mouth Co.
This night guard is ergonomically designed with indentations to ensure a more custom fit. It also comes in 2 sizes, medium and large, which is unusual for a boil and bite guard but very handy.
One-size-fits-all
This is the cheapest mouthguard that you can get over-the-counter or online. They aren't made to fit your mouth, which could potentially cause more damage to your teeth, including shifting and night guard pain.
That being said, there is a very small percentage of people for whom this mouthguard might work.
You can buy these at pharmacies and online on Amazon, like this one by Plackers — a pack of 10 disposable night guards costs just £21.77 — but again, use it at your own risk.
Conclusion
If you grind your teeth or clench your jaws while you sleep, or even during the day, you should talk to your dentist about using a night guard. Night guards protect your teeth from enamel loss, which can cause pain, sensitivity, and decay.
Mouth guard prices range anywhere from £10 to £5,000. Within that range, there's a huge difference in quality, comfort, and efficacy as well. The cheapest mouth guards are one-size-fits-all options that you can buy online, and the most expensive options are those that you get directly from your dentist.
When choosing your mouthguard, keep in mind that by saving money now on one-size-fits-all options you may end up spending a lot more later on tooth repair.
FAQs
How much is a night guard from the dentist?
A night guard from the dentist can cost from £100 to £500, although most tend to cost between £200 and £400. If you get your night guard with an NHS dentist will cost you £282.80.
How much does a mouth guard for teeth grinding cost?
A mouth guard for teeth grinding can cost under £10 for the cheapest options and up to £5,000 at your dentist's office. You can also get high-quality, custom-made guards online starting at £45.
How much does a night guard for TMJ cost?
A night guard for TMJ will typically cost between £200 and £300 from your dentist. If you have a particularly severe case, it could cost you more. There are other options as well that cost less. These include custom-made guards that you purchase online (which are high-quality, comfortable, and safe), or one-size-fits-all guards (although these aren't recommended).
Sign up to receive the latest news and offers from Dentaly.org