So, you're wondering about SmileDirectClub? This remote, clear aligner braces brand launched in the UK in 2019 and now offers Brits a way to get straighter teeth without the expense and inconvenience of visiting a dentist.
Sounds great, right? Well, while there are certainly some advantages — mainly invisibility — you might find that you prefer an alternative brand of clear aligners, since SmileDirectClub is a bit notorious for having bad customer service, and making their customers sign NDAs when pursuing refunds.
In this article, we'll equip you with all of the information you need about SmileDirectClub UK by answering the following questions:
How does SmileDirectClub work?
What does SmileDirectClub cost in the UK?
Is this treatment safe?
What are the differences between SmileDirectClub and Invisalign aligners?
What do SmileDirectClub users say?
Plus, we'll let you know our top pick for clear aligners.
What is the best Alternative to SmileDirectClub?
Aligners from SmileDirectClub are great! But we recommend Smile White Aligners if you're looking for a more affordable option.
Similar to Invisalign and SmileDirectClub they can treat up to 90% of cases. However, they come at a much lower price tag than SmileDirectClub, depending on the type of treatment you need. In addition, you get free whitening and free retainers worth £790.
You can book a FREE e-consultation and see whether they are a viable option for you.
Use "DENTALY5OFF" to save an additional 5% on your treatment.
What is SmileDirectClub?
SmileDirectClub (SDC) is a "teledentistry" company that offers a cheaper alternative to braces and in-person aligner treatments by dealing directly with consumers.
This is how the process works: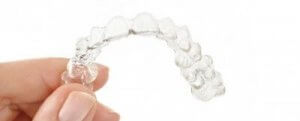 You use an at-home kit to make an impression of your teeth, or visit one of their SmileShop locations to get 3D scans
A dentist or orthodontist checks your eligibility and prescribes your entire treatment
You approve the plan, which includes a 3D render of the before and after of your smile
You receive all your clear aligners in the post around 4-5 weeks later
Every week or two you switch to a new pair of aligners as they gradually move your teeth
Once treatment is complete, use SmileDirectClub retainers to maintain your smile
SDC can keep its prices low because there are no physical dental practices involved.
This can be an appealing option since it takes the hassle out of missing work or school to take trips to the dentist. However, there are some potential downsides to having your teeth straightened without regular face-to-face check-ups, especially if your case is more complex.
Treatment options
SmileDirectClub UK offers two treatment options. You must wear the standard clear aligners for 22 hours a day, and treatment takes four to six months on average. You must remove your aligners while eating or drinking anything except water. Also remember to clean your teeth and aligners before replacing them after eating or drinking.
There is also a SmileDirectClub night time option which only requires you to wear your aligners for 10 hours a day, but treatment takes around 10 months. Both options cost the same and follow the same process.
The standard option is great for people who want to get fast results and are fine with wearing their aligners pretty much all day. They are almost invisible, after all. But for those who would rather not wear aligners during the day, and are ok with the treatment taking longer overall, the night time option could be better.
SmileDirectClub locations
SmileDirectClub currently has seven permanent SmileShop locations around the UK:
Birmingham – Bullring
Leeds – Trinity Centre
London – Aldgate
London Kensington – Hilton Hotel
London Oxford Circus – Kenilworth House
Manchester Cross Street
Glasgow – Buchanan Galleries
Our #1 recommended teeth aligners
If you visit a SmileShop, a representative there will create a 3D scan of your teeth. A dentist then uses this to check that you are suitable for these aligners and plan your treatment. During your visit, you'll also be able to ask questions you have about the treatment.
You don't actually get to meet a dentist or orthodontist in person though, which some argue is a big downside to teledentistry companies like SDC. However, for those that don't enjoy visiting a dental practice and would prefer not to, it can be an advantage.
You don't have to visit a SmileShop in order to get started with your treatment, either. There is also the option to order an impression kit which is sent to your home. You then take your own teeth impressions using dental putty and post them off to be assessed.
This process takes a while longer, and if you don't get the impressions quite right, you may end up having to purchase another kit. However, it's a convenient option if you don't live near a SmileShop or prefer to do everything from home.
This short video shows how to take your impressions at home if you decide to go down this route:
Does SmileDirectClub Work?
SmileDirectClub might work for some people, specifically only those needing minor adjustments. But you should keep in mind that they don't have the best customer service record — which is very important with remote treatment.
Invisible aligner braces are not a new concept; big names like Invisalign and ClearCorrect have been successfully straightening teeth for over two decades. The question is more about the efficacy and safety of at-home braces where you never meet face-to-face with an orthodontist and you might even have to take your own teeth impressions at home.
Naturally, the professional dental community has shown some scepticism about SmileDirectClub and other similar companies. But to what degree is this genuine concern, as opposed to them wanting to suppress a business model which cuts them out of the process?
If you need more significant alignment, however, it's probably a good idea to visit an orthodontist in person and have regular check-ups. You can still choose clear aligners, but you'll have the reassurance that your treatment is being monitored and tweaked throughout by a specially trained professional.
Is SmileDirectClub safe?
SDC treatment is prescribed, directed, and monitored by a dentist. So in theory it's safe if you follow the instructions and check in with your dentist. But remember what we said about SmileDirectClub having problems with customer service. You would probably be better off choosing a brand with excellent customer service like NewSmile — plus it's cheaper too!

How much does SmileDirectClub cost in the UK?
The SmileDirectClub UK price is fixed at £2,050. There is an extra charge if you choose to use an impression kit, and you'll need to pay for retainers to keep your teeth straight after treatment.
Once your treatment is complete, you will need to wear retainers to maintain your smile, which cost £80. You can refresh your retainer every six months, but each new set will cost you £80. NewSmile costs just £1,295, and your first set of retainers are free!
How much is SmileDirectClub monthly?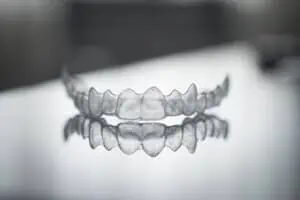 If you can't afford the full cost upfront, there is the option to pay in instalments. With monthly payments of £89, the total cost works out at £2,560 if you pay this way. (Not including impression kit or retainers).
The cost of SmileDirectClub in the UK is advertised on their website as 60% less than traditional braces, but this is only partly true. Treatment costs with metal braces and clear aligners depend on the amount of correction needed. Mild correction means fewer dental visits and therefore a lower cost.
In fact, metal braces start from around £1,500 – less than what SmileDirectClub costs. It all depends on the amount of straightening your teeth require.
SmileDirectClub alternatives
NewSmile
If you're looking for a cheap way to straight your teeth, you have a more affordable option with NewSmile. Starting at just £1,295, NewSmile aligner treatment is 100% remote and takes around six months to complete. You order an impression kit and then order your aligners when you're approved for treatment. If you aren't eligible, you can get a full refund on the impression kit.
NewSmile also has a nighttime aligner treatment option priced at £1,395 or monthly payments of £116.25, interest-free. Your NewSmile aligner treatment also includes free whitening treatment.
SmileDirectClub vs Invisalign
If you're trying to decide between SmileDirectClub and Invisalign clear aligners, know that it's not just a matter of cost, as both brands are leaders in their respective markets.
With Invisalign treatment, you'll visit your doctor every four to six weeks and use their app to monitor your progress between check-ups. If your treatment isn't going as planned, or you want some refinements, they will make adjustments as your treatment progresses or will do some refinements at the end.
If you opt for SDC, these kinds of interactions will be done with their Customer Care and Dental teams through email, phone or video call. This is all part of their package, and the service is available 24/7, so you may find this more convenient than trying to book a dentist appointment.
We should also acknowledge that some people are afraid to visit the dentist, or aren't able to attend regular appointments. In these cases, the benefits of a remote treatment option like SmileDirectClub are clear.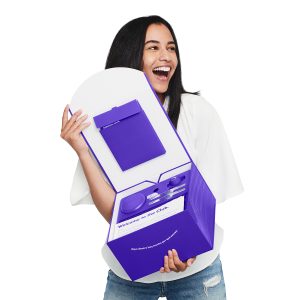 Reviews from users in the UK
We have a separate article where we've compiled lots of SmileDirectClub reviews from around the UK, so look at that if you want to know more about what real users say about their SmileDirectClub experience.
Conclusion
Invisible braces are, understandably, a very popular option for people who want straighter teeth without it being too obvious.
It's always recommended to visit a dentist for a general check-up before you start any at-home treatment. It's important to deal with any unwanted cavities or gum disease before wearing aligners and you can ask your dentist to assess your overall suitability for the treatment.
If you like the idea of being able to do the treatment from home, we think NewSmile is also a good option because it's affordable and offers great UK-based customer service. Order your impression kit today to get started.
If you require a more complex treatment, and you prefer in-person dentist appointments, we recommend SmileWhite.
Use "DENTALY5OFF" to get an additional 5% discount.
FAQs
What is Smile Direct?
SmileDirectClub is a "teledentistry" company that offers a cheaper way to straighten your teeth. After taking your own impressions at home, or having a digital scan done at a SmileShop location, you receive your clear aligners in the post and a dentist or orthodontist monitors your progress remotely.
How much does SmileDirectClub cost?
The package costs £2,050, but it's £39 for an impression kit plus £80 for retainers every six months, so you should think carefully about the total cost before committing.
What are some SmileDirectClub alternatives?
NewSmile is a more affordable and clearer alternative to SDC. Additionally, Clear fixed braces also offer discreet straightening. They are fixed to teeth and not really invisible, but they are suitable for almost all orthodontic cases. Six Month Smiles offers both invisible aligners and blear braces depending on the treatment needed.
There's also Impress aligners, which are a hybrid at-home/in-office option. Read more about them here.
Is Invisalign better than Smile Direct?
The downside to Invisalign treatment might be the cost, as Invisalign Comprehensive is around double the price of SDC.
Is SmileDirectClub a scam?
Many people have had successful treatment with SmileDirectClub, and it is a legitimate company. However, this treatment is only suitable for specific cases of mild tooth realignment. Individual results will vary, and some people do report problems with their teeth after treatment.
How do you cancel SmileDirectClub payments?
To cancel your SmilePay agreement, contact their customer service department and provide them with your membership details. You can then request a cancellation or a refund, whichever applies, and you'll receive a confirmation email. SDC also has a 30-day returns policy where you could get a full refund if you're unhappy with your aligners, with no questions asked.
Is SmileDirectClub good?
SmileDirectClub can be a good option, depending on what you want to achieve, and compares well against other alternatives in the UK from similar brands.
Sign up to receive the latest news and offers from Dentaly.org