So, you're wondering about Smile Direct Club? This "mail-order" braces brand launched in the UK in 2019 and now offers Brits a way to get straighter teeth without the expense and inconvenience of visiting a dentist.
Sounds great, right? Not only can Smile Direct Club help you save time and money, but the aligners they use are nearly invisible – a big improvement on traditional metal braces. But before you sign up, you're probably wondering whether remote orthodontic treatment is safe – and if it really works.
Good news! You've come to the right place. In this article, we'll let you know all about Smile Direct Club UK by answering the following questions:
How does Smile Direct Club work?
What does Smile Direct Club cost in the UK?
Is this treatment safe?
What are the differences between Smile Direct Club and Invisalign?
What do Smile Direct Club users say?
We'll cover all this and more, so get ready to be an informed consumer!
A cheaper option: Straight My Teeth
Smile Direct Club aligners cost £1,539, a lot less than in-office aligners, but there's an even cheaper option for people on a tight budget. Straight My Teeth aligners cost just £999 without compromising on quality or service.
Read more about Straight My Teeth or check if you're eligible for their treatment with a quick and free assessment.
What is Smile Direct Club?
Smile Direct Club (SDC) is a "teledentistry" company that offers a cheaper alternative to braces and clear aligners like Invisalign by dealing directly with consumers. The company is based in the US, where it is a well-known name in this kind of DIY orthodontics.
This is how the process works: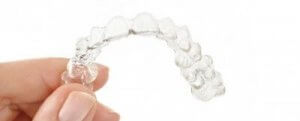 You use an at-home kit to make an impression of your teeth, or visit one of their SmileShop locations to get digital scans
A dentist or orthodontist checks your eligibility and plans your treatment
You approve the plan, including before and after images
You receive your clear aligners in the post around 3 weeks later
Every week or two you switch to a new pair of aligners and they gradually move your teeth
Once treatment is complete, use Smile Direct Club retainers to maintain your smile
SDC are able to keep their prices low because there are no physical dental practices involved. Instead, a dentist or orthodontist plans your treatment using digital scans and supervises your progress remotely, checking every 90 days to see if your teeth are moving as planned.
This can be an appealing option since it takes the hassle out of missing work or school to take trips to the dentist. However, there are some possible downsides to having your teeth straightened without regular face-to-face checkups with an experienced dentist. There's a good reason why Invisalign is the biggest name in the business!
Treatment options
Smile Direct Club UK offers two treatment options. The standard clear aligners must be worn for 22 hours a day, and treatment takes 4-6 months on average. You must remove your aligners while eating or drinking anything except water, and should clean your teeth and aligners before replacing them after eating or drinking.
This is comparable to Invisalign Lite treatment, which is designed for mild cases and takes around 6-8 months, and Invisalign i7, which takes as little as 3 months for mild straightening.
There is also a Smile Direct Club night time option which only requires you to wear your aligners for 10 hours a day, but treatment takes around 10 months. Both of these options cost the same and follow the same process.
The standard option is great for people who want to get fast results and are fine with wearing their aligners pretty much all day. They are almost invisible, after all. But for those who would rather not wear aligners during the day, and are ok with the treatment taking longer overall, the night time option could be better.
Are you interested to see what your teeth could look like after orthodontic treatment? Invisalign have a smart SmileView tool which gives you a preview of your new smile. It's free for anyone to use, all you need to do is upload a selfie. Try it out here for free!
Smile Direct Club locations
Smile Direct Club launched in the UK in July 2019 with nine locations, called "SmileShops", in London, Birmingham and Manchester. This number jumped to 21 in just eight months before the pandemic came along and complicated things. Still, SDC has the widest network of physical locations out of all the companies offering remote orthodontics in the UK.
If you visit a SmileShop, a representative there will create a 3D scan of your teeth. A dentist then uses this to check that you are suitable for these aligners and plan your treatment. During your visit, you'll also be able to ask any questions you have about the treatment.
You don't actually get to meet a dentist or orthodontist in person though, which some argue is a big downside to teledentistry companies like SDC.
You don't have to visit a SmileShop in order to get started with your treatment. There is also the option to order an impression kit which is sent to your home. You then take your own teeth impressions using dental putty and post them off to be assessed.
This process takes a while longer, and if you don't get the impressions quite right you may end up having to purchase another kit. However, it's a convenient option if you don't live near a SmileShop or prefer to do everything from home.
This short video shows how to take your impressions at home if you do decide to go down this route:
Does Smile Direct Club Work?
Invisible aligner braces are not a new concept; big names like Invisalign and ClearCorrect have been successfully straightening teeth for over two decades. The question is more about the efficacy and safety of at-home braces where you never meet face-to-face with an orthodontist (in fact there may be no orthodontist involved at all) and you might even have to take your own teeth impressions at home.
Naturally, the professional dental community has shown some scepticism about Smile Direct Club and other similar companies. But to what degree is this genuine concern, as opposed to them wanting to suppress a business model which cuts them out of the process?
There is no doubt that Smile Direct Club has thousands of happy customers across the globe. You only have to check some Smile Direct Club feedback to see that a lot of people are happy with their results. And in cases which require mild correction, SDC can be very effective.
If more significant alignment is needed, however, it's probably a good idea to visit an orthodontist in person and have regular checkups. You can still choose invisible braces like Invisalign, but you'll have the reassurance that your treatment is being monitored and tweaked throughout by a specially trained professional. Find your nearest Invisalign provider here if you want to discuss things further and get a personalised quote.
Is Smile Direct Club safe?
Although this is a well-practised model of teledentistry, it could be argued that there is a greater risk of problems occurring than if you choose an in-office treatment method.
Here are some of the problems that may arise from using a company like Smile Direct Club where you don't have an in-person dental assessment:
There is no check for gum disease or other oral health conditions which may affect orthodontic work, but you should have a regular dental checkup before starting treatment anyway.
SDC focuses on cosmetic straightening of the front few teeth, but doesn't take into account your overall bite position.
Crowded teeth may require inter-proximal reduction (IPR), which involves filing the sides of the teeth slightly to give them more space to move into position – but only a dentist can provide this.
You may not have an orthodontist (a specialist in teeth straightening) involved in your treatment
Your progress is not checked as often or in as much detail as with in-office treatments.
If you have any problems, you'll be dealing with a customer service team rather than a dentist.
This is not to say you should avoid this treatment completely; just be aware that the more complex your case, the more likely you are to experience problems because of one of these factors.
How much does Smile Direct Club cost in the UK?
The Smile Direct Club UK price is fixed at £1,539. There is an extra charge if you choose to use an impression kit, and you'll need to pay for retainers to keep your teeth straight after treatment. A free teeth whitening treatment is included if you visit a SmileShop, but not if you choose the home impression kit.
All in all, the real cost of Smile Direct Club if you don't visit a SmileShop is £1,658 and then £80 every six months for new retainers.
How much is Smile Direct Club monthly?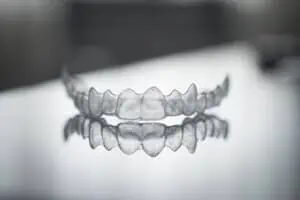 If you can't afford the full cost upfront, there is the option to pay in instalments. With an initial payment of £70.10 and 23 monthly payments of £70.09 thereafter, the total cost works out at £1,682.17 if you pay this way (not including impression kit or retainers).
The cost of Smile Direct Club in the UK is advertised on their website as 60% less than traditional braces, but this is only partly true. Treatment costs with metal braces, clear braces, and even clear aligners like Invisalign depend on the amount of correction needed. Mild correction means fewer dental visits and therefore a lower cost.
In fact, metal braces and even Invisalign start from around £1,500 – similar to what Smile Direct Club costs. So, you may be able to get Invisalign Lite or i7 with in-office checkups for the same price as SDC. It all depends on the amount of straightening your teeth require.
To check the price of Invisalign treatment, you will need to visit an Invisalign provider for a consultation. If you don't know where your nearest provider is, you can check here, or complete this quick assessment to see if you're a good candidate.
However, if you're looking for the cheapest way to straighten your teeth and you're comfortable doing things remotely then you should consider Straight My Teeth. Their aligners are just £999 – a significant saving on Smile Direct Club – and that includes whitening treatment too. Like SDC, they work with dentists and orthodontists to plan and monitor your treatment.
Read more in our detailed Straight My Teeth review, or check if you're eligible for their treatment with their quick online assessment.
Smile Direct Club vs. Invisalign
If you're trying to decide between Smile Direct Club and Invisalign, know that it's not just a matter of cost. Both brands are leaders in their respective markets, but Invisalign has been around a lot longer and has had more time to research and refine its treatment.
Plus, as we've mentioned, there's the obvious benefit of having someone supervising your treatment in person with checkups every 4-6 weeks, rather than doing everything from home and having a dentist or orthodontist check your progress every 90 days.
There is also more accountability if you visit a dentist. If your treatment isn't going as planned, or you want some refinements, they are responsible for getting your teeth to a position you're happy with. Direct-to-consumer companies may offer some refinements (often at an extra cost), but it can be harder to get the changes you want when you're emailing or calling a customer service department. SDC's customer service leaves a lot to be desired, so if something goes wrong with your aligners you could be left quite frustrated.
Even so, there is clear appeal with the convenience and potentially lower cost of brands like SDC. For more information about Invisalign and how invisible aligners in general work, read our full guide to invisible braces.
In the video below you can see an American dentist share his thoughts on the two brands. Overall, he believes that Invisalign offers better value, although SDC may be a suitable option for some people with mild crowding of their front teeth. Note that some of the points he mentions may not apply to the UK.
Have a look at the following table for a quick comparison of the differences between Invisalign and Smile Direct Club cost, process and practicalities:
| | | | |
| --- | --- | --- | --- |
| | | | |
| | 3 months (i7), 6-8 months (Lite), 12-18 months (Full) | 4-6 months (standard), 10 months (night time) | 6 months (standard), 8-10 months (night time) |
| | | Some mild and moderate cases | Some mild and moderate cases |
| | In person by an orthodontist | Remotely by a dentist or orthodontist | Remotely by an orthodontist |
| | | | |
| | | | |
| | £1,200 - £3,000 (i7 and Lite), £2,500 - 5,500 (Full) | | |
Remember, if you want to check how much Invisalign will cost for you, you can book an appointment with your nearest Invisalign provider. The initial consultation is usually free of charge. They also have a Smile Assessment tool where you can check your eligibility for this treatment in under a minute.
Or, if you're looking for the cheapest option, check out Straight My Teeth who are similar to SDC but charge just £999 for their at-home clear aligner treatment.
Our guide to Invisalign alternatives has more information about these and other clear aligner brands.
Reviews from users in the UK
We have a separate article where we've compiled lots of Smile Direct Club reviews from around the UK, so take a look at that if you want to know more about what real users say about their Smile Direct Club experience.
For now, here's a summary of the main points we gathered:
Be wary of SDC's Trustpilot rating of 4.2 stars. A large proportion of these are from people giving a 5-star rating based only on their experience at a SmileShop.
There are a significant number of complaints about delays with delivery and problems getting a refund when the aligners weren't delivered as promised.
Overall, SDC's customer service seems less than satisfactory when people do experience problems. The fact that it's US-based doesn't help.
Despite all of this, there are plenty of people out there who are very happy with their results.
Since you don't know whether you will be one of the people whose treatment goes smoothly, or one who experiences problems, it may be more reassuring to choose a UK-based company with better customer service feedback.
Conclusion
Invisible braces are, understandably, a very popular option for people who want straighter teeth without it being too obvious. Companies like Smile Direct Club offer greater convenience at an affordable fixed cost, and can be very effective for mild cosmetic straightening. However, if you encounter problems during your treatment, it can be difficult to find a resolution when you are dealing with a company remotely.
Invisalign is a trusted brand that gives full support throughout your treatment. Although Invisalign can be more expensive than SDC, their i7 and Lite treatment provide just mild to moderate correction and are cheaper alternatives to Invisalign Full. You can take Invisalign's Smile Assessment to check whether you're eligible, and then visit your nearest provider to find out which treatment you need and how much it will cost.
If Invisalign turns out to be out of your budget, or you just like the idea of being able to do everything from home, we think Straight My Teeth is a good alternative to SDC because it's so affordable. and has great UK-based customer service. With their aligner plan costing just £999 including whitening, it's a big saving on most other brands in the market. Take a quick online assessment to see if Straight My Teeth is suitable for you.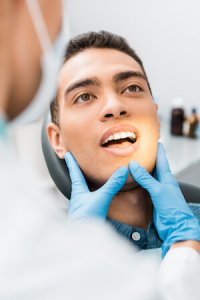 FAQs
What is Smile Direct?
Smile Direct Club is a "teledentistry" company that offers a cheaper way to straighten your teeth. After taking your own impressions at home, or having a digital scan done at a SmileShop location, you receive your clear aligners in the post and a dentist or orthodontist monitors your progress remotely.
How much does Smile Direct club really cost?
The package costs £1,539, but it's £39 for an impression kit plus £80 for retainers every six months, so you should think carefully about the total cost before committing. Some other companies include your first set of retainers in the package price.
What are some Smile Direct Club alternatives?
Some Smile Direct Club alternatives are clear aligner brands like Invisalign and ClearCorrect that require periodic dentist visits. There are also some other mail-order aligner companies like SDC. These include Straight Teeth Direct, Dr Smile, Your Smile Direct and Straight My Teeth, which don't require in-office visits. Of these, Straight My Teeth is the cheapest at £999.
Clear fixed braces also offer discreet straightening. They are fixed to teeth and not really invisible, but they are suitable for almost all orthodontic cases. Six Month Smiles offers both invisible aligners and blear braces depending on the treatment needed.
Is Invisalign better than Smile Direct?
Most dental professionals – and probably a lot of patients – would agree that Invisalign is better than SDC. You're getting face-to-face contact with a dentist throughout your treatment. They can deal with any complications along the way, and closely monitor your overall progress.
Invisalign also has plenty of providers offering Invisalign all over the UK, not just in big cities like London. So, you can easily get treatment near you and not have to travel far for check-ups.
The downside to Invisalign might be the cost. Their cheaper Lite or i7 treatment can be similarly priced to SDC, but Invisalign Full is around double the price. It could be worth it though, especially when you read the reviews from people saying they wish they'd paid the extra to visit a dentist.
Is Smile Direct Club a scam?
Many people have had successful treatment with Smile Direct Club, and it is a legitimate company. However, this treatment is only suitable for very specific cases of mild tooth realignment. Individual results will vary, and some people do report problems with their teeth after treatment.
Looking at feedback from users in the UK, you'll see that although the initial experience they provide at their SmileShops is very good, some people have complaints about poor customer service and unauthorised payments being taken. The fact that these seem deliberately hidden among a sea of five-star reviews from people who haven't started treatment yet is not very reassuring if you're wondering whether to trust this company with your money and your teeth.
How do you cancel Smile Direct Club payments?
It's unfortunate that so many people need to ask this question. SDC offer a 30-day returns policy. This means you can return your aligners within 30 days of receiving them if you're not happy for any reason, and you should receive a full refund. You are responsible for return shipping costs though.
If you have a problem later into your treatment and you want to cancel your SmilePay agreement, first you should try contacting their customer service team to report the problem. They are required by law to provide a replacement for any defective products, but many customers have found this process incredibly frustrating, to say the least. You may be able to cancel the direct debit with your bank, but be aware that this could affect your credit rating because of the unpaid debt.
Is Smile Direct Club good?
Smile Direct Club can be good and it can be not so good; it depends what you want to achieve. There are similar brands in the UK which we believe are better overall.