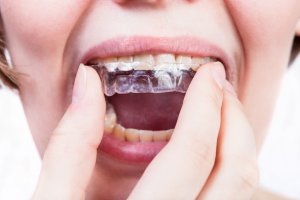 So, you're interested in at-home teeth straightening with SmileDirectClub? Lots of companies have started offering remote orthodontics in the UK in a relatively short space of time, so it's understandable that you want to know more before you take the plunge.
Checking some SmileDirectClub reviews will hopefully help you understand more about this brand and what the treatment involves.
To save you having to spend ages trawling the internet for SmileDirectClub reviews from the UK (because they can be hard to find among all the American ones), we have compiled this collection for you.
We hope this helps you get better informed about what to expect from at-home aligners and whether SmileDirectClub is the right choice.
SmileDirectClub overview
In case you're not too familiar with how SmileDirectClub (SDC) works, we'll quickly explain before we jump into our SmileDirectClub reviews. They provide clear aligners to straighten your teeth, a bit like the Invisalign system. The big difference is that at-home aligners don't require visits to a dentist's office; instead, a dentist prescribes and monitors your treatment remotely and your aligners are sent in the post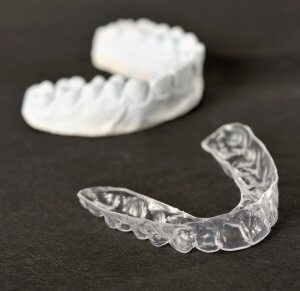 You have two options to get started with your SDC treatment. One is to order your impression kit online. You'll get your kit delivered to you at home, so you can take the impressions of your teeth on your own and send them back, making treatment 100% remote.
Your other option is to go to a physical Smile Direct location, known as a SmileShop, where a trained representative will take 3D scans of your teeth. There are currently 21 SmileShop locations in the UK.
Whichever option you choose, a dentist or orthodontist will then analyse your teeth and prescribe a treatment plan. All your aligners are posted to you at once, and you can begin your treatment, switching to a new set of aligners every week or two as instructed.
Your dentist or orthodontist will monitor your treatment remotely and check in periodically to make sure your teeth are moving as planned.
The result, in theory, is straighter teeth that have cost you a lot less than if you visited the dentist for braces. However, we do recommend you visit a dentist for a general check-up before starting any at-home treatment, as it's important to deal with any untreated cavities, gum disease, and other issues before wearing aligners.
If you're interested in finding out whether you're eligible for SDC aligners, you can take their online assessment and find out right now! Just answer a few questions and within minutes, you will have your answer.
SmileDirectClub UK reviews
Now let's look at some SmileDirectClub reviews from the UK. It's easy to find reviews from American users because the brand has been operating there for so much longer.
In the UK, where the brand is still quite new, there is a smaller pool of reviews to choose from since not so many people have undergone treatment yet.
Review sites
TrustPilot is one place you can look, where SDC has 4.2 stars from over 4,500 reviews.
One reviewer named Carina was especially pleased with not only the customer service but her treatment as well, saying:
"I am blown away by the positive customer service experiences I have had with SmileDirectClub.

I took my policy out last year and due to unforeseen circumstances was unable to maintain the schedule set out for me. I've had numerous conversations with SDC over the phone and more recently in-store at the Leeds branch with Sobiya.

The compassion I have received from all members of staff I have encountered has been amazing and really helped me with my mental health struggles. I can not recommend this company enough.

I also have seen such a drastic improvement in my teeth, even though I haven't managed to maintain the intended schedule. I am still on my SDC journey but with the progress I've already seen, I am fully positive that my smile will feel perfect for me by the end of my treatment."

– Carina, TrustPilot SDC reviewer
Here are a few more which give an idea of what the process is like, from having a scan to wearing your first aligners to completing treatment:
"Currently a month into my treatment and very impressed with the results so far. Amy was very helpful and professional."

"I received my box in 3 weeks so that was great and within the time period they gave me. Initially my teeth felt weird when I put the aligners in but by day 3 they were fine. I am now on Week 2 and can feel a slight pressure on the teeth so they must be working. I wear mine all day apart from when I eat which is approx 3 times a day, breakfast lunch and dinner. I can't snack when the aligners are in so its great to stop me from snacking."

"I finished my treatment with SmileDirectClub and was not happy with a few of my teeth. I rang up and the lady was lovely and very accommodating, explaining I could come in for another appointment and get a new set of aligners made and sent out for free. I have now had my appointment with the new Manchester store which was very fancy and very welcoming. The ladies here truly are lovely and will definitely put a smile on your face! Thank you so much for helping me to achieve the smile I want. Highly recommend SmileDirectClub to anyone who wants their teeth straightening and is looking for a flexible and very affordable plan."

"Alot of fake reviews and misconceptions on this company. I finished my treatment 6 months ago and the whole process has been brilliant. My teeth are 10 times better and they even gave me 3 retainers free of charge. The whole process was so easy and smooth, even after treatment I said I think I needed a few more trays to get them as straight as I wanted and they were very happy to, and my case was accepted. I really could not recommend them enough."
While most patients have seen great results from remote aligner treatment, some people experienced complications and wish they had seen a dentist face-to-face. Read more about the differences between Smile Direct and Invisalign.
Video reviews of SmileDirectClub
Let's move on to look at some people who have documented their SmileDirectClub experience online.
Lorelei's SmileDirectClub review
"I feel so much more confident in front of the camera, I feel more confident smiling and showing my teeth"
At the end of her treatment, Lorelei shares this SmileDirectClub video review to show what her teeth look like before and after her treatment. Overall, she says, she is really shocked with the big difference in her smile and is excited to share the results with viewers.
Lorelei mentions that the woman she saw in the consultation was lovely and she has had no problems at all with her treatment. However, she does say that the process is painful, and cuts to a clip of her putting on a set of new aligners. Overall, Lorelei says that even though the aligners were painful at times, the overall process was simple and easy to go through.
SmileDirectClub unboxing and first impressions
This video from Georgia is not a review as such, because she has only just received her box of aligners. But it's interesting to see her opening the box, talking us through what's inside, and then fitting her first set. You can see how you need to use the "chewies" provided to get the aligners to click into place.
One thing Georgia has struggled with is the limitations with eating and drinking. She thinks it's unrealistic to take them out every time she drinks something other than water, and instead she uses a straw. Note that this is not recommended with SDC or any other brand of aligner, since sugar from the drinks can get trapped under the aligners and damage your teeth.
If you're going to wear clear aligners, be prepared to follow the instructions and only drink water while wearing them.
Smile Direct Review after 1 week
"I was in agony for two days"
Molly's 1-week update mentions some difficulty getting the aligners in and out, as well as a slight delay with receiving her aligners, although this was sorted out after she contacted customer service.
Aisha's 2-month update
"It's a really simple process… I don't have a bad thing to say about it."
Aisha is two months into her treatment and is really noticing the results now. Watch the video review below to find out how she is getting on.
Aisha's treatment has been very straightforward, and she is happy with the results so far. The only thing she would like to see is a more thorough check-in process with SDC.
SmileDirectClub review and tips
Finally, we have this two-month update from an American reviewer – we've included her video because it has some interesting 'before and after' images of her treatment so far, and she also compares her teeth to the simulation provided by SDC to see if they are moving according to plan. She then offers some useful tips based on her SmileDirect Club experience so far.
This reviewer is using SmileDirectClub's nighttime clear aligners, which just need to be worn for 10 hours a day. This is really convenient but does make the treatment longer.
Here are some tips she mentions in her video review of SmileDirectClub after two months of using the aligners:
The 'chewies' provided are really helpful for getting the aligners into place correctly, especially for the first couple of days wearing a new set.
Similarly, the 'Outie' tool comes in handy for removing aligners when they are very tight. One end is shaped to pull the top aligners down and the other end is for pushing the bottom aligners up.
Denture/retainer cleaning tablets are a more convenient way to clean aligners than brushing with soap and water.
When wearing aligners just at night, your teeth can be sore for the first hour after taking them out, so have plenty of soft foods on hand for breakfast.
Conclusion
We hope this collection of SmileDirectClub reviews from the UK (and one from the US!) has been helpful. You can read more about these aligners in our full article, or if you're ready to start, book an appointment at a SmileShop near you, or order your at-home impression kit and have it delivered to your front door.

Sign up to receive the latest news and offers from Dentaly.org