The popularity of teeth whitening in Turkey has increased as more and more people realise they can have a whiter and brighter smile at more affordable prices.
While travel costs may be involved, there is a growing trend that includes incorporating teeth whitening treatments into holiday plans.
Turkey's reputation as a top destination for dental tourism has made it an attractive choice for those seeking both a relaxing holiday and an opportunity to enhance their smiles.
In this article, we will explore the increasing appeal of getting teeth whitening in Turkey, considering the cost-effectiveness of the treatments and the unique advantage of combining them with your holiday experience.
How much does teeth whitening cost in Turkey?
Turkey teeth whitening prices can vary depending on factors such as the clinic's location, reputation, the whitening method used, and the complexity of the case. On average, teeth whitening treatments in Turkey range from approximately £150 to £600.
For instance, in-office professional teeth whitening treatments typically fall within the higher price range, starting from around £300. These treatments provide immediate results and are performed by skilled dentists, whereas, take-home teeth whitening kits offer a more gradual whitening process and are generally more affordable, starting from approximately £150.
It's worth noting that some dental clinics in Turkey may also offer package deals or discounts for multiple treatments or group bookings, providing further cost savings.
Make sure to consult with your chosen dentist first to get an accurate price estimate for your individual needs and requirements.
Why choose Turkey for teeth whitening?
Turkey has become a preferred dental tourism destination, making it an ideal choice for combining teeth whitening treatment and a holiday. Countless UK residents choose to travel there to take advantage of the affordable dental prices while enjoying a sun-soaked holiday.
The reason for this is not just the affordability but also the quality of treatments, the expertise of its dentists and the convenience and accessibility it offers to international patients.
However, what truly sets Turkey apart as a dental tourism hotspot is its wide range of holiday options available to dental tourists.
You can choose a relaxing beachside holiday in towns like Marmaris and Antalya, explore fascinating historical sites in Izmir, or enjoy an exciting city adventure in Istanbul.
Whatever type of holiday you prefer, you can easily access excellent dental services in your chosen area. Turkey offers plenty of choices to ensure you have the holiday experience you want while also getting your dental work done.
You'll also find English-speaking dentists and staff who ensure a smooth and comfortable journey throughout the entire treatment process. Rest assured that communication won't be a problem as you are organising your dental treatment.
If you're interested in getting dental work abroad, you're not just limited to Turkey. There are plenty of other vacation destinations that are also popular dental tourism destinations. You can read all about these destinations including, Hungary, Spain, and Poland.
Benefits of teeth whitening in Turkey
Opting for teeth whitening in Turkey has numerous advantages, making it an appealing choice for dental tourism. These advantages include:
Affordable prices for teeth whitening treatments
High-quality dental care
Modern facilities
State-of-the-art technology
Accessibility and convenience for international patients
English-speaking dentists and staff
Relaxing beach holiday or city break 
Historical sites and attractions
Comprehensive dental tourism packages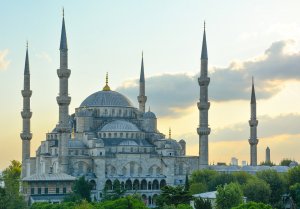 Common teeth whitening procedures in Turkey
The most commonly used teeth whitening treatments in Turkey include in-office professional treatments and take-home whitening kits.
In-office treatments involve a dentist applying a whitening agent to the teeth and activating it with a special light or laser, while take-home kits include custom-made trays and whitening gel to be used at home.
Some common in-office teeth whitening treatments in Turkey are:
Laser Teeth Whitening: This procedure involves the application of a bleaching gel on the teeth, which is then activated using a laser or specialised light.
Zoom! Whitening: Zoom! uses a special hydrogen peroxide gel and an activating light to enhance the gel's effectiveness.
Beyond Whitening: Beyond Whitening uses a combination of hydrogen peroxide gel and a specially designed light to break down stains and any discolouration on the teeth.
BriteSmile Whitening: BriteSmile uses a gentle hydrogen peroxide gel activated by blue light. This treatment is known for its effectiveness in removing stains and providing noticeable results.
Opalescence Boost: Opalescence Boost is a chemically activated whitening treatment that uses a formula of hydrogen peroxide gel that is applied directly to your teeth.
It's important to note that specific brand names and techniques may vary among dental clinics in Turkey, but the above treatments are commonly known and practised in the country.
Regardless of the chosen method, personalised treatment plans and thorough consultations ensure that patients receive the most effective and suitable teeth-whitening solution for their individual needs.
Teeth whitening Turkey reviews
Reviews play an important role in the decision-making process when considering teeth whitening in Turkey. The experiences and feedback from others can provide insights into the safety and quality of treatments.
We have compiled some Turkey teeth whitening reviews from YouTube.
The initial teeth whitening in Turkey review comes from the YouTube channel Bery Istanbul Tips, hosted by Bery, a Mexican ex-pat who has resided in Turkey for 7 years. She shares her experiences and advice for living and travelling in Turkey on her popular YouTube channel, attracting a huge audience.
In her review she shares her full experience of getting her teeth done in Turkey, starting with travelling to the clinic. She also interviews the dentist for her channel during her own consultation. In this review, Bery gets two procedures, the first one to replace a composite filling, then she returns a week later for teeth whitening.
Bery is very pleased with the results and how smoothly both procedures went.
The next review is from Thomas who travelled to Turkey for laser teeth whitening treatment. Thomas says that he travelled to Turkey with his friend who was getting dental work done and decided while he was there he would get his teeth whitened.
He describes his experience and goes on to say he would highly recommend it to anyone thinking about getting their teeth whitened in Turkey.
The final review is a short clinic specific review from Maria. She say's that this was her first time getting her teeth whitened in Antalya and she was very impressed with the clinic and her experience.
If you want to find more Turkey teeth whitening reviews you can search google for reviews on YouTube, Blogs, social media platforms, dental review websites and clinic-specific reviews.
Choosing a teeth whitening clinic in Turkey
When searching for a teeth whitening dentist in Turkey, there are several key aspects you should research to ensure a positive and successful experience. Here are some important factors to consider:
Reviews: Look for reviews and testimonials from previous patients who have undergone teeth whitening treatment at the dental clinics you're considering.
Qualifications and Experience: Research the qualifications, certifications, and experience of the dentists working at the clinic. Check if your dentist is registered with the Turkish Academy of Aesthetic Dentistry (EDAD). You can also ask to see before and after teeth whitening pictures of previous clients to check their past work and experience.
Treatments: Make sure you know which teeth whitening procedures are available, and what they involve.
Hygiene and safety: Check whether the clinic adheres to internationally recognised dental hygiene standards to ensure your safety and well-being.
Cost: Compare the prices of teeth whitening treatments at different clinics in Turkey. While cost should not be the determining factor, it is essential to find a clinic that provides good value for money.
Communication: Make sure that the dentist and clinic staff can effectively communicate in a language you are comfortable with to avoid any miscommunication or misunderstandings during your treatment.
If you want help to find a clinic in Turkey for teeth whitening, Dentaly Go can help. They are experienced experts in the dental tourism industry and can help you with everything from organising your flights and planning your entire trip. They work with only a few choice clinics in each country — those that meet the highest standards of care.
Conclusion
Teeth whitening in Turkey offers a lot of benefits, including affordability, high-quality care, and the opportunity to combine dental treatments with a holiday.
By doing your own thorough research, reading reviews, and comparing prices, you can make an informed decision and choose a reputable dental clinic in Turkey.
It is important to prioritise quality, safety, and the expertise of dental professionals, ensuring that personalised treatment plans are provided.
With proper planning and selecting the right clinic, individuals can confidently embark on their teeth whitening journey in Turkey, knowing that they are on their way to achieving a whiter and brighter smile and boosting their self-confidence.
FAQs
How much does teeth whitening in Turkey cost?
The cost of teeth whitening in Turkey varies depending on the clinic, treatment method, and individual case, but it is generally more affordable compared to many other countries.
What are the common teeth whitening techniques used in Turkey?
Teeth whitening in Turkey includes treatments such as in-office professional treatments and take-home whitening kits, which are effective methods for achieving a whiter smile.
Is teeth whitening in Turkey safe?
Teeth whitening in Turkey is widely regarded as a safe and secure procedure, as long as it is performed by qualified dentists who follow established teeth whitening procedures using approved techniques and materials.
Can I combine teeth whitening with a holiday in Turkey?
Yes, many dental clinics in Turkey offer comprehensive dental tourism packages that allow you to combine teeth whitening treatments with a memorable holiday experience.
Will the dentist in Turkey speak English?
Yes, most dentists and dental clinic staff speak fluent English and they are well used to international patients. This means that there will be no communication issues during your procedure.
Sign up to receive the latest news and offers from Dentaly.org