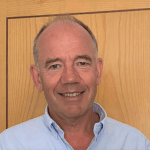 Dental Entrepreneur and Contributing Expert
Dr. Antony 'Tony' Smith, BDS, DPDS, worked as a dentist in the UK for 38 years under both the NHS and private practice. 
Dr. Smith thought back to his early years in dentistry, ​"When I qualified, the advice was always to provide prevention first, treatment second."  He has carried that philosophy with him throughout his career, fueling his passion for public health by promoting dental prevention before treatment. 
To aid with that, Dr. Smith developed the Teeth4Life app, which encourages regular oral health care through reminders and tracking your goals. 
The smartphone application Dr. Smith developed includes cleaning reminders for yourself and your children, oral cancer screening tips, and reminders on when to schedule a regular dental cleaning. 
Dr. Smith works with dentists to promote the app to give people more control over their dental health. Teeth4Life periodically publishes articles and editorials on dental health.