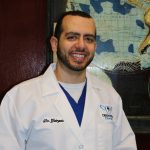 Dentist and Contributing Expert
Dr. Peter Guirguis grew up in Kansas City and earned his dental degree from the University of Missouri's School of Dentistry. In 2013, he relocated to Dallas and has been happy to call Texas home ever since. Dr. Guirguis is dedicated to providing expert care to all patients, from general dentistry needs to cosmetic procedures.
Dr. Guirguis is committed to continuing education and attends monthly seminars to stay up-to-date on the latest tools and procedures. Additionally, he has completed advanced training in dental implants and cosmetic dentistry.
When he's not at the office, Dr. Guirguis enjoys spending time with his family and trying foods from around the world. He has also spent time as a Taekwondo instructor and is currently a volunteer dentist for Beautiful Feet Ministries.