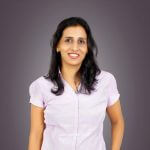 Dentist and Contributing Expert
Dr. Rashmi Byakodi graduated with a BDS from Rajiv Gandhi University of Health Sciences. She has worked for several dental practices and is now a full-time health and wellness writer. 
Dr. Byakodi creates powerful content in the healthcare industry, and she is currently the editor of the Best for Nutrition website
As an accomplished writer, Dr. Byakodi understand the power of words, and her goal is to share health awareness by creating content across multiple platforms. Her passion for writing and her medical expertise have allowed her to create content in health areas in both dentistry and related areas, such as nutrition.
She is a firm believer that when people are equipped with accurate health information and adopt a healthy lifestyle, they can take preventative measures against many health problems. 
When she's not writing, Dr. Byakodi can be found traveling and spending quality time with her husband and children. She enjoys yoga, swimming, and deep sea diving.