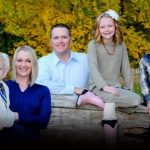 Dr. Travis R. Willey
Practices at: Family and Cosmetic Dentistry of the Rockies, Fort Collins, Colorado
Family and Cosmetic Dentist and Contributing Expert
Dr. Travis R. Willey, DDS, grew up in Arizona and Utah and completed undergraduate studies at the University of Utah in medical biology. He then went on to attend the Marquette University School of Dentistry to earn the Doctorate of Dental Surgery. 
Dr. Willey specializes in Family, Cosmetic, and Implant dentistry and believes that a trusting relationship and a comfortable office experience will transform dental services for the better. 
The dental industry is constantly changing, and Dr. Willey is passionate about continuing education to provide clients with the latest tools and technologies; he logs at least 100 hours of continuing education each year. He is a member of many professional organizations, including the American Dental Association, the American Academy of Cosmetic Dentistry, and the International Congress of Oral Implantologists. 
When he's not working at the office, Dr. Willey enjoys everything Fort Collins has to offer, including hiking, skiing and other outdoor activities. He loves spending time with his wife and children, and also serves on the Board of Directors of Hope Lives, a nonprofit that helps women with breast cancer post-diagnosis.