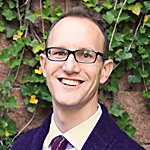 Dr. John Will
Practices at: Children's Dentistry of Charlottesville, Charlottesville, Virginia
Pediatric Dentist and Contributing Expert
Dr. John Will graduated from the Loma Linda University Dental School with a Doctorate of Dental Surgery degree in 2008. Dr. Will also completed a residency in dental anesthesiology, which included specialized training in pharmacology, general anesthesia, and conscious sedation. 
Like his clinic colleagues, Dr. Will is passionate about providing empathetic dental care to children. 
He has been published in the professional journal Dental Clinics of North America, and he is a member of multiple professional organizations, including the Special Care Dentistry Association and the American Society of Dentist Anesthesiologists. He is also a Diplomate of the American Dental Board of Anesthesiology.
When Dr. Will is away from the office, he's often traveling or enjoying the outdoors. He and his family enjoy restaurants and other highlights of the Charlottesville area, which also includes watching and reading about college basketball.