What are Diamond Whites Aligners?
How do you get these aligners?
What do DW Aligners cost?
How do these aligners compare to Invisalign?
What are reviewers saying about Diamond White teeth aligners?
What are Diamond Whites Aligners?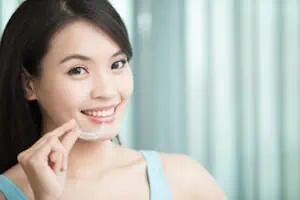 How does Diamond Whites Aligner treatment work?
Receive your custom sets of aligners and begin wearing the first set.
Wear your aligners for the recommended 22 hours per day.
Monitoring of your treatment progress is done with ScanBox technology that is linked to an app.
The app will notify a team of dental professionals and Diamond Whites on your progress.
Change to a new set of aligners when prompted.
Who is eligible for treatment with Diamond Whites Aligners?
How much do DW Aligners cost?
Once your treatment is complete you will need to pay another £200 for your retainers to help maintain your smile.
Diamond Whites Aligners alternatives
If you're looking for clear braces treatment, Diamond Whites Aligners is not the only option. Read our guide to the best teeth aligners in the UK to compare different brands and find an affordable at-home clear aligner option.
With at-home aligners you don't have to visit a dentist in-person and it's a more affordable option than metal braces. Treatment typically takes around 4 to 6 months. Here are some of our recommendations below:
Find the right clear aligners for you
Are at-home clear aligners a good option for you? Learn more about our top picks.
Free scans
Free scans at 17 UK SmileShop locations
Nighttime aligners available
Lifetime Smile Guarantee™
£1,639 or £69.43/month + free teeth whitening
SmileDirectClub has been offering aligner treatment at home for over 8 years, making them one of the most experienced companies in this market.
Treatment takes 4-6 months on average, or 10 months for nighttime-only aligners. Their UK-based customer care is available 24/7 should you need to reach out at any time.
There are several ways you can get started:
Every aligner package comes with free bright on™ teeth whitening, so you can whiten your teeth while you straighten them!

Best value
Free retainers and whitening
Nighttime aligners available
0% interest finance options
£1,395 £1,295 or £83.33/month
NewSmile is a Canadian company that brought its clear aligners to the UK market in 2022. NewSmile aligners are made from the clearest material and the company offers excellent service at the best price.
They don't have any physical locations, so you'll need to purchase an aligner kit to get started. One of their Impression Specialists will guide you through the process on a video call when you're ready.
NewSmile aligners are very affordable, costing just £1,395 (currently discounted to £1,295). But even better, this price includes whitening foam to use in your aligners, plus your first set of retainers!
Choose their daytime package for treatment in 4-6 months, or nighttime aligners for a more discreet treatment that takes 8-10 months. Both options come with 0% interest payment plans available.
Diamond Whites Aligners vs Invisalign
If you're interested to know if you are a candidate for the Invisalign system there's a quick way to check. Just fill out their online Smile Assessment and get an answer back in minutes. It's simple to find a provider near you, with the option to book a consultation to learn more.
Diamond Whites Aligners before and after reviews
Let's take a look at DW Aligners reviews and see what people are saying about their experiences.
This first review is from Olivia Bowens who reviews her DW aligner experience so far. At this point, she is on stage seven of her Diamond Whites teeth straightening journey and she is extremely happy with her results so far.
In her review, she goes through her thoughts on the aligners and shows how the remote monitoring process works. Olivia also shows her before and after photographs to show how far her teeth have moved since beginning treatment.
This review from YouTuber Lauren Eastwood starts when she is on week four of her aligner treatment. She shows us her aligners and discusses her treatment so far.
At the end of her review, there is a series of pictures showing her Diamond Whites Aligners before and after photographs so far. You can follow her entire Diamond Whites experience on her YouTube channel.
The next Diamond Whites teeth aligners review is far from positive, and although their treatment started out really well, it didn't end well.
"I would avoid diamond whites, at first they were amazing but when I was struggling they didn't want to know."

– Ellie Lofthouse
Ellie Lofthouse claims that when she felt her treatment wasn't going to plan, the advice she was given was to "go back three stages". She followed the advice but her teeth did not move any further. When she rang back they informed her it was too late and she would need to pay for a new aligner.
Conclusion
Diamond Whites teeth aligners are clear aligners that can be used to treat mild and some moderate orthodontic cases. You can have your first appointment in their London clinic, or in one of their pop-up clinics around the UK.
With remote monitoring done through an app, you will receive a Scan Box with your aligners which links up with your smartphone to monitor your treatment progress.
In comparison to the Invisalign system, DW Aligners cannot treat as complex cases. They generally focus on treating mild orthodontic cases. Invisalign treatment is monitored both in-person and via an app, so any issues will be picked up right away.
Sign up to receive the latest news and offers from Dentaly.org