If you have crooked teeth but don't fancy train tracks, you may be wondering how to straighten teeth without braces. Not everyone likes the look of a mouth full of metal or has the budget for braces.
But, the good news is there are plenty of other options for straightening your teeth, such as clear aligners or invisible braces. And, there are other treatments available as well, including corrective orthodontic appliances or jaw surgery.
Purely cosmetic options exist as well, like porcelain veneers. However, these don't actually straighten your teeth — they just make them appear straighter.
In this article, we'll go over all the ways you can straighten your teeth without braces, including:
Clear aligners
Orthodic appliances
Palatal expanders
Jaw surgery
Veneers
Keep reading to find out the best option for you and your smile!
Smile White Aligners Treat 90% of Cases
Smile White treats most alignement problems, thanks to in-person monitoring by a dentist. However, unlike other brands and treatments, you only have 3 in-office visits — the rest of your treatment is done at home.
From mild adjustments to complex bite misalignment, Smile White can help.
Use code DENTALY5OFF to get 5% off your treatment.
Take the commitment-free online assessment
Who needs braces?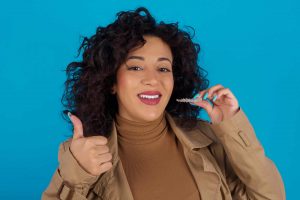 Before we jump in with how to get straight teeth without braces, let's discuss who needs to straighten their teeth. There are a few reasons that you or your child may need orthodontic treatment, but here are the most common:
Visibly crooked teeth
Difficulty speaking
Problems with chewing
Clicking in the jaw
History of thumb-sucking
In some cases, a patient may not need to straighten their teeth if their dentist or orthodontist doesn't think they need it for medical reasons. This is because if orthodontic issues are only mild to moderate and may not have any negative implications on a patients health. However, it is still possible for a patient to opt to straighten their teeth for purely cosmetic reasons.
Only your dentist or orthodontist can determine if misaligned teeth or misaligned jaws are affecting your oral health, and if they are, then it's important to get treatment. You or your child may be eligible for braces on the NHS in this case, but very few people meet the criteria. If you find you are not eligible for braces with the NHS, you can still get them privately, at a cost.
What are the different braces options?
Conventional orthodontic treatments consist of metal brackets that are cemented to the front of each tooth. The brackets are then attached by a wire and secured by elastic bands. The wires are adjusted and tightened regularly to apply pressure and gradually guide your teeth into the desired position.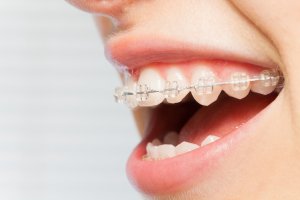 Train track braces may not be the most aesthetically pleasing option, but they are very effective. And, in severe cases of tooth misalignment, they might be the best.
Depending on your needs and budget, you may be able to choose from other types of fixed braces that are less noticeable but still very effective, including:
Lingual braces: Brackets are fixed to the back of the teeth instead of the front, so they are not visible unless the mouth is open.
Self-ligating braces: Similar to traditional braces except the brackets have spring-loaded clips, and are self-ligating. This means that there is no need for rubber bands to secure the wires.
Ceramic braces: Brackets are made of clear, white, or tooth-coloured ceramic material making them less visible than metal braces.
Fixed braces are not the only way to straighten your teeth, and they are certainly not the least visible. There are other options for straightening teeth that you may want to consider that we will discuss later on in this article.
Can I straighten my teeth on my own?
Straightening teeth without braces and by yourself is not a good idea and it can have disastrous results if not performed and monitored by a dental professional. Avoid trying DIY braces, or fake braces at all costs because they can seriously harm your oral health and overall health.
Consider how many years of training and education orthodontists and dentists have — that's not for nothing. Experience, knowledge and some serious licensing are needed for any medical treatment to be completed safely.
There are a lot of tutorials online on how to fix crooked teeth without braces, but the side effects are not worth it. You could end up with cracked and broken teeth, severe pain, oral infections, and even lose your adult teeth! There are also some reports of death from exposure to heavy metal in some types of fake braces that you can buy on the internet or make yourself.
Safe ways to straighten your teeth without braces
Now that we've made it clear that you shouldn't try any DIY methods, let's have a look at some safe and effective ways to get straight teeth without braces, starting with clear aligners.
Clear aligners and invisible braces
Clear aligners and invisible braces are often used interchangeably to refer to the same style of treatment, but there is a slight difference. Invisible braces, like Invisalign, usually require in-office treatments with direct orthodontic supervision. Clear aligners on the other hand don't always need in-office visits and in many cases can be done completed remotely.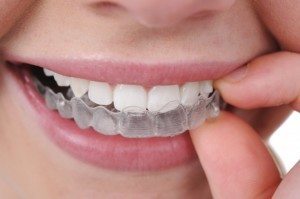 Both types involve treatments with a series of custom-made, clear plastic trays that go on the upper and lower teeth. The plastic trays are custom made and developed as part of your treatment plan.
Clear aligners and invisible braces are both typically changed every two weeks, to ensure your teeth continue to move in the right direction. And, they generally have a shorter treatment time than conventional braces.
If you are concerned about your appearance in conventional braces, then invisible braces or clear aligners may be the perfect solution. And, if you are looking for a more affordable method of straightening your teeth then clear aligners are considerably cheaper than both Invisalign and traditional braces.
One bonus to invisible braces and clear aligners is that you can whiten your teeth during treatment. Meaning that not only can you have straighter teeth, but you can get a brighter smile at the same time.
We recommend consulting your dentist or orthodontist before making any decisions, as they will be able to assess how complex your orthodontic case is and if you are eligible for invisible braces.
What is the process to getting clear aligners?
If you decide to go for clear aligners, the process is a bit different. Typically, the first step is to complete an online assessment to see if you're eligible for getting teeth aligned this way. The next steps are as follows:
Purchase a dental impression kit: Use this kit to make molds of your teeth at home, then send them in to a dental lab.
Create your trays: Using your impressions, an orthodontist will assess your case to determine if you are eligible for wearing clear aligners. If you are, your upper and lower dental aligner trays will be created in the dental lab.
Receive your trays: You'll get your aligner trays in the post. As soon as they arrive, you can begin wearing them.
While clear aligners aren't technically braces, they do straighten teeth just like braces do. Besides the lower price, aesthetics, and in-office vs remote alignment, the other big difference is that traditional braces can treat more severe cases of malocclusion. Thus, the process of getting teeth aligned tends to take longer.
Clear aligners, on the other hand, are only for mild to moderate cases and average around 6 months of treatment time.
If this option interests you, compare some of the most popular and effective clear aligners on the market with the table below:
Find the right clear aligners for you
Complex cases
Treats up to 90% of Cases
Up to 40% cheaper than Invisalign
Buy now, pay later in interest-free instalments.
Rated 4.9/5 on Trustpilot
As seen on 5, BBC, 4, DailyExpress, TheMail
Get 5% OFF with our discount code DENTALY5OFF and FREE Whitening and Retainers worth £790
Smile White offers a hybrid model for clear aligner treatment. You have 3 in-office appointments, so your dentist can ensure in person that your treatment is going as planned.
That means that, unlike other clear aligners, Smile White can treat even the more complex cases of bite misalignment.
To get started:
Every treatment comes with free teeth whitening, so you can whiten your teeth while you straighten them!

Best value
Free retainers and whitening
Nighttime aligners available
0% interest finance options
£1,395 £1,295 or £83.33/month
NewSmile is a Canadian company that brought its clear aligners to the UK market in 2022. NewSmile aligners are made from the clearest material and the company offers excellent service at the best price.
They don't have any physical locations, so you'll need to purchase an aligner kit to get started. One of their Impression Specialists will guide you through the process on a video call when you're ready.
NewSmile aligners are very affordable, costing just £1,395 (currently discounted to £1,295). But even better, this price includes whitening foam to use in your aligners, plus your first set of retainers!
Choose their daytime package for treatment in 4-6 months, or nighttime aligners for a more discreet treatment that takes 8-10 months. Both options come with 0% interest payment plans available.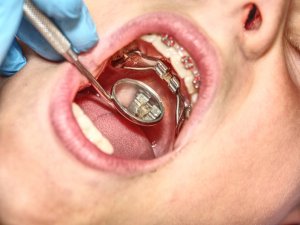 Always visit a dentist for a checkup before beginning any treatment, to check for gum disease or cavities that should be treated before wearing aligners.
Palatal expander
Palatal expanders are dental devices that widen the upper jaw and create more space in a child's mouth while their mouth is still growing. The created space gives the teeth the room they need to shift into the correct position. This works because the jaw is made of two separate halves, and these halves don't fuse together completely until after puberty.
Expanders are custom-made to each individual mouth, and they hook onto the top teeth in the back of the mouth. An expander uses tension at the point where the two palatal bones meet to make them move apart. The process is gradual and although it may cause soreness or pressure, it shouldn't result in pain.
These devices are typically worn before braces alignment, especially if a child has a crossbite, crowding, or impacted teeth. However, in some cases, a child may only need a palatal expander without requiring braces treatment after.
Jaw surgery
This is officially known as orthognathic surgery and can be used, among other things, to correct jaw misalignment. Usually, this is only an option when orthodontics won't work on their own. And, if this was the case then you would have braces before and after surgery, and during recovery.
In rare circumstances, you may be able to have jaw surgery to correct your bite without needing braces. But, generally, braces are usually required to move your upper teeth and lower teeth into a precise position.
Consult your orthodontist or oral surgeon if you want to know if this is an option for you.
Cosmetic dentistry options
One of the most common ways to improve the appearance of teeth without braces is with composite or porcelain veneers. First of all, you should know that dental veneers don't actually straighten teeth.
Dental veneers are thin shells made of porcelain or composite material. They are fixed to the front of your teeth, making them the ideal size and colour for your desired aesthetic. Veneers may be available to adults with only slightly misaligned teeth and who don't need orthodontic intervention for health reasons.
Another cosmetic option that doesn't involve braces is dental contouring. This involves reshaping the actual teeth by removing small portions to achieve the desired shape, length, or surface.
Both veneers and dental contouring are used for cosmetic purposes and require healthy tooth to be shaved off. So, make sure to consider every option before making a decision with such permanent results.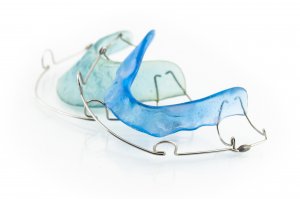 Retainers
Retainers are commonly used to keep your teeth aligned after your teeth straightening treatment is complete. However, in some very mild cases, a retainer may be a viable way to straighten teeth, with no previous treatment.
There is a type of aligner that is specially designed to help with slight tooth movements, called a spring retainer. It looks similar to a Hawley retainer but includes add-ons that can help with slight tooth movement.
Herbst appliance
The Herbst appliance is made from steel and is fixed to the first molars in the top and bottom jaw. The molars are connected by the steel framework, which works to exert force and move the jaws inline gradually. Like a palatal expander, the Herbst appliance is used on children whose jaws are still growing. It is typically, but not always, a supplement to braces.
Conclusion
There are many ways to get straight teeth without braces. You can use clear aligners, invisible braces, palatal expanders, retainers, and more. If you want a purely cosmetic fix, there are options for that as well, like contouring or veneers.
All of these options can be safe and effective as long as they are supervised by a dentist or orthodontist. That being said, you should never try to straighten your teeth at home on your own.
While it may seem tempting to try to save money, self-directed methods are never a good idea. DIY braces can have serious and irreversible consequences including pain, infection, and tooth loss.
Talk with your orthodontist or dentist about the best options for your dental needs, if you want to straighten your teeth.
Sign up to receive the latest news and offers from Dentaly.org