In the UK, dental care should be accessible to everyone regardless of their situation. Unfortunately, there are many people that simply aren't able to be seen or receive treatment.
These people are from a range of different situations and backgrounds, including the homeless and vulnerable, those that are stuck on endless NHS waiting lists, or even those unable to find time because they work such long hours.
Dentaid aims to address this problem by making dental care more accessible, and Dentaly.org is proud to support Dentaid's work with a grant to buy 5,000 toothbrushes. These toothbrushes will be distributed by Dentaid mobile units amongst those experiencing homelessness.
What is Dentaid?
Dentaid is a charity that aims to increase accessibility to dental care by having a range of projects that reach people of all different circumstances.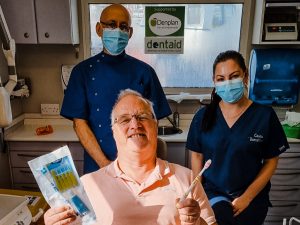 One of their projects includes mobile dental care for homeless people. Dentaid mobile units visit places such as homeless shelters, soup kitchens, and community buildings throughout the UK to provide dental screening, treatment and advice.
Not everyone feels they can access NHS dental care, and some might feel they are unable to. Dentaid takes their mobile units to locations that people in these circumstances may feel more comfortable attending and can get to more easily.
Dentaid projects
Dentaid has multiple projects to help those that may not have access to the dental care and advice that they need.
Their projects include:
Mobile dental care for homeless people – mobile dental units in locations easily accessed by homeless people
Public access clinics – for those who aren't able to register with an NHS dentist due to long waiting lists
Clinics for fishermen – for fishermen who work long and unpredictable hours at sea
BrightBites – an educational resource for teaching children about the importance of caring for their teeth
Head and neck cancer patients – Dentaid works with Macmillan Cancer Support to provide dental care for those about to undergo radiotherapy or chemotherapy, needing further dental care after starting their treatments
Dentaly.org's contribution to Dentaid
I had the chance to visit one of the Dentaid mobile units to see what they were like. It was very spacious and felt like I was in a small dental clinic rather than in a mobile unit. It felt comfortable and relaxed inside and I believe many others will have a similar experience when they visit the mobile unit.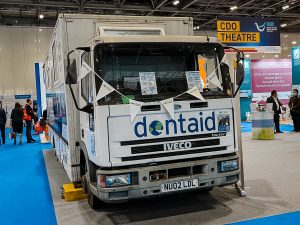 It was also great to see Dentaly.org information on the wall of the waiting area–giving people access to further dental education material.
Dentaly.org's contribution will mean that many homeless people who could not buy a toothbrush or replace their old one can get the resources to maintain an oral health routine. This will help to reduce potential dental problems that may arise from not being able to brush their teeth.
Research has shown that 70% of homeless people are suffering pain from dental issues and up to 15% have tried to extract their own teeth. 35% of people are able to brush their teeth twice a day as recommended, and Dentaid says that most of their patients don't have access to a toothbrush at all.
"We are very grateful to Dentaly.org for this generous donation.
It's always heart-warming to see how grateful our patients are to receive our oral health packs. Our volunteers always talk to our patients about toothbrushing and we want to ensure they have the best possible chances to look after their teeth."

– Sue Smith – Dentaid's UK Development Manager
Conclusion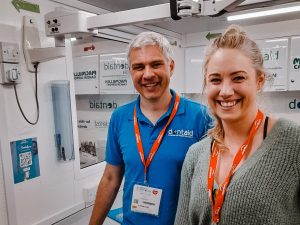 Dentaid's projects mean that even the most vulnerable of our society can receive dental care, as well as those just struggling to even register with an NHS dentist.
We are pleased to have had the opportunity to support Dentaid by funding the purchase of 5,000 new toothbrushes so that those in need of dental care have the resources they need to improve their overall oral health and reduce further potential dental problems.
However, we also recognise that more needs to be done to address the underlying problem with homeless people having limited access to dental care or being unsure of their eligibility for NHS treatment. This report from Groundwell offers some interesting insights for anyone interested in learning more.
Sign up to receive the latest news and offers from Dentaly.org