Please note: Franksmile is reported to have gone into insolvency early in 2020. Although they appear to still be accepting orders on their website, customer reviews report having problems with not receiving aligners and poor customer service. The review that follows was accurate prior to this occurring. We recommend you use a different company for your aligner treatment; see some alternatives here.
Having a perfectly straight smile is a dream for lots of us. You've probably heard that clear aligners are expensive, but companies like Franksmile are making them accessible again.
Franksmile prices are low because they follow the teledentistry model. That means you don't actually have to go into a dentist or orthodontist's office; your whole treatment course is managed online. It can make life much more convenient.
It's a new way of doing things, and we know you probably want to understand more about how Franksmile works. We're going to go through all the questions you might have, including:
Who are Franksmile?
How do their aligners work?
What do I need to do to get Franksmile aligners?
How much will I pay for my treatment?
How does Franksmile measure up to its competitors?
With plenty of options available in the UK for postal aligners, as well as other kinds of braces, it's worth getting as much detail as possible about your options. In this Franksmile review, we will tell you everything you need to know so you can decide if it's the right choice for you.
Since Franksmile have gone into insolvency, have a look at our top picks for clear aligners:
Find the right clear aligners for you
Complex cases
Treats up to 90% of Cases
Up to 40% cheaper than Invisalign
Buy now, pay later in interest-free instalments.
Rated 4.9/5 on Trustpilot
As seen on 5, BBC, 4, DailyExpress, TheMail
Get 5% OFF with our discount code DENTALY5OFF and FREE Whitening and Retainers worth £790
Smile White offers a hybrid model for clear aligner treatment. You have 3 in-office appointments, so your dentist can ensure in person that your treatment is going as planned.
That means that, unlike other clear aligners, Smile White can treat even the more complex cases of bite misalignment.
To get started:
Every treatment comes with free teeth whitening, so you can whiten your teeth while you straighten them!

Best value
Free retainers and whitening
Nighttime aligners available
0% interest finance options
£1,395 £1,295 or £83.33/month
NewSmile is a Canadian company that brought its clear aligners to the UK market in 2022. NewSmile aligners are made from the clearest material and the company offers excellent service at the best price.
They don't have any physical locations, so you'll need to purchase an aligner kit to get started. One of their Impression Specialists will guide you through the process on a video call when you're ready.
NewSmile aligners are very affordable, costing just £1,395 (currently discounted to £1,295). But even better, this price includes whitening foam to use in your aligners, plus your first set of retainers!
Choose their daytime package for treatment in 4-6 months, or nighttime aligners for a more discreet treatment that takes 8-10 months. Both options come with 0% interest payment plans available.
Always visit a dentist for a checkup before beginning any treatment, to check for gum disease or cavities that should be treated before wearing aligners.
Who are Franksmile?
Founded in 2019, Franksmile first launched in the UK and then expanded to Singapore and some other European countries. The company headquarters are in Berlin.
The normal process for getting straighter teeth in the UK is to visit an orthodontist and get treatment with either braces or clear aligners such as Invisalign. You return for regular checkups and adjustments during your treatment. This is a big chunk of the cost you pay for your treatment – your orthodontist needs to pay bills like rent and salaries for lots of staff. Franksmile, and teledentisty in general, cuts that out.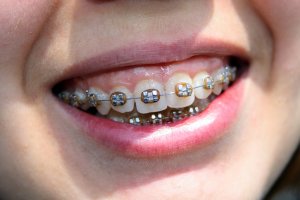 Instead, you can either take your own teeth impressions at home, or visit one of their Franksmile studios. Your teeth are assessed by a licensed dentist and once you agree to your treatment plan, your aligners arrive in the post.
The pricing is very clear, with a set fee no matter how long your course of treatment needs to be. Included in the price is online and phone access, with their helpline open 9am – 6pm Monday to Friday.
How do Franksmile aligners work?
If you've ever had braces before or looked into getting them, you'll have an idea of how they work. By applying gentle pressure to your teeth over time, they shift your teeth into a straighter position. Aligners work in the same way, but instead of brackets on your teeth, you get a clear cover for them, a bit like a mouth guard.
Generally, teeth straightening at home works best for mild to moderate straightening. In-office brands like Invisalign can also treat more severe malocclusions. The main issues that aligners can treat are:
Franksmile offers a money-back guarantee if you go through the process of making impressions and it turns out they can't straighten up your smile for some reason.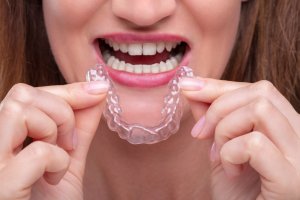 Your aligners will be carefully designed to make small changes to your teeth positions over time. Normally, you have to change your aligners every two weeks to continue your progress. Once you've achieved the straighter smile you agreed with Franksmile, you then need to wear a retainer to make sure your teeth don't move back.
Researching your aligner options, you'll have no doubt come across in-office brands such as Invisalign, the market leader. When it comes to Franksmile vs Invisalign, probably the most significant difference between the two is their level of expertise.
Invisalign has been in operation since 1997 and has developed its technology and skills to be able to deal with a wide range of orthodontic issues. In contrast, Franksmile has been in operation for around one year and can only work with mildly to moderately crooked teeth. The expert monitoring by Invisalign orthodontists, in person, also means you're going to get the best level of care possible, plus refinements where needed.
How do I get Franksmile aligners?
There aren't many people who truly enjoy going to the dentist or orthodontist. You cut all of that worry and anxiety out with Franksmile by doing your own impressions at home and posting them off, along with photos of your teeth.
Since it's a pretty new concept, we'll talk you through exactly how it works step-by-step.
Step 1: Show your smile
To get rolling with Franksmile, you first have to fill out a quick assessment on their website. There are a few things that might mean you are ineligible for the aligners, such as: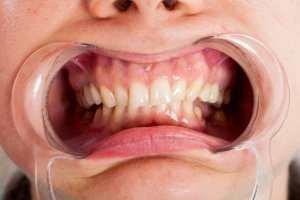 Missing teeth
Implants
Unfilled cavities
Gum disease
Permanent retainers
So you'll be asked about them before you go any further.
After they've checked that your teeth are eligible for Franksmile aligners, you have two options. You can either order a home impressions kit which costs £49, or you can visit a Franksmile studio for a 3D scan.
The impressions kit contains everything you need to take your own mouth impressions, including dental putty and trays. There's also a mouth opener which you use to take accurate photos of your teeth. Here's a Franksmile review unboxing video from Youtuber Cooksterni that shows you the full process of how to make your impressions:
Rather not go through the hassle? Franksmile has offices across the UK where you can have a 3D scan of your mouth taken by a dental nurse. At time of writing they have six studios in the following locations:
London Marylebone
London Monument
Birmingham
Manchester
Liverpool
Leeds
There's no cost involved if you go in for a scan, but if the price is a concern, make sure you weigh up your transport costs against what you'd spend on the impressions kit.
Step 2: See your smile
Once Franksmile has your impressions and photos, or your 3D scan, a dentist will plan your treatment. They'll make sure that you're eligible for treatment, and if not, the price of your impressions kit is refunded.
Assuming your teeth can be straightened, you'll get an email outlining your treatment plan from Franksmile with before and after images so you can see what your smile should ultimately look like.
You'll have a chance to talk with a personal consultant. They'll explain how long your treatment will last and how many aligners you'll need. Typically, a course of treatment takes around six months and you must wear your aligners for 22 hours per day.
Step 3: Your smile in the post
The next step is the big one, taking the plunge and deciding to go ahead with your treatment plan. After giving them the go-ahead and paying the £1,499 fee, or agreeing to the payment plan that we'll go into a little further down, your aligners are made for you. Franksmile uses a 3D printing method and plastic that's free from:
Everything comes in one box through the post, so make sure you keep it safe and don't lose any of the aligners. The customer care team will support you with any questions that you have.
The last pack in your box will be your retainer. This needs to be worn after treatment to make sure your teeth don't slip back to how they were before. Wear it as per the instructions that come in the box.
How much does Franksmile cost?
With aligners costing £1,499, Franksmile says that their prices are 65% cheaper than normal teeth straightening procedures. That really depends on which system you compare it to, but here's a breakdown of what you pay for planning and executing your treatment:
Online assessment for eligibility

£49, refunded if can't progress with treatment

3D scan at Franksmile studio

Treatment – single payment

Starting at £37.34 per month, interest free

Prices correct at time of writing but may change at any time.

Payments can be made with Visa, MasterCard, American Express, and PayPal. Paying by instalments is done through a different company.
Franksmile's competitors
As new as teledentistry and getting aligners through the post is, there are a few companies offering the same type of service as Franksmile. We'll have a quick look at some of the alternative postal aligner companies, and you can read more about each one in our separate guides.
Franksmile vs SmileDirectClub
SmileDirectClub (SDC) is a big name in the clear aligner market, having gained great success in the USA. They work in much the same way as Franksmile and the price is exactly the same. A key difference between the two is that SmileDirectClub has more locations, called SmileShops, where you can go for your free 3D scans.
Whilst talking about the costs, SDC's impressions kits are slightly cheaper, but you do need to pay for your retainers, whereas with Franksmile you get your first set for free.
Read more about SmileDirectClub in the UK, or see what people say about using these at-home aligners in some SmileDirectClub reviews.
We also have a review of Straight Teeth Direct, another at-home aligner option you might want to consider.
Conclusion
Franksmile is one of the newer companies to offer aligners through the post. They have grown fast across the UK and claim to have treated over 10,000 clients.
Be aware that you can only contact the company during business hours. If you have lots of concerns about your treatment or you like to be able to chat to someone for reassurance, you may not get the level of service you need from Franksmile.
Sign up to receive the latest news and offers from Dentaly.org