The bamboo electric toothbrush is an environmentally conscious toothbrush which is great for those who want to use sustainable practices, especially when we compare them to traditional plastic electric toothbrushes. But why buy a bamboo toothbrush? Do electric bamboo toothbrushes clean your teeth any better?
This article will discuss the benefits of using a bamboo electric toothbrush and answer the following questions:
What are the benefits of an electric toothbrush?
Why use a bamboo electric toothbrush?
What is the best bamboo electric toothbrush in the UK?
How do you choose the right one?
What do bamboo toothbrush reviews say?
As with anything of great importance, choosing your next brush should not be taken lightly. You want to be sure you're making the best decision for yourself and the environment.
The following table summarises all of the bamboo electric toothbrushes that will be discussed in this article:
Bamboo Electric Toothbrushes in the UK




Sustainable Tomorrow Bamboo Electric Toothbrush

Compostable heads and bristles that compost in 6 months

Organically Epic Sonic Wave Bamboo Head Electric Toothbrush

5 settings


6 weeks+ battery life

Compostable bamboo heads and recyclable bristles

6 weeks+ battery life

Fayet Bamboo Smart Sonic Electric Toothbrush

5 modes: clean, whitening, sensitive, gum care and polish


Toothbrush heads are made from 100% bamboo

Long battery life of 40+ days

Kamose Sonic Bamboo Electric Toothbrush for Adults and Kids

3 different toothbrush heads

Truthbrush Bamboo Electric Toothbrush Heads

2 bamboo replacement sonic toothbrush heads


Fit Philips Sonicare 9 series brush

100% recyclable packaging
A bamboo electric toothbrush can help lower the amount of plastic you are putting into landfills. Keep reading to learn more about bamboo electric toothbrushes and whether they actually get the job done.
Benefits of an electric toothbrush
Electric toothbrushes are a great way to improve your oral health. They can help you brush more effectively, and they can also help you get rid of bad habits.
Here are some of the benefits:
Gentle on the gums
Reduce plaque build-up
Electric toothbrushes are more effective in removing plaque and gingivitis than manual brushes.
There are all sorts of electric toothbrushes available, whether you need one for sensitive teeth or one suitable for your child or baby. Many come with different brush heads, cleaning modes, and levels of intensity for you to choose from.
If you like the idea of an electric bamboo toothbrush but you would still like to read up on some of the more well-known models of toothbrushes to compare, check out our article comparing Oral-b electric toothbrushes to Sonicare electric toothbrushes.
Or, if you have sensitive teeth and are considering a silicone electric toothbrush, check out our article on the FOREO ISSA range.
Why Bamboo?
Bamboo is a sustainable resource. It grows quickly, without the use of pesticides or herbicides, and requires very little water to grow. It also has antibacterial properties, meaning it's easier to keep clean than other materials like plastic or metal.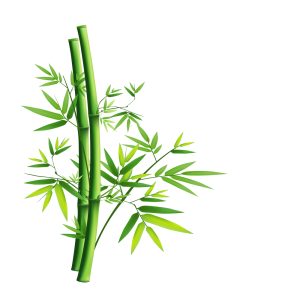 Bamboo can be harvested each year without damaging the plant itself because its roots are so strong—meaning it will continue to grow back as long as you don't harvest too much at once!
Other benefits of using a bamboo toothbrush include:
It is naturally antibacterial, so you can use your bamboo electric toothbrush without worrying about it spreading germs.
The bristles of bamboo toothbrushes are softer than those of other types of toothbrushes. This means they're gentler on your gums and teeth when you brush them, which prevents damage to your oral health in the long term.
It's stylish—the bamboo handle and sleek design make it look like a piece of art.
It's lightweight and comfortable in your hand, which means it's easier to hold while brushing your teeth.
How does a bamboo electric toothbrush work?
An electric bamboo toothbrush works like a normal electric toothbrush. It has a battery, a motor and a brush head. The brush head is made of bamboo and it's connected to the motor by a wire.
Most bamboo toothbrush handles are made with some sort of recyclable plastic so that they are waterproof. This means that the electrics inside of the toothbrush are still protected even though the majority of the toothbrush is made from bamboo.
How to choose the right bamboo electric toothbrush
There are a few things to consider when choosing the right bamboo electric toothbrush.
First, look for a rechargeable battery. If the toothbrush doesn't have an internal battery or needs to be plugged into a wall socket, it won't work as you travel and will be useless when you need it most. Look for one that has a built-in rechargeable battery so that you can take it wherever you go without worrying about finding an outlet along the way!
Next, look for replacement bamboo electric toothbrush heads! If your brush only comes with one head and doesn't allow you to replace it when needed (or if it doesn't come with any heads at all), then this could become problematic later on down the line when they wear out from repeated use—and who wants that?
Plus having multiple replacement heads means more flexibility in terms of what kind of cleaning experience works best for different types of mouths; some people might prefer softer bristles while others might want harder ones; some may want more power whereas others might prefer less pressure applied overall…so many options!
What is the best bamboo electric toothbrush in the UK?
We've compiled this list of the best electric bamboo toothbrushes available in the UK, and we've included a review of each one to help you decide which one is right for you. If you already have an electric toothbrush but would like a replacement electric toothbrush head that is a little more eco-friendly we will discuss those further on in the article. But first, let's discuss the best bamboo electric toothbrushes you can get on the market.
Sustainable Tomorrow Bamboo Electric Toothbrush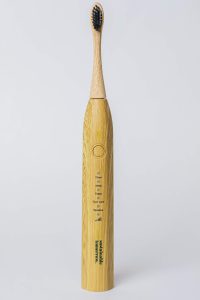 The Sustainable Tomorrow electric toothbrush features a compostable FSC-approved bamboo head. Heads are replaceable, so when it's time to change, you can compost your old head and order a new one. The bristles are made from castor seed oil, and compost in 6 months.
The base of this toothbrush is made of plastic — this is for waterproofing and safety requirements. And to cut down on waste, it comes in zero-waste, plastic-free packaging.
The main features of this brush are:
4 included compostable heads
40,000 vibrations/minute
3 intensity levels
30-day battery life on a 4-hour charge
5 cleaning modes
2-minute timer
Sonic technology
Originally Epic Sonic Wave Electric Toothbrush
The Originally Epic Sonic Wave Electric Toothbrush is our pick for the best electric toothbrush available in the UK. It's an innovative design that reduces your impact on the environment.
With compostable bamboo electric toothbrush heads and recyclable bristles, it's a true revolution for those who want a sustainable option, but with more powerful teeth cleaning.
Main features:
5 settings
2-minute timer
6 weeks+ battery life
FSC certified bamboo
Scratch-resistant casing
What's in the box?
3 x Bamboo Toothbrush Heads
USB charger
Charging dock
Toothbrush handle
User manual
1-year warranty
"Am really pleased with this brush. Bought one for my husband too. One charge lasts 6 weeks as claimed. Brilliant not having to buy plastic replacement heads. Thank you."

-Jane, Originally Epic customer
The following video shows the Organically Epic Sonic Wave in greater detail:
Fayet Bamboo Smart Sonic Electric Toothbrush
The Fayet Bamboo Smart Sonic Electric Toothbrush is an eco-friendly alternative to traditional electric toothbrushes. The toothbrush heads are made from 100% bamboo, and the toothbrush handle is made from recyclable plastic to waterproof and protect electrical parts, while still being recyclable.
The entire package comes in a biodegradable box made from paper pulp, so you can feel good about your purchase!
Simple to use, this brush has the same sonic technology as other electric toothbrushes on the market today—but it's all wrapped up in a package that's better for you and for the planet.
Main features
5 modes: clean, whitening, sensitive, gum care and polish
low noise
long battery life of 40+ days
USB charging
30-second quad pacer
IPX8 Waterproof
What's in the box?
1 x Electric toothbrush handle
3 x Bamboo replacement heads
1 x USB charger
1 x Charging dock
1 x User manual
"Love this toothbrush. We're removing as much plastic from our house as possible and we love this. It's easy to use, charges quickly and feels great. One of the best bamboo brushes. Would definitely buy again."

Miss Gillian T Coney, Amazon customer
Kamose Sonic Bamboo Electric Toothbrush for Adults and Kids
The Kamose Sonic Bamboo Electric Toothbrush for Adults and Kids is the easiest way to keep your and your children's teeth clean. The bamboo toothbrush heads are biodegradable and recyclable, so you don't have to worry about adding them to the landfill when it's time to replace them.
This toothbrush comes with three different heads: a Dupont Bristle, which is medium in hardness and removes plaque; a Charcoal Bristle, which is soft in hardness and whitens teeth; and a Spiral Bristle, which is soft in bristle and gentle on sensitive teeth.
Main features
Eco-friendly
5 cleaning modes
3 different toothbrush heads
IPX8 waterproof
2-minute timer
What's in the box?
1 x Electric bamboo toothbrush
3 x Toothbrush heads
1 x Charging base
1 x USB type-C cable
1 x User manual
"I tried this and honestly it's not far off the top brand electric toothbrushes out there. There are loads of modes for cleaning which is a nice touch so overall I'm chuffed with my purchase. The bamboo heads are way more environmentally friendly which is a huge plus for me too 10/10!"

-David Wilson, Amazon customer
"Loved this toothbrush until the battery suddenly won't charge–thinking of buying a new one but only lasted 10 months"

– Amazon customer
Truthbrush Bamboo Sonic Electric Toothbrush Heads
Looking for a bamboo replacement head for your electric toothbrush? Truthbrush has engineered bamboo sonic brush heads that are both sustainable and will provide the same clean feeling as plastic toothbrush heads do.
The company uses sustainably sourced bamboo with medium plant-based bristles, and packaging that is 100% recyclable—and donates 1% of its profits to environmental non-profits.
Truthbrush brush heads come in a pack of 2 and fit your existing Philips Sonicare 9 series brush so there's no need to buy a new base. Just make sure to check if your model is compatible before you buy.
If you don't have a Philips Sonicare electric toothbrush Live Coco heads work with most Oral-B electric brushes. An added bonus is that when you've finished with them you can send them back to the company for recycling.
Conclusion
Bamboo is a great option for those who want to go green. It's a sustainable material that will not harm the environment.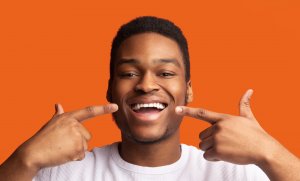 It's a renewable resource that proliferates, so it can be harvested without hurting the environment. In fact, bamboo has been used for thousands of years and continues to be one of the fastest-growing plants in the world. This means it can be harvested at a sustainable rate.
Bamboo is biodegradable, meaning it breaks down easily when exposed to outside forces such as water or sun. As a bonus: if you compost you'll even have some nutrients left over from your toothbrush!
The best part about using an electric bamboo toothbrush is that it's cheaper and safer to use than traditional plastic ones. If you're looking for an electric toothbrush that will help protect our planet while still providing an excellent cleaning experience, then look no further than Bamboo Electric Toothbrushes UK!
If you are looking for a new way to improve your oral hygiene then we recommend that you try the bamboo electric toothbrush. It is much more cost-effective and eco-friendly than regular brushes.
Sign up to receive the latest news and offers from Dentaly.org