An ultrasonic tooth cleaner is a tool designed to remove dental plaque and tartar from teeth. This type of cleaning used to be performed exclusively by dentists, using hand tools to physically scrape away the plaque and tartar buildup from teeth during a dental cleaning.
Now, more dentists are implementing ultrasonic teeth cleaners to do the same job, but in less time and with less discomfort for the patient. These tools use sonic vibrations to break up deposits on teeth and water to clear away debris.
In this article, we'll review this ultrasonic technology along with some of the top ultrasonic tooth cleaners on the market, available for use at home. We'll also answer the following questions:
Are ultrasonic tooth cleaners safe?
How does the technology work?
What's the best ultrasonic tooth cleaner?
We hope this information helps you find the most efficient and safest way to maintain a good oral hygiene routine and keep your teeth clean and healthy.
If you're short on time, have a look at the following table for our top picks:
Ultrasonic Teeth Cleaners

ZoCCee Cleaning and Whitening Tool

Hangsun Plaque Remover for Teeth

Automatically stops on soft tissue


The Liebsen Dental Cleaner Kit
What is an ultrasonic tooth cleaner?
An ultrasonic dental cleaner is an electric or battery-powered device that cleans plaque and tartar from teeth. It looks a little like a dentist's dental tool used for scraping plaque from teeth. But an ultrasonic cleaner doesn't require a scraping action like traditional dental tools.
Instead, it uses electromagnetic force that causes the tip to vibrate. The resulting ultrasonic vibrations then break apart and remove the plaque and calculus that has built up on your teeth.
Moreover, a small stream of water comes out of the tip and helps blast away additional buildup while washing away the debris.
Studies have shown that ultrasonic technology successfully removes plaque and reduces gum infection, but the study pool is limited.
At the dentist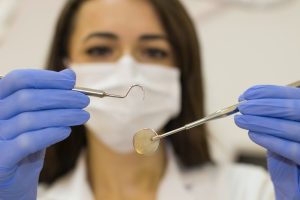 Dentists now employ this ultrasonic technology in their practices because it's much faster than traditional dental scaling. It takes just 1/3 of the time. and it's much more comfortable for patients. A deep clean or dental scaling doesn't necessarily hurt, but the pressure and force used by the dentist can be uncomfortable.
Additionally, the flow of the water stream and the vibration frequency can be adjusted to relieve any discomfort or sensitivity the patient feels. Dentists may also have special tips designed to clean porcelain crowns and titanium implants.
At home
There are also ultrasonic dental cleaners available for home use. There's a bit of a controversy around whether or not it's safe for patients to use one on their own. The main objection is that removing tartar from teeth requires special training that only dental hygienists have.
But others say that a quality ultrasonic cleaner, when appropriately used, can help you keep up your oral hygiene and health in between dental visits.
To use an ultrasonic cleaner at home, follow the instructions that came with the device. In general, they will more or less include the following steps:
Fill the reservoir with water (some models don't use water)
Turn the cleaner on
Gently and slowly move the tip along your gum line
Stay bent over the sink to avoid making a mess
Ultrasonic teeth cleaner UK reviews
The first review is from a man in the UK who got his cleaner from Groupon. He bought his while in lockdown and couldn't get in to see the dentist. His model doesn't work with water, just the vibrations.
He concludes that it is 'rubbish.' He doesn't recommend it and says you are better off using a water flosser and seeing the dental hygienist for a cleaning.
The following ultrasonic tooth cleaner review by John warns against scaling your teeth with an at-home ultrasonic cleaner. He says that the ones you can buy differ from the ones the dentist uses. John says DIY dental scalers will damage your gums and tongue if misused. They can also scratch your enamel, crowns and veneers.
At-home scalers don't use water, so they can heat up and damage your teeth, leading to the tooth dying. They are also not sterile, so you can bring home bacteria and introduce them to your mouth, which can lead to problems.
John's view of at-home ultrasonic tooth cleaners is that they are dangerous and can damage your teeth. It's much better to go to your dental clinic and get a scale and polish from your dentist or hygienist.
What is the best ultrasonic tooth cleaner in the UK?
There aren't many ultrasonic tooth cleaners on the market in the UK, as this technology is relatively new. That being said, check out the following options available on Amazon.
ZoCCee Cleaning and Whitening Tool
The ZoCCee Cleaning and Whitening Tool is a versatile dental tool that offers an effective solution to maintaining a healthy and sparkling smile. This tool is designed to cater to different dental needs with its 5 adjustable modes and 2 heads.
Its easy-to-use buttons, switch and mode buttons make it simple to operate, and a detailed manual is included to guide users.
One of the features that make this home dental cleaner out is its rechargeable built-in 1500mAh battery that provides long runtime on a single charge. This eliminates the need for frequent recharging or the need to replace batteries.
The dental tool also comes with a built-in LED light that illuminates the oral cavity, making it easier to spot plaque and remove stains effectively. This feature ensures thorough oral care, especially for hard-to-reach areas.
Overall, the ZoCCee Cleaning and Whitening Tool is a great investment for maintaining perfect oral hygiene. It is suitable for home use and on-the-go dental care.
The ultrasonic cleaner features 5 cleaning modes:
Soft
Normal
Middle
Strong
Super strong
The following reviewer found it was effective in removing stains:
"I bought this expecting little from it, and don't get me wrong I don't now have a Hollywood smile but it has definitely reduced stains and has worked very well in getting in between my teeth and I now feel like I can smile confidently again which is great. I definitely recommend."

Amazon customer review
*Please note that we do not recommend scraping your teeth at home. If you do it wrong, you could scrape off your enamel, causing irreversible damage to your teeth.
Hangsun Plaque Remover for Teeth
The cutting-edge design of this model utilises ultrasonic vibrations, which are activated only when in contact with the teeth. Additionally, the device automatically ceases vibrating upon contact with soft tissue such as gums, ensuring a gentle and safe experience.
Experience peace and quiet during use, thanks to the device's minimal noise output. Moreover, the gentle vibrations of this device are ergonomically designed to prevent any discomfort or hand fatigue.
The device boasts five modes, ranging from soft to super strong, catering to your unique dental needs. Additionally, this device is waterproof, allowing for convenient use in the shower, making it a versatile and practical addition to your dental care routine.
The Liebsen Dental Cleaner Kit
This ultrasonic dental cleaner is an all-in-one dental tool designed to cater to your various cleaning needs. This advanced dental cleaning tool comes with 5 adjustable modes and 4 replaceable heads, providing a customisable cleaning experience that is tailored to your specific dental requirements.
Each of the 4 cleaning heads serves a unique purpose and helps solve different teeth problems and remove various stains. This versatility ensures that you can achieve a comprehensive dental cleaning experience with just one tool.
The high-quality stainless steel heads and slip-resistant silicone handle of the Liebsen Dental Cleaner Kit ensure safe and easy use, while the bonus oral mirror provides a clear view of the teeth. Additionally, an auxiliary LED light illuminates the oral cavity, making it easier to spot and clean hard-to-reach areas.
The Liebsen Dental Cleaner boasts a long-lasting, built-in rechargeable battery that eliminates the need for frequent charging or battery replacements. With an intuitive 2-button layout that simplifies operation, this dental cleaning tool is easy to use. One button turns it on, while the other is for mode switching. The cleaning head is detachable and washable, making it easy to maintain cleanliness after each use.
The following reviewer seems extremely pleased with this plaque cleaner:
"Needed to polish my teeth as they were staining and decided to try this rather than pay a fortune for a visit to a private dentist. Honestly, I was shocked with how easy and how noticeable the difference was after even five minutes of use. Stains disappear and it also works at removing an plaque build up between the teeth. This will save me a fortune!"

Amazon customer review
Conclusion
Ultrasonic teeth cleaners are not widely available for at-home use, but there are some products you can purchase online. There is plenty of debate as to whether it's safe for people to use these devices at home.
Many — especially dental professionals — say that only trained dental hygienists should remove tartar from your teeth with dental tools.
If you decide to use an ultrasonic cleaner at home, choose one with plenty of positive reviews from real customers. It's also a good idea to consult your dentist beforehand and ask them if this is something that would benefit you.
Most importantly, remember that these aren't meant to replace professional dental cleanings, and the best thing you can do for your dental health is to brush your teeth twice a day, floss at least once per day, and visit your dentist regularly.
FAQs
Can ultrasonic cleaning damage teeth?
Ultrasonic cleaning can damage teeth if the device isn't used correctly. If you get ultrasonic cleaning done at the dentist, you have nothing to worry about, but take care if using a cleaner at home.
Do dentists recommend ultrasonic cleaners?
Dentists typically only recommend ultrasonic cleaners for use in-office with a trained dental hygenist. Your dentist may recommend using one at home, in between cleanings.
Ask your dentist before you buy an ultrasonic cleaner — they may instead recommend that you increase your visits for professional cleaning. Or they may give you tips for better oral hygiene at home.
Does ultrasonic teeth cleaning hurt?
This method for cleaning teeth is supposed to be gentler than traditional manual scrapers. Patients should feel little to no discomfort, and the time it takes to clean teeth is significantly reduced.
How does ultrasonic dental cleaning work?
Ultrasonic tooth cleaners use gentle vibrating technology to break down plaque and tartar buildup on teeth. They typically work with a small stream of water that removes additional plaque and debris.
Sign up to receive the latest news and offers from Dentaly.org