An ultrasonic tooth cleaner is a tool designed to remove dental plaque and tartar from teeth. This type of cleaning used to be performed exclusively by dentists, using hand tools to physically scrape away the plaque and tartar buildup from teeth during a dental cleaning.
Now, more dentists are implementing ultrasonic teeth cleaners to do the same job, but in less time and with less discomfort for the patient. These tools use sonic vibrations to break up deposits on teeth, and water to clear away debris.
In this article, we'll review this ultrasonic technology along with some of the top ultrasonic tooth cleaners on the market, available for use at home. We'll also answer the following questions:
Are ultrasonic tooth cleaners safe?
How does the technology work?
What's the best ultrasonic tooth cleaner?
We hope this information helps you find the most efficient and safest way to keep your teeth clean and healthy.
If you're short on time, have a look at the following table for our top picks:
What is an ultrasonic tooth cleaner?
An ultrasonic dental cleaner is an electric or battery-powered device that cleans plaque and tartar from teeth. It looks a bit like the dental tool that dentists use to scrape plaque from teeth. But an ultrasonic cleaner doesn't require a scraping action like traditional dental tools.
Instead, it uses electromagnetic force that causes the tip to vibrate. The resulting ultrasonic vibrations then break apart and remove the plaque and calculus that has built up on your teeth.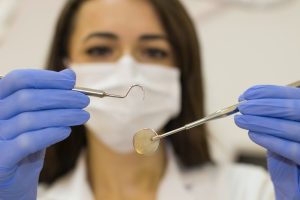 What's more, a small stream of water comes out of the tip and helps blast away additional buildup while washing away the debris.
Ultrasonic technology has been shown to be successful in removing plaque and reducing gum infection, but the study pool is limited.
At the dentist
Dentists are now employing this ultrasonic technology in their practices because it's much faster than traditional dental scaling — in fact, it takes just 1/3 of the time. It's also much more comfortable for patients, because while scaling at the dentist doesn't necessarily hurt, the pressure and force used by the dentist can be uncomfortable.
Additionally, the flow of the water stream and the vibration frequency can be adjusted to relieve any remaining discomfort or sensitivity felt by the patient. Dentists may also have special tips that are designed to clean porcelain crowns and titanium implants.
At home
There are also ultrasonic dental cleaners available for home use. There's a bit of a controversy around whether or not it's safe for patients to use one on their own. The main objection is that removing tartar from teeth requires special training that only dental hygienists have.
But there are others who say that a quality ultrasonic cleaner when used properly, can help you keep up your oral hygiene and health in between dental visits.
To use an ultrasonic cleaner at home, follow the instructions that come with the device. In general, they will more or less include the following steps:
Fill the reservoir with water (some models don't use water)
Turn the cleaner on
Gently and slowly move the tip along your gumline
Stay bent over the sink to avoid making a mess
Ultrasonic tooth cleaner reviews
In the video below, Darlene reviews an electric teeth-cleaning kit that she bought on Amazon. Her cleaner comes in rose gold and has a handy charging stand that works with a USB charger. The stand also contains the tips.
This cleaner comes with an app that actually works with a camera so you can see what you're cleaning and which areas you need to focus on.
She says that she takes really good care of her teeth, but even so, the cleaner managed to remove some spots where she did have a tiny bit of tartar buildup.
The next review is from a man in the UK who got his cleaner from Groupon. He bought his while he was in lockdown, and couldn't get in to see the dentist. The model that he has doesn't work with water, just the vibrations.
He concludes that it is 'rubbish.' He doesn't recommend it, and says you are better off using a water flosser, and actually going in to see the dental hygienist for a cleaning.
Best ultrasonic tooth cleaner
There aren't very many ultrasonic tooth cleaners on the market, as this technology is relatively new, both in-office and for at-home use. That being said, check out the following options, available on Amazon.
MeetEasy dental calculus remover
The Meeteasy cleaner set comes with an ultrasonic cleaner, a mirror, and a manual scraper tool.
*Please note, we do not recommend scraping your teeth at home. If you do it wrong, you could scrape off your enamel, causing irreversible damage to teeth.
The ultrasonic cleaner features 5 cleaning modes:
Ultra-strong
Deep cleaning
Medium
Low
Gentle

The tip is made using a steel alloy that is rust-proof and damage resistant.
The makers of MeetEasy recommend trying this first on the lowest setting so you get used to the sensation, and then slowly increasing intensity based on your level of comfort.
They also remind users that this isn't meant to replace a visit to the dentist. It's a supplement to help you keep your teeth clean between visits.
The following reviewer found it easy to use and effective:
"Was looking for something to get the plaque between my teeth it seems to build up faster there. I found it this works great it's so easy to use. Also comes with an extra pick and mirror so you can get hard to reach places. Definitely recommend."
LYMI Ultrsonic Tooth Cleaner
This model uses sonic high-frequency vibrations to clean the plaque of teeth.
It makes barely any noise, and the gentle vibrations won't hurt your hands.
It comes with five cleaning modes — and is waterproof, so you can use it in the shower. Plus it's got an LED light that gives you better vision while cleaning.
One happy reviewer says:
"Very happy with the results of using this product. It removes the plaque accumulating inside my lower front teeth. Very easy to use."

Laraine F
Kofoposo Electric Teeth Cleaner
This cleaner begins removing tarter when the head touches your teeth, and automatically stops when it touches soft tissue like your gums.
It uses high-frequency vibrations (42KHz) to remove plaque and calculus. You won't feel the vibrations in your hand, the noise level is extremely low.
The 360 LED auxiliary light makes it easy to see the inside of your mouth and it's waterproof so you can rinse it off and wipe it down without causing damage.
The following reviewer has this to say about this plaque cleaner:
"Wasn't quite sure how powerful & effective this would be, but thoroughly IMPRESSED! After one use I can already see so much build up GONE!"

Colin W
Conclusion
Ultrasonic teeth cleaners are not widely available for at-home use, but there are some products you can purchase online. There is plenty of debate as to whether it's safe for people to use these devices at home.
Many — especially professionals from the dental community, say that only trained dental hygienists should remove tartar from your teeth with dental tools.
If you do decide to use an ultrasonic cleaner at home, make sure to choose one with plenty of positive reviews from real customers. It's also a good idea to consult your dentist beforehand and ask them if this is actually something that would benefit you.
And most importantly, remember that these aren't meant to replace professional dental cleanings, and the best thing you can do for your dental health is to brush your teeth twice a day, floss at least once per day, and visit your dentist regularly.
FAQs
Can ultrasonic cleaning damage teeth?
Ultrasonic cleaning can damage teeth if the device isn't used correctly. If you get ultrasonic cleaning done at the dentist, you have nothing to worry about, but take care if using a cleaner at home.
Do dentists recommend ultrasonic cleaners?
Dentists typically only recommend ultrasonic cleaners for use in-office with a trained dental hygenist. It's possible that your dentist may recommend that you use one at home, in between cleanings.
Ask your dentist before you buy an ultrasonic cleaner — they may instead recommend that you increase your visits for professional cleaning. Or they may give you tips for better oral hygiene at home.
Does ultrasonic teeth cleaning hurt?
This method for cleaning teeth is supposed to be more gentle than traditional manual scrapers. Patients should feel little to no discomfort, and the time it takes to clean teeth is greatly reduced.
How does ultrasonic dental cleaning work?
Ultrasonic tooth cleaners use gentle vibrating technology to break down plaque and tartar buildup on teeth. They typically work with a small stream of water that removes additional plaque and debris.
Sign up to receive the latest news and offers from Dentaly.org