Are you eager to see Smile White Aligner before and after pictures before starting your own treatment? Understanding what to expect is crucial as you embark on your Smile White Clear Aligners journey.
Smile White clear aligners offer a perfect balance between at-home convenience and in-person professional monitoring.
In this article, we'll share real before, during, and after results from individuals who have used Smile White clear aligners.
Why Smile White?
Smile White Aligners are up to 40% cheapter than Invisalign and are able to treat the same wide range of cases — from moderate to complex.
•Treatment for aesthetics and major bite misalignment
•Crafted with OdourBlock™ materials
•Fewer office visits
•More affordable than other hybrid aligner brands
•No hidden costs
Get started with Smile White!
Use our discount code DENTALY5OFF to save an additional [smile_white_discount_off] on your treatment. Click the button below to get started!
Smile White before and after photos
In this section, we'll explore a few cases of people who've experienced the Smile White treatment. We'll discuss each case, including treatment duration and reasons for getting it. Let's get started with the more complex cases.
Complex case: before and after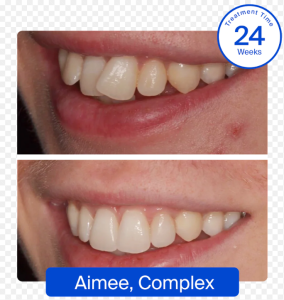 Here we can see that Aimee's smile was overcrowded before Smile White aligners.
However, after using this clear aligner system for only 24 weeks her teeth moved from their crooked position to a straighter, more desirable place without metal brackets, wires, or fillings.
Let's take a look at Chloe's results with Smile White, where her before photos show us another complex over-crowding case that was transformed into a perfect smile.
Not only do modern clear aligners such as Smile White correct complex overcrowding cases like Chloe's in timeframes as short as 21 weeks, but they can also correct an array of orthodontic issues that previously would have required fixed braces. You can find further information by visiting our guide on the differences between invisible braces like Smile White and Invisalign vs traditional braces.
Moderate case: before and after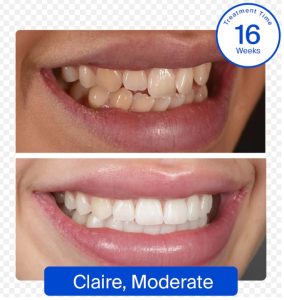 Looking at the before and after photos of Claire, her teeth do not require as much realignment as Aimee or Chloe. However, several of the teeth were out of alignment which affected her confidence.
Claire received bespoke duel arch aligners for both her bottom and top teeth and after only 16 weeks of treatment, she had her dream smile.
When Ellie first approached Smile White her main desire for her treatment was to correct the cross-over of her front two teeth. However, she chose to have her custom-made aligners fitted to both her top and bottom teeth as was thrilled with her results after 16 weeks of treatment.
Having metal braces fitted might feel a little extreme to you, but clear aligners let you straighten your teeth much more subtly.
If you are conscious of how your teeth look, even if all your friends think they are fine, Smile White aligners could be a great solution.
Learn more about this innovative brand in our Smile White Aligners review. Or, get started now and get 5% off your treatment with DENTALY5OFF!
Life before and after Smile White Aligners
Before treatment
To see if Smile White aligners are the right fit for you can take their free online suitability assessment. They follow a similar model to Invisalign, meaning that you can get orthodontic treatment for everything from minor aesthetic adjustments to severe bite misalignment. Plus they are also more affordable.
Your journey to straighter teeth will start with booking an online consultation, which is free for a limited time only, with one of the Smile White consultants. This 15-minute chat will allow you to chat with a dental expert to find the right clear aligner treatment for you. They will set you a personalised treatment plan, as well as answer any questions you may have.
An appointment will then be arranged at your local Smile White-approved dentist for a check-up and scan of your teeth. Following this your Smile White Aligners will be fitted and you will take home your kit ready to begin your journey towards your dream smile.

During treatment
To get the best results from your Smile White treatment it's best to just drink plain water at room temperature while wearing your aligners, for anything else they should be removed. By keeping your aligners in to drink you risk warping them with heat or staining them with pigmented or sugary drinks.
You SmileWhite aligners should be removed before drinking coffee, tea, or alcohol.
Your aligners should be worn for 22-23 hours of the day, however, should be removed to eat or drink. This means that people often report aligners help them to curb snacking habits.
Smile White aligners also help improve oral hygiene as it is encouraged that your teeth are brushed after eating or drinking before putting your aligners back in.
Each week you will get a fresh aligner to wear and you will see your teeth getting straighter and straighter as they gradually align. Everyone's treatment length is different and is personalised based on the severity of their own alignment needs which will be discussed at your original consultation. Until your perfect smile has been achieved you will have regular check-ins with one of the Smile White dental team.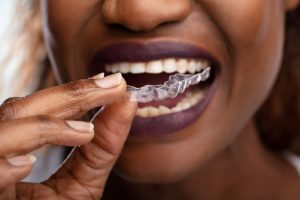 After treatment
No one wants to pay for a straight smile that moves over time! That's why Smile White will throw in 3 sets of SmileLock retainers worth £395 to guarantee your teeth stay straight for years to come on completion of your treatment.
With your newly straightened teeth, Smile White will also include their lab-developed Deeper White whitening toothpaste to keep your smile shining, as well as an easy-to-use top-up syringe kit worth £150 to touch up your smile.
Another positive of Smile White aligners is that if your teeth are not straight after completing your treatment, you will be refunded in full, no questions asked.
Our #1 recommended teeth aligners
Treats up to 90% of Cases
Up to 40% cheaper than Invisalign
Buy now, pay later in interest-free instalments.
Rated 4.9/5 on Trustpilot
As seen on 5, BBC, 4, DailyExpress, TheMail
Get 5% OFF with our discount code DENTALY5OFF and FREE Whitening and Retainers worth £790
Reviews
You can take a look at TrustPilot, where Smile White has 4.9 stars from almost 600 reviews.
One reviewer, Natalie, was especially pleased with not only the customer service but also her treatment , saying:
"The results are amazing I'm so happy and I wished I'd done it sooner!! The total process from start to finish was only around 14 weeks, It was pain free and so convenient been able to change to a new aligner myself each week.

The amazing dentist which I chose was really knowledgeable on the aligners, he understood exactly what I wanted. I would recommend Smile White and Yorkshire Dental Suite to everyone!"

Natalie, TrustPilot SmileWhite reviewer
Here are a few more which give an idea of what the process is like, from having a scan to wearing your first aligners, and finally to completing treatment:
"Absolutely superb service from initial enquiry and at the Dentist at Yorkshire Dental Suite where I had my consultation. Very professional and helpful and I'm absolutely over the moon with my results.

I definitely have a much brighter smile all ready for my wedding and after. I'm beaming with confidence, it's given me such a boost. Thank you!"

Rachel, TrustPilot SmileWhite reviewer
"I had been debating aligners for some time now as I knew this would be a huge investment for myself. Soo happy I went with Smile White aligners instead of Invisalign. Phenomenal result for a fraction of the price. Highly recommend!!! Do your research and go for Smile White!"

Skin and San, TrustPilot SmileWhite reviewer
"Week 4- everything has been great so far. They're comfortable and haven't hurt once. They're easy to clean and look after. Would definitely recommend smile White as they are a quick and top quality option."

CJ, TrustPilot SmileWhite reviewer
"Smile White Aligners are a dream! I've had fixed braces when I was younger previously and they were a traumatic experience. Since going to YDS and using Smile White aligners I cannot believe the difference, not only can you not tell I haven't got them in (such a bonus), the whole process has been so quick and I've noticed such a difference every couple of weeks in how my teeth have moved.

I couldn't recommend them enough to anyone who wants an even better smile without any of the dentist trauma! Having Rebecca calling and checking up during the whole process has just been an added incredible touch and made it so personal."

Emma, TrustPilot SmileWhite reviewer
Most patients have seen great results from their Smile White aligner treatment, the full range of TrustPilot Reviews are found on the Smile White website if you wish to read more.
Conclusion
Smile White offers the perfect mix of at-home and in-person professional alignment treatment. As a result, they guarantee a perfect smile, even if you have severe bite problems, or your money back!
The Smile White model is very similar to Invisalign, but it's the preferred option for those looking for more affordable treatment.
So why not get started now and save 5% on your treatment with code DENTALY5OFF.
FAQs
Where can I get Smile White Aligners?
Getting Smile White aligners couldn't be easier! You can order online today, paying in full, or in monthly instalments with Klarna — interest-free! Your first step is to book a consultation.
How much to Smile White Aligners cost?
Smile White aligners cost from £1,695 for the cheapest treatment to £3,695 for the most expensive treatment, which is for very complex cases of bite misalignment.
Is Smile White the same as Invisalign?
Smile White is similar to Invisalign. The treatment is mostly remote, with a few in-office visits. Meaning they can treat a wide range of cases and the price is more affordable.
Smile White Aligners Treat 90% of Cases
Smile White treats most alignement problems, thanks to in-person monitoring by a dentist. However, unlike other brands and treatments, you only have 3 in-office visits — the rest of your treatment is done at home.
From mild adjustments to complex bite misalignment, Smile White can help.
Use code DENTALY5OFF to get 5% off your treatment.
Take the commitment-free online assessment
Sign up to receive the latest news and offers from Dentaly.org