If you want to keep your mouth as healthy as possible, you should be flossing every day. Statistics show, however, that only a quarter of British adults floss regularly. If this is something you struggle with, have you tried an electric water flosser?
Many people are put off using conventional string dental floss for a variety of reasons:
It hurts their gums
It gets stuck in their teeth
They find it too fiddly
It takes too long
They don't know how to floss properly
Fortunately, water jet flossers (also known as oral irrigators) address all of these issues by making the process quicker, easier, and gentler on teeth. In this article you'll discover how these devices work and the different features they come with.
We compare features and reviews of some of the best water flossers available in the UK for 2019 so you can decide which one is right for you.
Best Water Flossers
Waterpik Ultra
Check the latest price
Number of tips: 6 different
Number of settings: 10 power settings
Cordless: No

Oral-B Oxyjet
Check the latest price
Number of tips: 4 x standard
Number of settings: 2 modes 5 power settings
Cordless: No


Waterpik Cordless Plus
Check the latest price
Number of tips: 4 diferent
Number of settings: 2 power settings
Cordless: Yes

Airfloss Pro
Check the latest price
Number of tips: 2
Number of settings: Triple-burst customisable settings
Cordless: Yes

Panasonic EW-DJ10 travel flosser
Check the latest price
Number of tips: 1 x standard
Number of settings: 2 power settings
Cordless: AA Batteries prowered

Best Water Flosser
Waterpik Ultra

Number of tips: 6 different
Number of settings: 10 power settings
Cordless: No

Oral-B Oxyjet

Number of tips: 4 x standard
Number of settings: 2 modes 5 power settings
Cordless: No

Waterpik Cordless Plus

Number of tips: 4 diferent
Number of settings: 2 power settings
Cordless: Yes

Airfloss Pro

Number of tips: 2
Number of settings: Triple-burst customisable settings
Cordless: Yes

Panasonic EW-DJ10 travel flosser

Number of tips: 1 x standard
Number of settings: 2 power settings
Cordless: AA Batteries prowered
Can an oral irrigator replace regular floss?
Before we look at the different products on offer, there is one important question to answer: Is water flossing as good as traditional flossing? Can you use an electric flosser as a substitute for dental floss?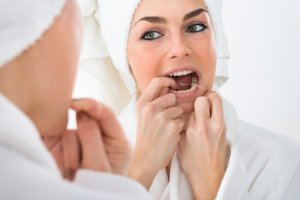 The answer depends on who you ask. One 2013 study showed that water flossing removed 29% more plaque than string floss, while other research has shown a greater reduction in gingivitis (gum disease) from using a water jet flosser.
In addition, oral care manufacturers usually conduct their own tests to show their product is the most effective at X, Y and Z.
Despite this, most dental professionals still advise patients to use string floss – as well as an oral irrigator if they wish. The reason for this is that dental floss physically scrapes plaque off the surface of the tooth, whereas a water jet just rinses it.
Not what you wanted to hear?
Well, a dental water flosser may still be more effective for people who:
Have dexterity problems which make it difficult to use normal floss
Have very sensitive gums that bleed easily and find traditional dental floss painful to use
Are wearing braces
Have dental bridges, crowns or implants
Just really dislike string floss and are never going to use it!
If you're serious about good oral hygiene, you could use string floss to loosen any food particles and then rinse your teeth with an electric flosser. But if you can't use string floss for whatever reason (or just don't want to), a water flosser is definitely better than not flossing at all!
| | Traditional string floss | Electric flosser |
| --- | --- | --- |
| Pros | Cheap; scrapes plaque off teeth | Quick and easy to use; gentle on gums |
| Cons | Fiddly and time-consuming; may damage sensitive gums | Expensive; uses electricity; may not be as effective |
Features to consider
Once you decide to purchase a water jet flosser, you still have to work out which brand and model will suit you best. This choice can be quite overwhelming, particularly if it is your first time purchasing one. Here are some of the main things you should consider: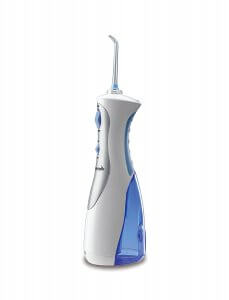 Mains operated or rechargeable: You may be used to having a cordless electric toothbrush, but some flossers are connected to a base that holds the water reservoir. This unit is quite large, so not ideal for travelling. On the plus side, the larger reservoir means less frequent re-filling, while the flossers themselves tend to be more powerful than cordless versions.
Budget: You can spend up to £100 on a top-of-the-range flosser, but some lesser-known brands have basic models for around £25.
Settings: Some flossers have just one or two power settings while others have up to 10. Few people will make use of all 10, but it's good to have options – especially if more than one person in your household will be using the device.
Tips: As well as the standard water jet tips, some models come with special tips for different purposes. These include tips for cleaning teeth implants, flossing around braces, and cleaning your tongue.
Electric toothbrush compatibility: If you're short on bathroom shelf space or plug sockets, there are a couple of options. Firstly, you could buy a cordless water flosser that is compatible with the charging base you already have for your electric toothbrush. Secondly, you could purchase an all-in-one unit which incorporates both a toothbrush and flosser.
Plug type: Like electric toothbrushes, most flossers come with a 2-pin plug that fits standard bathroom sockets in the UK. However, some have a 3-pin plug which makes them less convenient for bathroom use, so this is something to check before you buy.
Comparison of electric flossers in the UK
The following table shows a summary of the features of some of the best water flossers in the UK. Below this you'll find detailed descriptions and information that we have compiled from real water flosser reviews.
| Brand | Waterpik | Waterpik | Philips | Panasonic | Oral-B |
| --- | --- | --- | --- | --- | --- |
| Model | Waterpik Ultra | Waterpik Cordless Plus | Philips Sonicare AirFloss | Panasonic EW-DJ10 Travel Flosser | Oral-B Oxyjet |
| Number of tips | 6 different | 4 different | 2 x standard | 1 x standard | 4 x standard |
| Cost of standard replacement tip | £3.50 | £3.50 | £4.50 | £3.75 | £2.50 |
| Number of settings | 10 power settings | 2 power settings | 1 | 2 power settings | 2 modes; 5 power settings |
| Cordless? | No | Yes | Yes | AA battery powered | No |
| Other features | 90 second capacity | 45 second capacity | Auto-burst feature; low water usage | Compact design for travel; 40 second capacity | Wall-mountable |
| Warranty | 3 years | 2 years | 2 years | 1 year | 2 years |
Waterpik
The name Waterpik is synonymous with oral irrigators and they have a range of products to suit different needs and budgets. Using a combination of water pressure and pulse technology, their flossers remove up to 99.9% of plaque when applied to an area for just 3 seconds.
Waterpik Ultra (WP-120UK)
The Waterpik Ultra water flosser has 10 power settings which range from 10 to 100 PSI. Its six different tips let you clean your teeth and mouth thoroughly even if you have braces, dental prostheses or gum problems.
"It is so easy to use and my mouth feels so much cleaner and healthier" is a comment from one Amazon reviewer, although not everyone agrees. "Fiddly, time consuming and water goes everywhere" says another. But with a 4.5 star rating overall, the feedback is generally positive.
It's one of the pricier flossers on the market, but it comes with a 3-year warranty for peace of mind.
Waterpik Cordless Plus (WP-450UK)
If you want a flosser that's easy to take with you when you travel, you'll need a cordless model with a built-in water reservoir. Waterpik's Cordless Plus has two pressure settings offering 45 and 75 PSI of pressure – lower than the full-sized units but still enough to deliver an efficient clean.
It comes with four different tips including a tongue cleaner, and its easy-fill reservoir holds enough water for 45 seconds of use.
Some reviewers found it quite messy to use – at least at first. But since the cordless models are waterproof, it's possible to use them in the shower where any splashes are not an issue!
In this short video clip you can see the cordless version in use. The user says he loves using it (and it only made that much of a mess because he was trying to talk while using it!).
Quite a few people have had an issue with the battery on the unit, but have been able to get a replacement product quite easily if the fault occurs within the 2-year warranty period.
It's not that much cheaper than the plug-in version, despite it offering less power and fewer tips. Because of this, you'd probably only choose this model if you wanted to save space travelling.
Philips
The other big name in the electric flossing market is Philips Sonicare AirFloss. These flossers use a different kind of technology which combines bursts of air and water. Since they don't have a continuous flow of water they use much less, and so don't require a bulky reservoir.
This design also makes the Philips water flosser less messy to use, as you don't have to lean over a sink while water dribbles out of your mouth. Its tips have a thin nozzle which makes it easier to find the correct position between each tooth.
Philips Sonicare AirFloss Pro
There are two models available: the standard and Pro flossers. Both come in a range of colour options. A single tap of the button delivers one burst, but both models have an auto-burst feature which delivers a burst every second when you hold the button down.
The AirFloss Pro costs around £15 – £25 more than the standard model and comes with the following extra features:
Larger reservoir
Single, double and triple burst settings
A high-performance nozzle which delivers extra power
Both AirFloss models are available to buy in high street stores like Argos and Boots, but you may find more competitive prices online.
Compared to the Waterpik, the AirFloss doesn't have as many bells and whistles (no adjustable power settings and only one kind of tip). However, some people find the AirFloss easier and less messy to use because of the way it emits water.
Panasonic
Another brand of oral irrigator stocked in many high street shops and online outlets is Panasonic. They have three models which are all cordless. One, marketed as a 'travel' flosser, uses AA batteries while the other two have a charging dock.
EW-DJ10 travel flosser
The travel model, the EW-DJ10, is a cheaper alternative to some other brands while still being a well-known name. Its 165ml reservoir lasts for about 40 seconds, and it has two pressure settings which emit a jet of water.
It's not just its portability which makes it suitable for travel; the water reservoir doubles up as a travel case to store the nozzle safely and reduce the amount of space it takes up.
It's slightly less powerful than the rechargeable models and you'll need to replace the batteries when they run down. Reviews suggest this is about once a month with normal usage. So, if you don't specifically need this irrigator for its travel features, you may be better off with a rechargeable model.
Rechargeable oral irrigators
Panasonic has two rechargeable models which both have variable pressure settings. You can choose between a water jet or water mixed with air, which is recommended for periodontal cleaning. Neither models have pulse action though, which sets them back from Waterpik and Philips models.
The compact design is handy if you're short on space but it comes with one big downside: it only provides a 35 second capacity. This means you'll have to refill it at least once – if not more – during each use. Although this is not a big hassle, it's something that many reviewers found annoying, with one calling it an "oral irritator".
The price of the basic model is similar to some other models with more features, so might feel you're getting less for your money than with other brands.
Oral-B
Oral-B also has a range of electric teeth flossers but these are not widely marketed in the UK so your best bet is to buy online.
The Oral-B Oxyjet is one of the more expensive flossers on the market. Its unique design emits spiralling water jets filled with micro air bubbles to dislodge plaque, although it also has a straight jet mode. As well as this it has five power settings and is wall-mountable – a handy space-saving feature.
The general consensus from online reviews is that it does the job but the quality and design don't really justify the price tag. If you're a big fan of Oral-B toothbrushes, however, a unit which incorporates both devices is generally cheaper (and more compact) than buying both separately.
Summary of UK water flossers
The Waterpik water flosser range offers effective cleaning with variable power settings. People with braces, implants, bridges, etc. may benefit from the different tips designed for these purposes.
Others, however, prefer the simple function of the Philips AirFloss range which uses much less water. The compact, cordless design also makes for easier storage when travelling.
If you want an oral irrigator that's specifically designed to be compact for travelling, the Panasonic EW-DJ10 is a good, affordable option. Otherwise, you'll get the best value for money from Waterpik and Philips.
If you're unsure whether an electric flosser will suit you or you need advice on any specific features, speak to your dentist for their recommendations.