What is Boutique Whitening?
How much does Boutique teeth whitening cost in the UK?
Where can you get this whitening system?
How does it work?
What do Boutique Whitening reviews say?
What does Boutique Whitening cost?
Boutique whitening costs between £200 and £400 on average in the UK. It will vary from dentist to dentist.
Another great teeth whitening solution, and the one we recommend, is Smile White. To learn more about this product, read our Smile White teeth whitening review.
What is Boutique Whitening?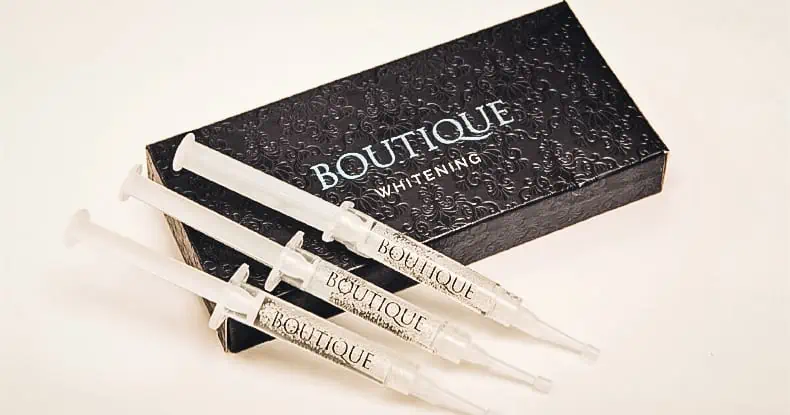 The dilution of hydrogen peroxide considered safe to use at home is 3%. Under the current EU and UK legislation, you can only buy dental products with less than 0.1% hydrogen peroxide. Dentists, however, can use much stronger products with up to 6% hydrogen peroxide content.
The two main whitening protocol options include Boutique Whitening by Day and Boutique Whitening by Night. You can choose which system suits you and your lifestyle best.
Boutique Whitening by Day
This whitening system is designed to be worn for 1-1.5 hours and the formula consists of 6% hydrogen peroxide. Boutique explains on their website that with hydrogen peroxide being an unstable ingredient, it breaks down as soon as it goes into the trays. This means that most of the gel is spent within 20 minutes, but they recommend you wear the trays for longer.
Boutique by Night
Boutique by Night has several different whitening protocols depending on which one suits you best. Each protocol is designed to be worn for 4 hours, but Boutique Whitening recommends you wear your trays for up to 6 hours or more to get the full effect. The different protocols include:
10% carbamide peroxide gel – equal to 3.5% hydrogen peroxide
16% carbamide peroxide gel – equal to 5.7% hydrogen peroxide
4.25% Hybrid Pro teeth whitening gel – contains a mixture of 4.25% hydrogen peroxide and 4.25% carbamide peroxide
The higher percentage formulas will get quicker results, while the lower percentage formulas are for those who need more sensitive teeth whitening.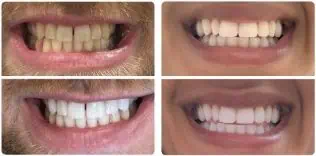 How does this whitening treatment work?
As mentioned above, if you want to get this whitening treatment you will need to go through a dentist. Your own dentist may or may not already have Boutique Whitening as a treatment option.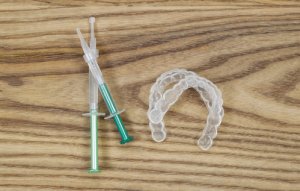 If they do, it is as simple as asking to get the treatment and choosing which option suits you best. If they don't, then you will need to find a dentist who does provide this whitening treatment.
Once you have decided on Boutique teeth whitening, your dentist will assess your teeth to make sure your teeth and mouth are healthy enough to have the procedure. Then the next steps are as follows:
Your dentist will take moulds of your teeth and bite to create your custom whitening trays
Use a special extra-sensitive whitening toothpaste at home while you wait to prepare your teeth for the whitening treatment
Collect your whitening trays and your Boutique Whitening syringes and start using them at home
Boutique Whitening instructions
Once you have collected your custom-made whitening trays and the Boutique Whitening syringes containing the gel for your chosen protocol, you can take them home and start your treatment. The instructions for use are as follows:
Brush your teeth
Apply the whitening gel to your custom trays in small beads halfway up the tooth surface
Put your whitening trays in and press them firmly into place to secure them
Disperse the gel by pushing on the front of the trays
Remove any excess gel that touches your gums with a tissue and rinse with water (do not swallow any)
Wear your trays for the recommended time for your particular whitening protocol
After your treatment, make sure to rinse out your mouth and brush your teeth. Clean your custom trays with cold water and a soft toothbrush.
You should see results shortly after starting your treatment. For best results, wear Boutique by Day for 1-1.5 hours each day for 7-10 days and Boutique by Night for a minimum of 4-6 hours for 7-10 days.
The following table summarises the Boutique Whitening options:
Boutique Whitening by Day

1-1.5 hours of wear time for 7-10 days

16% carbamide peroxide gel

Wear overnight while you sleep for a minimum of 4 hours for 7-10 days

10% carbamide peroxide gel

4.25% Hybrid Pro teeth whitening gel
How much does Boutique Whitening cost in the UK?
As with any dental procedure, Boutique teeth whitening cost ranges from practice to practice and between dentists. On average, this whitening treatment costs between £200 and £400 in the UK.
Teeth whitening procedures are not available on the NHS so you will need to get treatment as a private patient. If you are concerned about costs then ask your dentist about payment plans or take a look into dental financing.
Boutique Whitening Reviews
In the following video, Jake reviews the Boutique Whitening system. He's been straightening his teeth with clear aligners and purchased this whitening system to maintain his already quite white smile. Although Jake stated that he already had white teeth, he was very happy with the results from the kit.
Jake explains how often should you use boutique whitening and instructs how to use it while explaining his particular whitening protocol which was Whitening by Night. His overall opinion was that the results were not dramatic, but his teeth got whiter throughout the two-week treatment and he experienced very little teeth sensitivity.
The next review is by Hannah Seddon, a self-proclaimed notoriously bad coffee drinker. Hannah talks through how to use Boutique Whitening and gives her opinion on each step of the way including the toothpaste that you use alongside the treatment. She also shows how you load the whitening gel into the custom trays in detail.
At the time Hannah made this video, she was still halfway through her whitening treatment. She feels that so far it seems to be working and shows off her Boutique Whitening before and after, and you can watch her following video to see her overall opinion of the Boutique Whitening kit. You can also see more before and after teeth whitening photos in our separate article here.
Where can you get Boutique Whitening gel refills?
When you finish all of your Boutique Whitening syringes, make sure you don't throw away your custom-made whitening trays. The effects of whitening treatments don't last forever, especially if you are a fan of drinking red wine or coffee.
You can reuse your trays and get whitening gel refills from your dentist for a fraction of the original cost. Boutique whitening gel refills cost roughly £30 for just one syringe, but again, it will depend on your particular dentist.
Make sure you get the right Boutique Whitening gel so you don't end up leaving your treatment on for the wrong amount of time.
You must purchase gel refills from your dentist, as the formula is the same as those in your original whitening kit. However, if you don't want the hassle, or are seeking a cheaper alternative to maintain your pearly whites, there are some over-the-counter alternatives you can try.
Boutique Whitening gel alternatives
You can use your custom whitening trays with any whitening gel refill available on the market. Just make sure you follow the instructions for that specific whitening gel, rather than the original whitening protocol that you purchased.
Most whitening gels come in a kit with a mouthpiece that connects to an LED light to help them work more effectively. However, you can use your custom-made trays with any gel refill, they just lack an LED light.
Let's take a look at some whitening gel refill options.
Hismile gel pod refills
If you find that you would like to purchase refills that are peroxide-free, Hismile's gel pod refills use Phthalimidoperoxycaproicacid (PAP) as the main ingredient instead. PAP is just as effective at whitening teeth but without some of the side effects that peroxides can have.
The ingredients included in the whitening gel include:
Phthalimidoperoxycaproicacid (PAP)
Hydroxyapatite (HAp)
Potassium Citrate
PAP is the active whitening ingredient, HAp remineralises your teeth, and Potassium Citrate helps to treat pre-existing sensitivity.
You can buy a box of six refill whitening pods for just £39 for a box. They are designed to be used with an LED mouthpiece, so they may not be as effective with just a simple whitening tray. To learn more about Hismile's full whitening kit, read our review here.
Snow whitening gel refills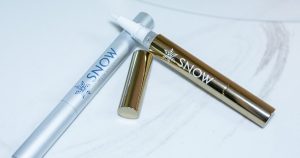 The main ingredient in Snow's whitening gel is hydrogen peroxide. Snow is both made in the US and shipped from there directly, so it has a higher amount of hydrogen peroxide than you can usually buy in the UK.
This whitening gel comes in the form of whitening wands which you can paint directly onto your teeth. Sometimes whitening gels that contain hydrogen peroxide can cause irritation to the tissue of your gums and mouth. Using wands to directly paint the gel onto your teeth means that you have more control and can avoid getting gel on your gums.
Snow has two different types of gel refills, the Extra Strength Whitening Serum and their original Whitening Wands. The extra strength wands are twice as big and twice as strong as their original wands. The original wands are less expensive, but when you factor in the size and strength differences, the prices balance out.
Snow's whitening gels are designed to be used with an LED light to be most effective. If you are interested in reading more about Snow's Whitening Kit you can read our full review here.
Conclusion
Boutique teeth whitening is a whitening kit that you need to get from a dentist. It involves having your custom-made whitening trays made at your dental practice and then doing your treatment at home yourself.
The treatment itself includes high-strength hydrogen peroxide whitening gel that you would not be able to buy over-the-counter in the UK due to teeth whitening regulations. Your dentist will assess your teeth before you begin treatment to make sure there are no issues.
Once you have completed all of your treatments, you may wish to maintain your smile without going through your dentist. If this is the case, you can buy whitening gel refills from companies like Snow or Hismile.
Most over-the-counter products in the UK don't contain more than 0.1% of hydrogen peroxide. However, Snow is a US company, so they have slightly higher amounts in their whitening gel. Hismile doesn't use hydrogen peroxide, instead of using their PAP+ formula that whitens with no side effects.
Many alternatives are meant to be used with LED lights, so keep that in mind when you are using them to whiten your teeth with trays that don't come with attached LED lights.
Best Teeth Whitening Kits 2023

Designed & developed by UK dentists

Includes 2 FREE visits at your local SmileWhite dentist

3 Year Guaranteed Results

Use code DENTALY5OFF to save an additional 5%!

"Best Professional Teeth Whitening with long-lasting results."

24-30 days of treatment included

Reusable components and affordable refills available

Ingredients to remineralize teeth and prevent sensitivity

30 day money-back guarantee

Free shipping and 10% off with code DENTA10

"Best affordable At-Home Whitening Kit."
Sign up to receive the latest news and offers from Dentaly.org