Gold braces are very much like standard silver braces used in orthodontics, which are made from stainless steel, except that they are coated in gold. Some people prefer the look of gold braces over traditional braces because gold is considered to be more elegant, stylish, and for some, signifies elite socioeconomic status.
There are also benefits to gold braces that go beyond aesthetic preferences — they are less likely to cause an allergic reaction, and they are anti-inflammatory too.
Gold braces cost more than regular braces and aren't offered by all orthodontists, so your first step is to speak with your orthodontist to learn about your options, and find out how much they'll cost you.
Teeth braces overview
As you know, braces are a system of brackets and wires that are attached to the teeth with the purpose of aligning crooked teeth into a straighter position. Braces can also help to close gaps and adjust a misaligned bite.
Back in the day, braces were super bulky and noticeable, but thanks to developing technology in the field of orthodontics, they are now less noticeable and more comfortable.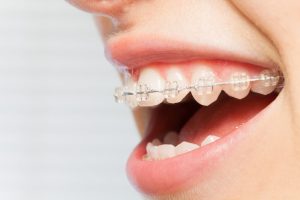 Braces can be used to correct everyone from tooth, bite, or jaw alignment problems. These problems can stem from anything from trauma and injuries to sucking your thumb as a baby, or just genetics.
Standard braces consist of brackets connected to wires and bands that put pressure on the teeth to move them gradually over time. Normally, there is a bracket glued to each tooth, and a wire — the archwire — connecting the brackets.
As you go through treatment, you have regular visits to your orthodontist who will check to make sure everything is going according to plan, and then adjust the archwire so that your teeth continue to move into the desired position.
Another part of braces is the elastic ligatures that are woven through each bracket. These serve to keep the archwire in place, and also provide extra force to help move the teeth. These also come in a variety of colors so people can personalize their braces look.
What are gold braces?
Oftentimes people who need braces aren't thrilled about the idea of wearing all that metal on their teeth, and they just want to get the most standard, run-of-the-mill option for their braces. Or, if a patient is able and willing to shell out a bit more cash, they may be able to opt for braces made from tooth-colored or clear material, usually made from ceramic.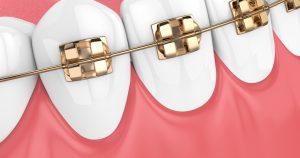 There's also the option to get lingual braces, which is when the brackets and archwire go along the backs of your teeth, (the lingual side) instead of the front of your teeth.
And of course, if the treatment you need is less intensive, you can potentially opt for invisible braces like Invisalign, or even at-home clear aligners. Invisalign can treat 90% of cases, so all but the most severe, but the at-home aligner option is meant for only mild cases where teeth straightening is needed or desired.
Despite the fact that people typically want braces that don't stand out, there are some people who want to show off their braces, and completely 'embrace' them as part of their look — in these cases, one might opt for gold braces.
Gold braces are typically made from stainless steel (as are regular braces), but the brackets and the wires are plated or coated with gold.
If your braces are gold for entirely aesthetic reasons, it might just be a gold-colored coating, but in some cases, braces can be coated in actual 24-karat gold, which results in a more expensive look and is also advantageous for people who might have allergies to other metals.
In cases when people get braces plated in 24-karat gold, braces can actually look stylish and elegant, and become themselves a fashion and status statement.
So the only real difference between gold braces and standard silver braces is that the stainless steel parts of braces are plated with gold, giving them a golden appearance.
If you're interested in seeing the experience of someone actually getting gold braces, have a look at the following video:
Gold braces vs grillz
A gold grill is a removable tooth cover that is meant exclusively for decorative purposes, although in some cases, people have their crowns permanently changed to look like they are constantly wearing a gold grill.
In more extreme situations, people will have grillz permanently attached to their teeth, or attach diamonds and other jewels to their teeth.
In many cases, grillz can be purchased online as a one-size-fits-all option, but for those who have the money to do so, the best grillz are personalized by a dentist.
Gold grillz for braces
It wouldn't make much sense to get gold grillz to wear over your braces. Despite the fact that brackets have become more compact and aesthetic over the years, they are still bulky. So if you wear a grill over your brackets, the skin around your mouth is going to bulge outwards as if you are constantly wearing a bulky sports mouth guard all day.
Other braces colors
Standard gold plating isn't the only way that you can take your braces' aesthetics to the next level. Other options include:
Rose gold braces: These are also made from stainless steel, but they are coated in an elegant rose gold for a more subtle look.
Silver braces: These are your standard braces. They have a silver color that comes from the stainless steel material from which they are made.
Gold rubber bands for braces: If you don't want to pay more for gold-plated braces, but you still want to snazz up the look of your brackets, you can opt for metallic gold rubber bands, which are available at most orthodontic offices.
How much do gold braces cost?
Gold braces can cost you from $6,000 to $8,000, give or take a couple of hundred dollars. These costs will depend on your dentist, where you live, and how long you need to have your braces on. Traditional braces typically cost from $2,500 to $7,500, so you can see that gold-plated braces tend to cost a bit more.
Does dental insurance cover gold braces?
You might have orthodontic insurance or dental insurance that covers part of orthodontic treatment. However, upgrading your braces to gold braces is not likely to be covered by insurance.
That's because this upgrade is typically for purely aesthetic reasons. You'll need to pay the difference between your traditional braces and gold braces at the time of your orthodontic treatment.
Benefits of gold braces
Obviously, gold braces look better than regular braces (depending on your personal aesthetic preferences of course) but there are some other benefits to gold braces as well:
Bacterial resistance: Gold is easy to keep clean and free from bacteria because it doesn't corrode and doesn't attract plaque buildup.
Easy to shape and mold: With gold brackets you can sometimes get custom-made brackets that fit the shape and size of your teeth, because the metal is easier to mold.
Non-toxic: Gold is non-toxic and not as reactive as other metals, making it potentially safer than other options.
Anti-inflammatory and anti-allergy: Gold brackets are nickel-free and so they won't cause any irritation to the mouth and gums.
Gold lingual braces
As we mentioned above, lingual braces consist of brackets that are placed on the backs of your teeth instead of the front. Sometimes, lingual braces are made from a gold alloy, which is easier to shape to your teeth, nickel-free, and looks better (even though lingual braces are already quite difficult to see).
Should you get gold braces?
There are a variety of reasons why you might want to consider getting gold braces instead of standard silver braces. Have a look at the following reasons for getting gold-coated brackets.
You may want to consider getting gold braces if:
You are allergic to stainless steel
You like the aesthetics of gold
You want customized brackets
You don't mind paying a bit more
Check out the comparison table below for an overview of gold braces and other types.
| | | | | |
| --- | --- | --- | --- | --- |
| | | | | |
| | | | | |
| | Silver metal brackets on the fronts of teeth | Gold metal brackets on the fronts of teeth | Tooth-colored ceramic brackets on the fronts of teeth | Gold or silver brackets on the backs of teeth (not visible) |
| | | Gold-plated stainless steel | | |
| | | Look good if you like gold, easier to mold, anti-allergenic, anti-inflammatory | | |
| | Noticeable and not the best-looking option | More expensive than standard | Stain more easily, more expensive | More expensive, more difficult to adjust |
Conclusion
Gold braces are just like regular braces except they are plated with gold, sometimes even 24 karat gold. People typically opt for gold braces for aesthetic reasons, but gold braces have benefits beyond just how they look.
For example, gold braces are less likely to cause allergic reactions, and they aren't inflammatory so they won't irritate the tissues in your mouth.
Gold braces are also more expensive than regular stainless steel braces, and the cost isn't likely to be covered by your dental or orthodontic insurance. If you're interested in getting gold braces, you'll need to speak with your orthodontist about your options.
FAQs
Can gold braces damage your teeth?
Gold braces won't damage your teeth. In fact, they are less likely to cause allergic or inflammatory reactions to the tissues in your mouth because they don't contain nickel.
Are gold braces more expensive?
Gold braces are more expensive than standard stainless steel braces. The cost of gold braces can range from $6,000 to $8,000, whereas normal braces range from $3,500 to $7,500.
Do gold braces make your teeth look yellow?
Quality gold braces that are actually coated in real gold won't make your teeth look yellow — in fact, they have a very elegant and aesthetically pleasing effect. Getting gold rubber bands on your braces may make your teeth look yellow, however.
Sign up to receive the latest news and offers from Dentaly.org