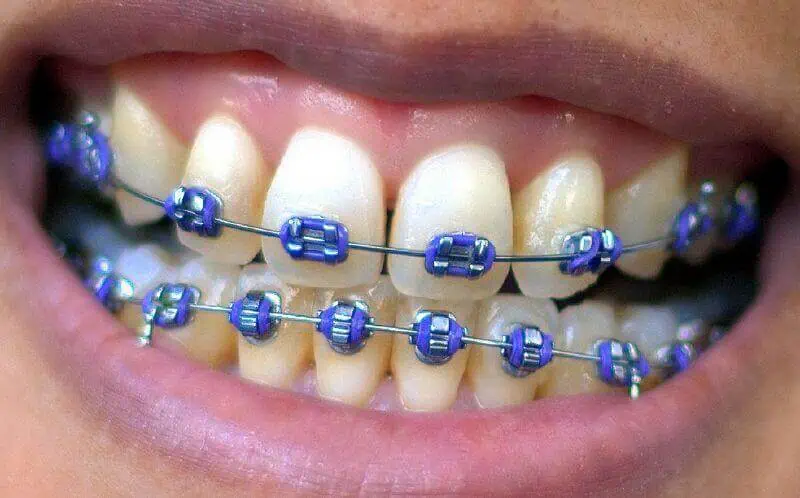 What are fake braces? Fake braces are trending among teens in some countries where orthodontic treatment is associated with a high-dollar lifestyle. And as bizarre as it may sound, for some, getting fake braces is just as cool as getting a funky haircut or a tattoo.
In the majority of cases, these misguided teens are following a social media trend and are seldom aware of how unhealthy this can be.
If you're a concerned parent or a curious teenager who wants to know more about this trend, read on. In this article, we will dive deeper into artificial braces and the negative effects of wearing them. We will also answer the following questions:
Can you get fake braces?
How much do fake braces cost?
What happens if you wear fake braces?
What do fake braces do to your teeth?
Are fake braces dangerous?
Can you get fake braces?
Fake braces are made from a piece of wire with brackets just like real orthodontic braces. The materials required can be easily found at home and you will find tons of DIY videos on social media, like the one below.
As easy as it may sound, you shouldn't mess around with your teeth like that. By making braces at home, you might end up causing irreversible damage to your oral health.
Instead of making them at home, some teenagers purchase fake braces online. Usually, they buy them through e-commerce and social media websites like Amazon, Facebook, and Instagram. Despite major oral health hazards, you'll find multiple listings selling colorful artificial braces.
What are the reasons for getting DIY braces?
The internet is flooded with videos where teenagers show how artificial dental braces can be made and worn at home, giving dental experts a lot to worry about. Dental experts believe teens are swayed by the following:
It's trendy
Teenagers see colorful braces as "cool" because braces can change the way you look. But genuine colored braces are often out of their budgets or they don't really need them. As a result, teens make them at home—without realizing the side effects.
Crooked teeth
In-clinic teeth straightening options are often too expensive for teenagers with limited resources. So in order to straighten their teeth for a price they can afford, they might start looking at DIY braces.
Status symbol
Braces are expensive, and copying what people with money do is human nature. This tendency means teens with fewer resources might take advantage of this trend in order to appear more affluent than they are. Artificial braces can be made with easily available, cheap materials, but they can look as genuine as traditional braces, making DIY braces an unusual status symbol.
How much do fake braces cost?
Real braces can cost thousands of dollars, but you can get fake ones for under 100 dollars. And if you're making them at home, then they would cost way less than online alternatives. The reason for artificial braces being cheaper is simple—they're not the real deal. They're just an accessory for your teeth. So, if you are under the impression that fake braces can actually straighten your teeth, you are mistaken.
Before you consider artificial braces to align your crooked teeth, have a look at this summary of the best kinds of safe teeth straightening options out there:
| | | |
| --- | --- | --- |
| | | |
| | Usually the most reasonably priced braces | |
| | Clear or tooth-colored material is less noticeable | |
| | Removable and hard to notice | |
| | | |
| | | |
| | Quick cosmetic fix & cheap | |
| | Affordable and convenient | |
If the cheapest option that is still safe and effective, at-home clear aligners, is interesting to you, have a look at some of the best options:
Get the real deal—for less!

Never risk it with fake braces. Straighten your teeth for less with remote aligner teeth straightening. Take a look at our top picks and discover why we recommend these over any others.

Best service
Complete treatment 100% remotely
Amazing customer service
Nighttime-only option
$1,395 or $83/month
NewSmile aligners are made from the clearest Essix plastic and come with a daytime or nighttime-only option to suit you. For just $1,395 you'll receive everything you need to straighten and whiten your teeth – and maintain your new smile:
Home impression kit
Full aligner treatment
Free whitening
First set of retainers
A full refund if you're not a good fit
NewSmile go above and beyond to provide a great experience to all their customers, beginning with a live video call to help you with your teeth impressions. Mail these back, and they'll send a 3D Treatment Preview for you to approve before going ahead.
Alternatively,
click here
for an extra $20 off an impression kit!
Best value
Complete treatment 100% remotely
6 month average treatment time
Nighttime-only option
$1,145 or $95/month
If you're looking for the best value aligner package, here it is! For just $1,145 you'll get:
Impression kit
Full aligner treatment course
Free teeth whitening kit
Your first set of retainers
In short, everything needed to straighten your teeth remotely and keep them looking great, with a full money-back guarantee if you're not a suitable candidate.
This low price doesn't mean you're compromising on quality of care, though. ALIGNERCO just choose not to put so much into marketing, and they pass on the savings to their customers. They are also known for their responsive and helpful customer care, which is important when you're doing things from home.
Plus, if you're in New York, you can visit their SmileStudio for a free consultation and help taking your impressions.
Nighttime-only aligners are also available for anyone who doesn't want to wear aligners during the day.
Get $150 off!
Faster treatment
3-4 month average treatment time
Assessed and planned by orthodontists
Includes whitening and first retainers
$1,895 or $83/month
Byte's HyperByte technology uses High Frequency Vibration to help your teeth move faster and with minimal discomfort. Their average treatment time is just 3-4 months, compared to 6 months for most others.
Treatment includes your first set of retainers. You'll also get their BrightByte 3-in-1 foam to whiten your teeth, clean your aligners and freshen your breath. And their Byte-for-life guarantee means you'll get free adjustments if your teeth start to move again.
Begin by ordering an impression kit so their orthodontists can assess whether you're a good match.
Get 75% off with code 02DENTALY100TS
What happens if you wear fake braces?
Artificial braces have many more disadvantages than advantages. According to professionals around the world, they are very hazardous with potentially irreversible effects.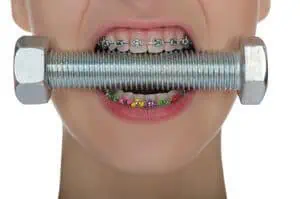 Poisoning from toxic materials: Fake braces for teeth are made from cheap materials that can be toxic. These materials include cheap rubber and metals that contain lead, leading to poisoning and even death in some cases.
Choking from material that might get stuck in your throat: When teens make their own braces, the material from the braces may unwind and end up in their throat while sleeping, essentially causing choking.
Inflammation and infection: Even real braces can lead to some oral issues like inflammation and infection at the early stages. So the risk is even greater with fake teeth braces. In some cases, the infection can get worse and might even require surgery to stop the spread.
Tooth decay and discoloration: Fake braces are stuck to the teeth using cheap adhesives. This causes serious damage to tooth enamel. The adhesive can also dig deep into the tooth and cause discoloration over time.
Shifting of teeth: They can cause teeth to shift—but not in the ways you want. You could end up with teeth that were more crooked than you had to begin with.
Are fake braces dangerous?
Fake dental braces raise quite a lot of alarms when it comes to health issues. The dangers are real and can even affect your health if worn too often. No fashion trend is worth risking your wellbeing.
What's more, these faux braces have even led to deaths in some countries. Here's an article from CNBC that mentions two deaths reported in Thailand linked to fake braces. Upon investigation, authorities found deadly materials like cadmium in the autopsy. Health experts across Asia have taken this trend seriously and are working toward creating awareness among teens.
Conclusion
Fake braces that look real are hazardous. The cons completely outweigh the temporary joy of following a social media trend. The problem with artificial braces lies in the materials they are composed of. Often toxic, they can even cost you your life if you aren't careful.
Modern problems like the artificial braces trend can only be tackled with awareness and education. For this, health authorities, parents, and guardians will have to be watchful. It's critical to make younger generations understand that no trend is worth risking their health or their lives.
Sign up to receive the latest news and offers from Dentaly.org