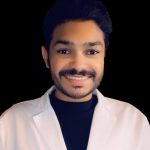 Dr. Eyad Tariq
Practices at: NEXSTEP, Hong Kong
Dentist and Contributing Expert
Dr. Eyad Tariq studies dentistry at King Faisal University in Saudi Arabia and has been working for a variety of medical organizations throughout his education. Dr. Tariq is currently an intern with NEXSTEP, an experiential learning company based in Hong Kong. 
He also works with the Saudi Red Crescent Authority, a volunteer organization that provides emergency medical services. In addition, Dr. Tariq is a member of SharikHealth, an organization dedicated to scientific research and community health efforts. 
Dr. Tariq has an interest in cosmetic dentistry and believes that everyone deserves a beautiful smile.