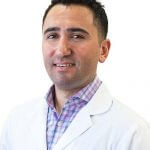 Dentist and Contributing Expert
Dr. Fanar Swaida graduated from the University of Western Ontario and continued his education at the University of Toronto Faculty of Dentistry. He furthered his professional development through additional coursework and mini residencies in several dental specialties. 
Dr. Swaida believes that the top priority for dental patients is to make them feel comfortable and as relaxed as possible in the chair. His drive for providing compassionate care helps him treat both children and adults—Dr. Swaida understands that kids' comfort is equally as important as adults.
When he's not at the office, you can find Dr. Swaida either traveling or at various events around Ontario with friends. 
Dr. Swaida understands, however, that dental emergencies can happen at any time, and he tries to be as available as possible—often, he's just a phone call away. In addition to providing exemplary dental care, Dr. Swaida has published multiple industry articles.