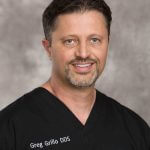 Dr. Greg Grillo
Practices at: Grillo Robeck Dental, Omak, Washington
Dentist and Contributing Expert
Dr. Greg Grillo is a lifelong resident of the Okanogan Valley in Washington state. He completed both his undergraduate degree and dental degree at the University of Washington, after which he was selected for a health profession scholarship from the US Navy. Dr. Grillo then served as a dental officer in the Navy for four years.
While serving, he received advanced training in multiple dental specialties, including more than 300 hours of additional formal education. He now co-owns a dental practice in the foothills of central Washington, offering a wide range of services ranging from implants and Invisalign to cosmetic dentistry and restorations.
Dr. Grillo loves serving families, and he loves being able to provide the latest technologies to provide the best patient experience. He regularly takes continuing education courses on all aspects of dentistry. Dr. Grillo spends time outside the office with his family, and you can often find them skiing, hiking, and playing tennis.