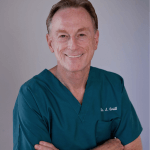 Dentist and Contributing Expert
Dr. John Grill earned his Doctorate of Dental Surgery from the University of the Pacific School of Dentistry and spent more than 30 years practicing on the West Coast. He took on continuing education in TMJ and head and neck therapies and completed a residency in anesthesiology. 
His interest in biological dentistry began in 1988, where he studied under Dr. Hal Huggins, one of the pioneers of biological dentistry and has hundreds of continuing education hours dedicated to these medical and dental concepts. 
Dr. Grill relocated to Tennessee in 2020 and opened their practice in Central Tennessee, and he and his wife have so far enjoyed traveling throughout the state. They also enjoy movie watching, finding new restaurants, and spending time with friends.