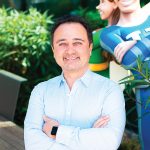 Orthodontist and Pediatric Dentist and Contributing Expert
Dr. Kami Hoss is a dentist of many talents and is also a pioneer in dental education and orthodontics. He earned his DDS from the UCLA School of Dentistry and completed his orthodontics and dentofacial orthopedics residency at the University of Southern California.
Dr. Hoss is active in professional organizations and is a member of the Board of Counselors of the UCLA School of Dentistry, the American Association of Orthodontics, the American Dental Association, the California Dental Association, and the San Diego Dental Society. He regularly hosts community programs, seminars, and workshops in California and beyond, and he is passionate about spreading the word about the connection between oral health and general wellbeing.
He founded the Howard Healthcare Academy as a way to revolutionize dental training through hands-on methods that focus on whole body care. His private practice utilizes the latest technology, and Dr. Hoss is developing a new orthodontic system, Acceledontics (patent pending), which promises faster treatment time compared with traditional braces.
Outside the office, Dr. Hoss can be found spending time with his family and composing music.