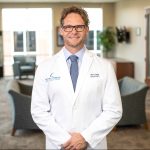 Dr. Rick Kapitan
Practices at: Carolinas Centers for Oral, Facial, Cosmetic & Dental Implant Surgery, Matthews, NC
Oral and Maxillofacial Surgeon and Contributing Expert
Dr. Rick Kapitan earned his Doctor of Dental Surgery degree from The Ohio State University, in addition to advanced training in anesthesia and oral and maxillofacial surgery (OMS).
Dr. Kapitan is highly involved in professional development and is a Diplomate of the American Board of Oral and Maxillofacial Surgery, a Fellow of the American Association of OMS, and is a member of both the North Carolina Society of OMS and the Southeastern Society of OMS. He is also the Director of the Carolinas Center for Cleft Lip & Palate Surgery and of the Envision™ Implant Academy.
In addition to his clinical work, Dr. Kapitan has served faculty appointments at both Louisiana State University and the University of North Carolina-Chapel Hill. He also lectures nationally and internationally and is a clinical course instructor in advanced dental implant surgery.
Dr. Kapitan does volunteer work as a cleft surgeon and serves as a Board member of the Free to Smile Foundation, which provides support for children in need of cleft lip and palate surgeries.