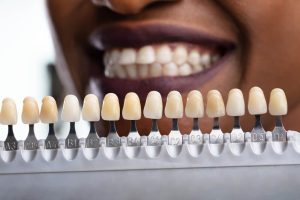 Enamel microabrasion is a mechanical teeth-whitening treatment that uses acidic and abrasive chemicals to remove stains from the surface of the enamel. It is non-invasive and removes micro-layers of porous enamel where stains and mineralized spots are trapped.
This is considered to be safer than chemical whitening cosmetic dentistry because no harsh chemicals are used. In this article we'll cover:
How it works
Cost of treatment
Who it's suitable for
Patient results
Keep reading to find out if this procedure is a good option to whiten your teeth.
What is enamel microabrasion?
Enamel microabrasion is a safe, non-invasive dental treatment that involves removing a small (micro) amount of enamel from the surface of the teeth to improve their appearance in terms of color and brightness. It is typically used to remove discoloration caused by dental fluorosis, white spots, and mild staining.
The procedure combines acidic chemicals like phosphoric and hydrochloric acids and a mild abrasive like silica. The acid is applied and works to remove the outer layer of enamel — just enough to get rid of stains, but not too much so your teeth won't have proper protection — while the abrasive paste is used to smooth out the surface and create a more even appearance.
The entire procedure typically takes less than an hour and is painless, although you may experience tooth sensitivity during the first 24 hours after treatment.
Enamel microabrasion procedure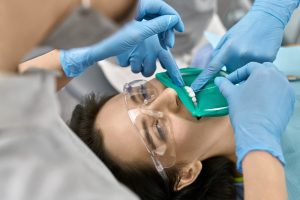 First, you'll have a consultation with your dentist to determine if you are a good candidate for this type of treatment. You may have to schedule another appointment to get your teeth cleaned before treatment.
Here's what you can expect during your procedure:
Your dentist will isolate your teeth from your gums with a rubber dam
They will then make a paste from a combination of acids and abrasives and apply it to your teeth
Your dentist will scrub the paste on your teeth with a prophy cup and remove any stains or discoloration
Then they suction the paste from your teeth and rinse them
The whole procedure shouldn't take more than an hour, and you shouldn't feel any pain. However, you may experience sensitivity during the first 24 hours after treatment.
Enamel microabrasion cost
This technique can cost anywhere from $50 to $200, depending on the location of the dental practice, the severity of your staining, and the experience of the dentist performing the procedure.
Enamel microabrasion aftercare
On the day after your procedure, your dentist will instruct you to avoid foods and drinks that can stain your teeth, as they will be more susceptible during this time. Of course, maintaining a healthy oral hygiene routine is imperative, as well as limiting exposure to food and drink with a propensity to stain like coffee and red wine.
Visit your dentist regularly for checkups and cleanings to ensure your teeth remain healthy and free of decay. You may also consider using a whitening toothpaste or undergoing touch-up treatments as needed to maintain your results.
Enamel microabrasion before and after
Patients with mild to moderate staining, dental fluorosis, or mineralized white spots can expect to see a noticeable improvement in the appearance of their teeth, with some achieving a smile that is several shades brighter.
In the video below, you can watch the entire procedure, and see the before and after photos.
You can also check out this article which discusses the correct applications of microabrasion and includes before and after images.
This is not a one-size-fits-all solution. The effectiveness of the procedure will depend on the severity and type of discoloration being treated. Patients with more severe staining or discoloration may require additional treatments, such as teeth whitening or veneers. Also, keep in mind that this treatment won't get rid of stains that are below the tooth's surface.
Pros and cons of enamel microabrasion
Doesn't use harsh chemicals

Enamel wear is clinically imperceptible

Removes porous, bacteria-harboring layer, thus lowering decay risk

Not 100% effective for deeper enamel stains

May slightly weaken enamel (although at a clinically imperceptible level)
Finding enamel microabrasion near me
Enamel microabrasion is a relatively common cosmetic dental procedure found at many dental practices throughout the country. You can search for a dentist near you online or ask for recommendations.
Your regular dentist may also offer this procedure. If you are looking for a dentist, it's always a plus if they already have plenty of experience with this treatment. 
If you want help to find a dentist for this treatment, you can call 866-383-0748. You'll be connected with a live operator who will put you through to a gum specialist in your area.
Find a dentist for enamel microabrasion near me now
Enamel microabrasion vs. other teeth whitening methods
Enamel microabrasion is just one of many teeth whitening methods you can use. There are a plethora of in-office professional and at-home options. Find out more in our guides to each:
If you're looking for a more economical option than in-office whitening but you still want noticeable results, one of our top picks is Snow. Snow makes a whitening kit that features an LED mouthpiece and extra-strength whitening gel with carbamide and hydrogen peroxide. Customers say results are impressive and long-lasting.
Other options include over-the-counter whitening strips, professional teeth whitening treatments, and veneers.
Conclusion
Enamel microabrasion is a safe and effective cosmetic dentistry that removes mild to moderate staining or discoloration from your enamel surface. Instead of using chemical bleaching agents, it uses a combination of acid and an abrasive to gently remove a micro level of your enamel on your tooth surface.
It's a painless procedure, except for some sensitivity in the 24 hours following treatment, and has long-lasting results. To find a dental professional who performs this treatment near you, call 866-383-0748.
FAQs
How much does enamel microabrasion cost?
Enamel microabrasion costs anywhere from $50 to $200. The cost will vary depending on the location of your dentist, their experience, and the severity of your tooth staining.
Does enamel microabrasion hurt?
Enamel microabrasion doesn't hurt much or at all during the procedure, although you may experience tooth sensitivity in the first 24 hours after your treatment.
Is microabrasion good for teeth?
Microabrasion isn't bad for your teeth — as it removes a clinically imperceptible amount of enamel from your tooth's surface. It may also help to protect your teeth from decay.
Can you whiten your teeth after enamel microabrasion?
You can whiten your teeth after enamel microabrasion, and if your staining is quite severe, your dentist may even recommend it. It's important that you consult your dentist before extra whitening.
Sign up to receive the latest news and offers from Dentaly.org