A dental hygienist is an integral part of keeping your teeth clean and healthy — and it's important to see your local hygienist at least once per year, and preferably twice per year.
In this article, we'll talk about how you can find a dental hygienist near you.
We'll also go into:
What dental hygienists do
How they differ from dentists
How much their services cost
Keep reading, or call 866-383-0748 right now if you want to be connected with a local dental hygienist who is available to treat you now. You'll connect with a live operator who will put you through to a hygienist in your area.
Find a dental hygienist near me now
You can also read more about how to find other dental specialists.
What is a dental hygienist?
A dental hygienist is a licensed oral health professional that has studied and been trained in the prevention and treatment of oral diseases. Their main goal is to protect teeth, gums, and other oral tissues, as well as the general health of the patient.
Hygienists study at accredited colleges that offer dental hygiene education programs, and to graduate, they must take a natural board examination as well as a clinical exam before they receive their license to practice.
Are hygienists dentists?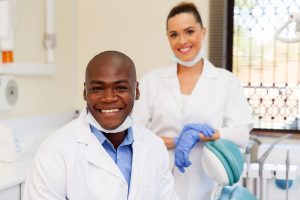 Hygienists aren't dentists — unless a hygienist has also graduated from dental school and decided that they prefer being a hygienist — which also happens sometimes.
That aside, the easiest way to distinguish a hygienist from a dentist is that a dentist is a doctor and a hygienist is not.
You might have been mistaking a dental hygienist for a dentist or vice versa, but it's actually pretty easy to tell them apart, based on the duties they perform during your checkup.
Essentially it comes down to this:
A dentist conducts the actual examination of your teeth and then administers the treatment
The hygienist cleans your teeth and aids in disease prevention
Check out the following video where dental hygienist TeethTalkGirl is joined by a dentist and they go into the details of the differences between a dentist and a hygienist:
Why do I need to go to the hygienist?
It's critical to visit your dental hygienist every six months or at least once per year because even with twice-per-day brushing, some dental plaque is bound to build up on your teeth.
That's where bacteria lingers and grows, excreting acid which eats away at your enamel, creating decay and eventually cavities.
A trip to your hygienist can stop the bacteria in their tracks, plus your teeth will look a lot brighter once any tartar or plaque is removed.
Your hygienist will also be able to let you know if there is anything you should be doing differently in your dental hygiene routine.
What services can a dental hygienist provide?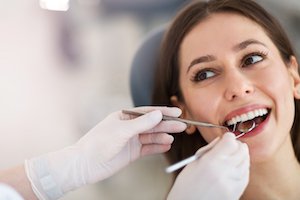 Dental hygienists provide a wide range of essential services that aid in the prevention of oral disease. These range from simple cleanings to preventive sealants and x-rays.
Review dental history: Hygienists conduct a medical history on the patient so that they can understand any previous dental work done or any preexisting medical conditions. This also helps them come up with a personalized treatment plan for the patient.
Screening: Your hygienist will check for decay or oral disease before any dental work is performed.
Dental cleanings: This takes up most of your appointment. Your hygienist will use their special tools to remove plaque, tartar, and stains from teeth. They will also advise on proper cleaning techniques. They may recommend a deep cleaning in some cases.
X-rays: X-rays can help prevent problems so they can be treated early on. They can spot cavities, infections, gum disease, and tumors.
Preventive care: A hygienist can apply preventive care like fluoride treatments and sealants which protect teeth between appointments.
Education: Dental hygienists are critical in instructing patients of all ages in best practices for brushing and flossing so that they can take good care of their teeth at home in between appointments.
How much does a dental hygienist cost?
The table below shows the costs (approx) of the services provided by a dental hygienist. Keep in mind these costs are shown without insurance and will vary depending on where you live.
If you don't have dental insurance, dental discount plans can go a long way in helping lower the costs for basic services like dental cleanings.
Dental hygienist training
To become a dental hygienist you can get an associate's degree or a bachelor's degree in dental hygiene. You'll need to take a couple of years of prerequisites of courses like chemistry and microbiology before spending two years in hygiene school.
During hygiene school, prospective hygienists get practical experience seeing patients and learning about pharmacology, different dental materials, diseases, and more.
At the end of their courses, hygienists must take the written national board exam, as well as a state clinical board. Different states have additional requisites that students may have to complete.
Finding a dental hygienist near you
To find a dental hygienist near you you can call 866-383-0748 24/7 and speak with a live operator who will be able to match you with a hygienist nearby according to your needs.
Find a dental hygienist near me now
Conclusion
A dental hygienist is a licensed oral health professional trained in the art of cleaning teeth, conducting screenings for oral disease and problems like decay and cavities, and helping to prevent oral disease.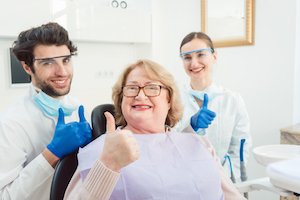 It's essential to visit a dental hygienist at least once a year, and your hygienist or dentist may recommend that you go in twice per year for a cleaning, as does the ADA.
Finding a dental hygienist near you is easy — just call 866-383-0748 and you'll be connected with an operator who will match you to a nearby hygienist.
While you're at your checkup, your dentist may recommend you visit a periodontist, an endodontist, or an orthodontist so be sure to read up on those services accordingly.
What is a dental hygienist?
A dental hygienist is a licensed oral health professional that has studied and been trained in the prevention and treatment of oral diseases. They protect teeth, gums, and other oral tissues.
How much does a dental hygienist cleaning cost?
A cleaning from a dental hygienist can cost anywhere from $75 to $200. It could also cost less — it just depends on your particular hygienist, and where you live.
Sign up to receive the latest news and offers from Dentaly.org