Tonsil stones can be quite uncomfortable and are hard to get rid of. Finding tonsil stone therapies that genuinely work for everyone is another challenge — but that's where probiotics for tonsil stones come in.
With so many bacterial strains developing antibiotic resistance, probiotics are becoming more and more popular. They boost your immune system and shield your mouth from dangerous germs that might form a biofilm and result in tonsil stones.
In this article, we'll discuss the following:
Do oral probiotics help with tonsil stones?
What are the best oral probiotics for tonsil stones?
Do oral probiotics remove tonsil stones?
We'll also give you some recommendations for some of the best oral probiotics to improve the health of your oral microbiome.
We hope that this information gets you started on the road to improved dental health and fresher breath.
Best Probiotics for Tonsil Stones

cariPRO Dental Probiotics

L. paracasei,

L. plantarum,

L. rhamnosus,

S. salivarius K12

Windsor Dental Probiotics

Lactobacillus acidophilus, Bacillus subtilis, Lactobacillus casei, Bacillus coagulans, Lactobacillus rhamnosus, Bifidobacterium bifidum

Great Oral Health Probiotics

L. acidophilus, L. reuteri, L. paracasei, L. salivarius, S. thermophilus, S. salivarius
Best probiotics for tonsil stones
These probiotic strains are known for enhancing dental health and preventing the anaerobic bacteria that cause halitosis and tonsil stones:
Streptococcus salivarius K12
Streptococcus salivarius M18
Lactobacillus reuteri
Lactobacillus salivarius
Lactobacillus paracasei
How do probiotics help to prevent the growth of tonsil stones?
Probiotics are key to reducing the development of tonsil stones. Probiotic supplements work to prevent biofilm formation on your tonsils, which may cause tonsil stones, by boosting the number of helpful bacteria in your body. This helps to drive out pathogens that can cause tonsil stones.
Modern clinical research has shown that tonsil stones are a live biofilm rather than a static mass. Pathogenic biofilms, like those seen in tonsil stones, may cause oral diseases when there is an imbalance in the microbial population in your mouth.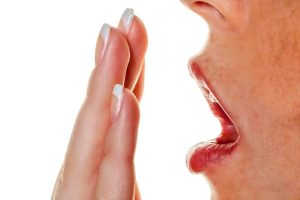 It's possible for harmful bacteria to attach to your tonsils and build up a complex community with a layer of protection that shields them from both your body's natural defenses and antibiotics.
Your oral microbiome benefits from probiotics and gets help fighting off possible illnesses and tonsil stones. By fending against potentially harmful pathogenic organisms that enter the body via the nose, mouth, or throat, these living microorganisms assist in preserving your body and dental health.
Best oral probiotics for tonsil stones
Let's now review some of the top oral probiotic supplements you may use to aid in the prevention of tonsil stones.
CariPRO dental probiotics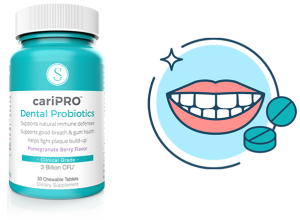 The goal of CariPRO dental probiotics is to improve your mouth microbiota while promoting ear, nose, and throat immunity and treating bad breath. They may help to:
Combat plaque accumulation and tooth decay
Encourage fresh breath
Strengthen gum health
Boost your immune system
Enhance your oral microbiome
Prevent the formation of tonsil stones
One of the strains we discussed above that is most effective at reducing foul breath and preventing tonsil stones is BLIS K12, also known as Streptococcus salivarius K12.
These probiotics include this strain. Additionally, they are non-GMO, vegetarian, and without preservatives, sugar, and artificial colors and flavors. They are also produced and tested in the US.
Here's the list of active ingredients:
Streptococcus salivarius K12
L. paracasei
L. plantarum
L. rhamnosus
Before heading to bed, consume one of the tablets after cleaning your teeth or after using mouthwash. After chewing, be sure not to rinse.
They feature a delicious pomegranate berry flavor that is naturally sweetened by stevia leaf extract.
CariPRO also offers probiotics for children that are intended to enhance their sinus and dental health. This is particularly beneficial if your kid often has ear or throat infections. Read more about probiotics for kids here.
Great Oral Health Probiotics
With a unique 7-strain composition that includes BLIS K12 and BLIS M18, Great Oral Health probiotics are another general oral health bacteria mix that is intended to support all elements of a healthy oral microbiome, including foul breath, and gum health.
Even more incredible is the manufacturer's claim that these probiotics would aid enamel demineralization. However, the ingredients included by the manufacturer also make it potentially a great oral probiotic for tonsil stones.
These are produced in the US using only natural ingredients and are lactose-free, sugar-free, and flavorless.
They include seven strains of probiotics including:
BLIS K12
BLIS M18
Lactobacillus acidophilus
Lactobacillus Reuteri
Lactobacillus Salivarius
Lactobacillus Paracasei
Lactobacillus Thermophilus
Streptococcus Salivarius
Windsor Botanicals Dental Probiotics
Windsor Dental Probiotics can help you maintain your oral hygiene and restore a healthy pH balance and equilibrium of healthy bacteria in your mouth.
They are suitable for both adults and kids and are designed as a holistic approach to fighting gum disease, and bad breath and have benefits for your tonsils, ears, nose, and throat.
They contain three billion probiotics and four strains, with a natural mint flavor sweetened with stevia.
Here's the full list of ingredients:
DV zinc
Lactobacillus paracasei
Lactobacillus reuteri
Lactobacillussalivarius
Lactobacillus Sakei
Dicalcium Phosphate
Inulin
Isomalt
Microcrystalline Cellulose
Stevia
Natural spearmint flavor
Conclusion
With so many drug-resistant bacteria developing every day, there has never been a better time to consider taking a probiotic supplement for your dental health. Probiotics, whether taken alone or in multi-strain combinations, may aid your body in defending itself against harmful microorganisms.
You are less prone to get conditions like tonsil stones if your oral biome is in balance.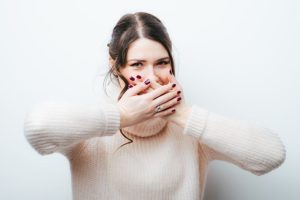 Tonsil stones may develop for a variety of reasons, including poor dental hygiene and bad lifestyle choices, including drinking and smoking. Fortunately, these probiotics can boost your immunity and may also help to avoid tonsil stones.
While looking for the best oral probiotics for tonsil stones is a great idea, be aware there can be multiple reasons for tonsillitis.
Dental probiotics for tonsil stones might not be sufficient to fully get rid of them and we recommend trying different methods, such as removing tonsil stones with a water flosser or getting them professionally removed. Each individual case is different and it's always advised to consult a doctor or dentist.
FAQ
Do probiotics help with tonsil stones?
Oral probiotics may reduce the symptoms of tonsil stones and can defeat harmful bacteria. Removing them, however, may also require other methods, or professional treatment.
Sign up to receive the latest news and offers from Dentaly.org