If you suffer from bruxism, or teeth grinding, you might need a custom night guard for teeth.
A night guard typically fits over your upper teeth and serves as a barrier between your upper and lower arches. Thus, if you do grind your teeth, they will be grinding against a much softer plastic than the hard enamel that covers the surface of your teeth.
If you need a night guard, you can purchase one over the counter, get one from your dentist, or order a custom night guard online — in this article, we'll discuss the latter including our top picks!
Order multible night guards at a time

Choose from 6 different styles

Emergency night guard with fast shipping!

Choose from 4 different styles
What is a custom night guard?
To put it briefly, a night guard is a removable plastic tray that fits over your teeth, usually your top teeth, to protect both your upper and bottom teeth from grinding and clenching while you sleep.
Also referred to as professional night guards, custom dental night guards can come from two sources: a dentist or a mail-order company. If you go to the dentist, your dentist will make molds of your mouth that they will use to make your guards.
NTI night guards are one such brand. If you order them online, you make the molds of your mouth at home and then send them into the lab for your custom bite guards to be created. You then receive your custom dental mouth guards in the mail.
Best custom night guard for teeth grinding
Sporting Smiles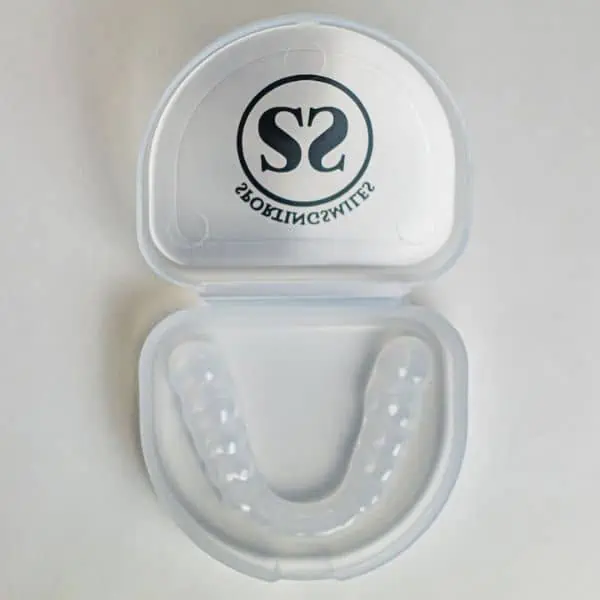 First up is Sporting Smiles.
Sporting Smiles mouthguards offer the most options to choose from, including back-cut models for daytime wear, super-soft night guards and hard durable options for die-hard teeth grinders.
And starting at just $100, these are also some of the most affordable custom-made night guards you can find. Their options include:
Flexible super hard: Beat back bruxism for good
Flexible hard back cut: Soft, flexible and perfect for daytime wear
Dual laminate guard: Soft on the inside and hard on the outside
Dual laminate back cut: Soft on the inside, hard on the outside, great for daytime wear!
Soft grinding guard: For the occasional grinders and clenchers among us
Hard grinding guard: The most popular model at just $100!
You can order your mouthguard impression kit now, and Sporting Smiles will keep your records on file so in the future you can order replacement guards directly.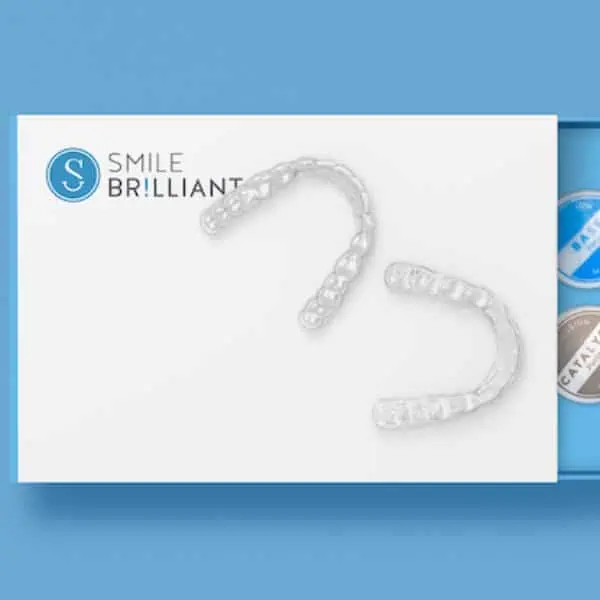 Smile Brilliant
Another company offering quality, affordable, custom-made dental night guards is Smile Brilliant. They offer three different packages to choose from and lifetime reorders. These packages include:
Deluxe Package: 4 ultra-durable night guards, which will last 1 year with heavy grinding
Moderate Package: 2 ultra-durable night guards, which will last for 6 months with heavy grinding
Intro Package: 1 ultra-durable night guard, which will last for 3 months with heavy grinding
Pro Teeth Guard
If you're searching for a reliable night guard to alleviate teeth grinding and clenching, Pro Teeth Guard offers a range of options to meet your needs: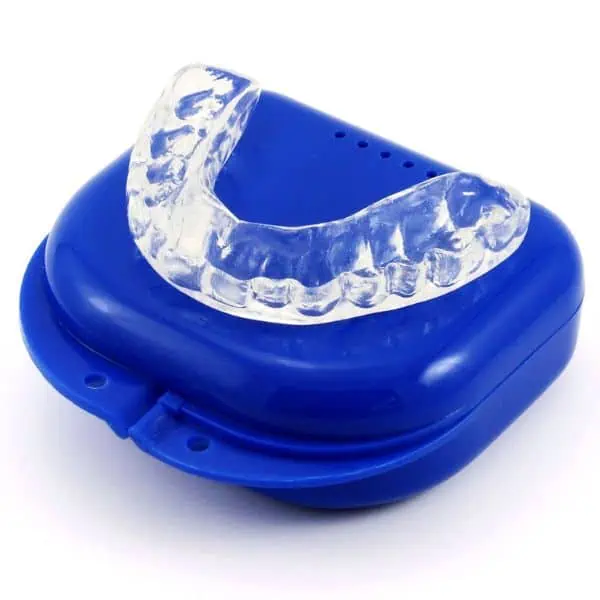 Hard Night Guard: Designed for heavy grinding, this night guard boasts exceptional durability with a thickness of 1.5mm
Hybrid Night Guard: This popular option features a hard exterior and a soft interior, making it suitable for moderate grinding.
Ultra Thin Daytime Guard: If you need a barely noticeable solution for daytime use, this 1mm thick night guard is designed specifically for teeth clenching during the day.
Soft Night Guard: For those with light to moderate grinding and clenching, the soft and flexible 1.5mm thick night guard provides a comfortable choice.
Pro Teeth Guard ensures customer satisfaction by offering a straightforward 110% refund policy within 60 days if the comfort or fit does not meet your expectations. They also cover the cost of return shipping, simplifying the process.
Take the quiz now to find out which is best for you.
Custom dentist night guards
You can get a night guard from your dentist, although this is the most expensive option.
If you choose this option, there will most likely be a series of in-office appointments:
First, you will have a consultation with your dentist to figure out if this is a good option for you.
Next, your dentist will make molds of your teeth, similarly to how they would for braces. This may require a separate visit, or it might be done at the same consultation; it depends on your dentist.
Your dentist will send your molds to a dental lab where your guards will be made.
Finally, you'll visit your dentist again for a fitting and then take your guards home with you.
If your bruxism is particularly severe, you have an extreme case of malocclusion, or you need a night guard to wear with braces, then you should probably get your guard from the dentist.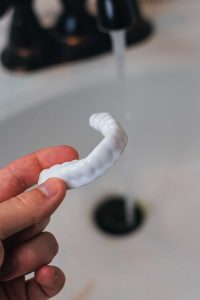 Cost of custom night guards
The average cost of custom night guards from your dentist is between $200–$600. The average cost of mail-order custom night guards typically ranges from $100–$200. The difference in the costs is due to the service fees your dentist needs to charge for their time in the office.
Other types of night guards
One-size-fits-all: This type of nightguard is the least ideal. While they are easy to find and quite cheap, they also aren't made to fit your teeth. An incorrect fit could lead to all sorts of problems, including further disruption of your sleep, shifting of your teeth, and pain. However, for a very small percentage of the population, a one-size-fits-all option just might do the trick.
Boil-and-bite: These are purchased over-the-counter and require you to boil them in water and then bite down on them. Once the guard has cooled, the plastic molds around your teeth for a better fit than a one-size-fits-all option.
Adjustable: Adjustable night guards can be adjusted as needed — you just put them in warm (not boiling) water and bite down on them so they fit your bite. If you still need to adjust them once they've cooled, you still can! Just stick them in warm water again.
Reasons to wear a custom dental night guard
If you clench or grind your teeth while you sleep, then you should definitely talk to your dentist about the benefits of a night guard. Tooth grinding can be a serious problem, and it can have any number of unfortunate results. Some of these include:
Damage to your teeth: Tooth grinding results in the loss of tooth enamel. The enamel is what protects your teeth from the elements. Without it, your teeth may become overly sensitive and will be at greater risk of decay. For kids, mouth guards can be used during contact sports to prevent trauma.
Temporomandibular joint (TMJ) disorder: This joint connects the jaw and the skull, and when you clench your teeth, you can cause jaw misalignment. This can make you more prone to developing TMJ disorder, which causes pain, difficulty chewing, and damage to your articular disc.
Chronic headaches: Frequent and lasting headaches are a major symptom of bruxism. When you grind your teeth, the muscles in your neck, mouth, and shoulders are constantly tensed, and this causes headaches.
Partner distress: In other words, the person you sleep with might suffer from your bruxism as well. The noise of grinding teeth is very unpleasant and can lead to hours of lost sleep.
Conclusion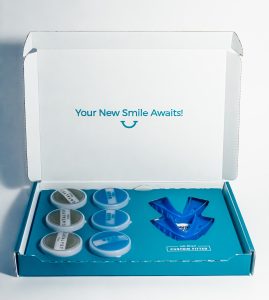 Custom night guards are made to fit your mouth and can provide great relief to those suffering from bruxism. These are typically much more successful than over-the-counter, one-size-fits-all night guards, which can be uncomfortable and even make problems worse.
There are two ways to get custom night guards: from your dentist, or from a mail-order company. Both are good options — some people prefer going to the dentist to get their guards while others prefer the convenience and affordability of mail-order guards.
The bottom line is that teeth grinding is a problem that shouldn't be left unresolved, and getting a custom night guard is one of the easiest and effective solutions.
If you do want to order a custom night guard online, you can do so with our top pick, Sporting Smiles. Their process is convenient and easy, and they produce quality, custom-fitting guards made in the same dental labs that dentists use.
Sign up to receive the latest news and offers from Dentaly.org