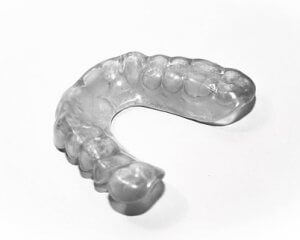 Bruxism is a common condition that can often be treated with a night guard for teeth grinding. A night guard, also called a dental mouth guard for grinding teeth, is a removable device made from plastic that fits over your teeth and protects your top and bottom teeth from grinding against each other or clenching.
This is important because teeth grinding can wear down teeth, making them smaller and causing permanent sensitivity. Your enamel is also damaged, making your teeth more susceptible to cavities. Other symptoms include pain, headaches, earaches, stiffness, and sleep disruption.
In this article, we'll go over some of the best dental night guards available so you can stop grinding your teeth, and as a result, enjoy better oral health and better sleep.
Best night guard for teeth grinding
There is a wide range of night guards available—some require dentist prescriptions; others can be purchased over the counter or online. Some are custom-made, while others can be used right out of the box.
All of these kinds of teeth grinding guards have their advantages and disadvantages. Let's review some of the best options now, so you can decide which is the best for you.
Smile Brilliant
The Smile Brilliant night mouth guards for teeth grinding are one of the best options overall for protecting your teeth from grinding. These bruxism mouth guards are custom-made by dental lab technicians in the United States. They are designed for maximum comfort while wearing and are just 2 mm thick and are latex- and BPA-free.
Smile Brilliant lets you choose your custom night guard package based on the severity of your bruxism. There are three packs to choose from:
Deluxe Package: You get 4 ultra-durable night guards, which will last 1 year with heavy grinding.
Moderate Package: You get 2 ultra-durable night guards, which will last for 6 months with heavy grinding.
Intro Package: You get 1 ultra-durable night guard, which will last for 3 months with heavy grinding.
Each night guard package includes:
Professional lab services: Your mouth guards for sleeping are custom-made for your smile in a professional dental lab in the US.

Custom-fitted guards: Smile Brilliant bruxism night guards are whisper-thin, incredibly durable, and soft and comfortable to wear all night.

1 impression tray: You'll use special impression material to create molds of your upper or lower teeth (whichever you prefer).

2 impression material sets: In case you don't get it perfect the first time, you get an extra set of impression material to make your molds.

Pre-paid postage, 3-way: You won't have to pay a cent for shipping to and from the lab!

Lifetime reorders: Smile Brilliant keeps your tooth impressions on file so it's fast and easy to reorder.
Have a look at the following table to see the different package options for Smile Brilliant night guards:
The process for getting your night guards for teeth grinding is easy:
Order your impression kit: Go to the Smile Brilliant website and order your complete night guard package. You'll receive your impression kit in the mail, and you'll make your dental impressions at home (in less than 15 minutes!) You'll then send your impressions to their lab in the included prepaid envelope.
The lab custom-makes your bite guards for grinding teeth: Once the Smile Brilliant lab recieves your impressions, they will craft your guards to the exact fit of your teeth, and hand finish them for maximum comfort and effectiveness. This process takes just 3–5 business days.
Wear your teeth guards: You'll receive your tailor-made mouth guard for sleep in the mail so you can start protecting your teeth right away. Each guard will last for around 3 months with heavy grinding, and your dental impressions are kept on file with Smile Brilliant so they're easy to reorder when it's time to replace them.
Another pro of the Smile Brilliant system is that you get a 45-day trial with your order. If after 45 days, you aren't in love with your mouth guards, you'll get a full refund.
If you're ready to stop grinding your teeth, take better care of your oral health, and sleep through the night, you can purchase your night guard kit right now. Click below to check for current offers from Smile Brilliant!
The ConfiDental Mouthguard
The ConfiDental is available on Amazon and can be used to protect teeth during the day while playing sports or at night while sleeping. These mouth guards are made from a soft thermoplastic, which is medical grade, and BPA- and phthalate-free.
Each purchase comes with both regular and heavy-duty protection with a total of five mouth guards—three for regular protection with a thickness of 3 mm, and two for heavy protection, with a thickness of 6 mm.
These teeth grinding mouthguards are made to be customized by you at home following these steps:
Boil: Boil water and soak for 18 seconds
Remove: Using tongues or a kitchen spoon, carefully remove the guard from the water
Bite: Let your guards cool for about 5 seconds, then put in your mouth on your top teeth and bite down.
These won't be as comfortable or durable as professionally-made mouth guards for sleeping, but they're cheap and worth a try if you need an instant solution.
Dentek Dental Guard
The Dentek night guard is also available for purchase on Amazon. Unlike the ConfiDental Mouthguard, these guards are made specifically to protect against teeth grinding at night. They feature a cushioned upper layer for comfort, a grind shield on the bottom layer, and a forming tray to aid in custom-fitting it to your teeth.
Your purchase comes with:
Fitting tray
1 Dental guard
Antimicrobial case
The instructions are easy to follow:
Rinse your dental guard in warm water
Place it over your lower teeth and bite down
Continue to adjust as needed
One set should last for 6 months with proper care.
How to choose your mouth guard
There's a lot to keep in mind when you're considering which night guard to purchase. You'll need to think about the materials, comfort, instructions for use, durability, and of course, value for price. Let's have a look at some of the main factors in choosing your mouth guard:
Fit: A precise fit is extremely important, considering that you'll need to be able to wear your mouth guard at night without noticing it or feeling bothered by it. That's why many people opt for custom-made guards instead of one-size-fits-all guards or guards that you need to fit at home.
Comfort: This will depend on the materials used, the fit, and the mouthguard style. Mouthguards that are professionally made to fit your teeth will be the most comfortable.
Style: There are various styles of night guards for teeth. These include some that are fitted to your teeth at a dental lab, one-size-fits-all models, or models that you fit at home either by boiling and biting or by adjusting a flexible mold.
Durability: The best quality mouth guard for grinding teeth will also be the most durable. But keep in mind that this doesn't necessarily mean the length of time they last before breaking, nor the thickness, but rather how long they can effectively protect your teeth from grinding.

This will also depend on the severity of your bruxism. Heavy teeth grinders will have to replace their mouth guards more frequently, which is why we recommend going with a brand like Smile Brilliant, which keeps your teeth impressions on file so that you can easily order a replacement when you need to.
Price: Purchasing your dental guard on Amazon will be cheaper than buying it from your dentist or ordering custom-made guards from a professional dental lab. However, for many people, the better fit, increased comfort, and higher level of efficacy are well worth a higher price tag.
Different types of night guards
Each person will have different needs when it comes to protecting teeth from grinding at night, so what may work for one person may not be the best option for another.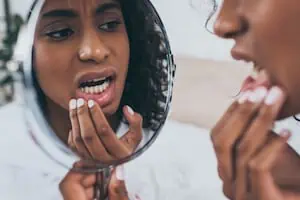 Custom-made mail-order guards: These include the Smile Brilliant mouth guards that we first mentioned. With this type of mouth guard, you order an impression kit online, make your impressions at home and then send them in so that dental technicians can custom-make your bruxism guards in a dental lab.

Once they are made, you'll get them shipped to you at home and you can start wearing them. When you buy custom night guards for teeth grinding, the company you purchase from usually keeps your fit information on file, making it easy to reorder more guards when you need them.
Adjustable: These mouth guards are made of a more flexible material, and after warming them up in warm (not hot or boiling) water, you can continue to adjust them to your mouth as needed.
Boil-and-bite: These guards require you to boil them in water and then bite down on them to fit them to your mouth. Once you bite down and the guard has cooled, you won't be able to adjust them any further.
One-size-fits-all: This is the least ideal style of night guard, as its much more likely that they won't fit your teeth, and they will cause discomfort when you wear them. For some people these do work, and they certainly have a cheaper price tag.
Do I need a mouth guard for grinding teeth?
If you're unsure whether you need a mouth guard, a great place to start is by visiting your dentist so they can check your teeth for signs like enamel erosion, chips or worn-down teeth. Chronic neck and jaw stiffness, pain in your gums or teeth, or wake constantly during the night may also be indicators that you grind your teeth.
If you do suffer from grinding your teeth at night, then it's important to find a solution like using a mouth guard, as tooth grinding can cause serious, irreversible damage to your teeth.
In the video below, dental assistant Michelle goes over how to wear your night guard if you do decide to get one.
Conclusion
Dental night guards are plastic devices that you fit over your top or bottom teeth to protect your teeth from grinding against each other while you sleep. Bruxism can be a serious, albeit common problem that 1 out of 3 Americans suffers from.
If you grind your teeth at night, it's important to speak with your dentist to find a solution, such as wearing a mouth guard. There are various types of night guards, the most effective being those that you can get from your dentist, or that you get custom-made at a dental lab.
If you want to purchase a mouth guard to protect your teeth from nighttime grinding, you may want to consider custom-made guards by Smile Brilliant. They are just 3 mm thick, comfortable, durable and tailor-made for your teeth. Your records are kept by Smile Brilliant so that it's fast and easy to order new guards when you need them.
FAQs
Can a night guard shift your teeth?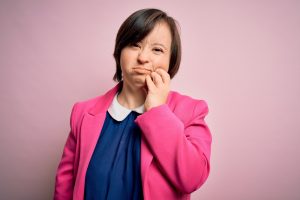 The purpose of night guards is not to shift your teeth but rather to protect your teeth from grinding and clenching while you sleep. They shouldn't move your teeth at all.
If you suspect that your guard is shifting your teeth, you should discontinue use immediately. You may be able to tell if a night guard is moving your teeth if you experience tightness or discomfort when wearing it or right after putting it in. The best way to avoid this problem is by purchasing custom-made guards instead of cheaper, one-size-fits-all options.
How do you clean a night guard?
There are a variety of ways to clean your night guard. You can gently brush your mouthguard with your toothbrush and toothpaste, rinse it with soap and water, clean it with vinegar, or use a denture cleaner. Make sure to read the instructions on your specific mouthguard so that you don't damage it by cleaning it the wrong way.
Why do my teeth hurt after wearing night guards?
If your teeth hurt after wearing night guards, this could be an indication that they aren't working, or that they are shifting your teeth while you sleep, which they aren't supposed to do. This is most common in one-size-fits-all mouth guards, since they aren't designed specifically for your teeth.
If you experience pain after wearing this type of night guard, discontinue use immediately and talk to your dentist about getting mouthguards that are custom-made for you.
Academy of General Dentistry:
AGD: Factsheet
. Consulted 3rd April 2021.