Looking for an honest Cheeky Night Guard review?
The goal of this article is to help you select the best night guard for your unique requirements, so you can stop grinding your teeth at night and experience better dental health and sleep.
Both adults and children may suffer from bruxism. People who grind their teeth at night are more likely to do so, although some people do it during the day as well. Furthermore, the vast majority of patients are utterly unaware of the fact that they are grinding their teeth.
This condition may be brought on by a variety of factors, but it is most often linked to stress or worry. Although it may be difficult to completely eliminate teeth grinding, there are several strategies for minimizing the consequences. The majority of individuals start by using a dental mouth guard like the Cheeky night guards.
In this Cheeky night guard review, we'll go over the following:
How do Cheeky night guards work?
How much do Cheeky night guards cost?
Cheeky night guard fitting instructions
We'll have a look at some Cheeky night guard reviews.
We hope that this information helps you in your quest for the perfect dental night guard, as well as in considering whether Cheeky night guards are right for you or if there are better solutions for your specific needs.
What are Cheeky night guards?
A Cheeky night guard is a removable plastic tray that slips over your top teeth and keeps them from grinding and clenching as you sleep. It works as a barrier between your lower and upper teeth.
Other terms used to describe these dental night guards are nocturnal bite plates, mouth guards, or dental guards. When you clench your jaw, these Cheeky night guards help reduce stress and cushion the muscles in your jaw.
Why wear Cheeky night guards?
People use night guards to relieve some of the symptoms of bruxism. A custom-made night guard molded to your set of teeth will prevent you from grinding or clenching your teeth.
Teeth grinding and jaw clenching can lead to the following symptoms,
Gum disease
Headaches
Chipped teeth
Sore neck
Brain fog
Jaw misalignment
And other symptoms
These symptoms may be reduced by using Cheeky night guards or other high-quality night guards.
How to get your custom-made Cheeky night guards
Getting your custom-made Cheeky night guards is a simple process. You order your set, place the putty in the tray, take the impression, send it to the Cheeky lab, and wait to get it delivered.
Choose your tray
Mix the putty
Place the putty
Take the impression
Hold for 3 minutes and 30 seconds
Send it to the Cheeky lab
Get it delivered in 7–10 days (some customers claim it took up to 1 month)
Watch this instructional video, to learn how the Cheeky night guard impression process works:
What to consider when ordering Cheeky night guards
When ordering Cheeky night guards, you have the opportunity to customize your night guard. You can also choose the hardness of the night guard, which is an important consideration.
One-time/replacement plan
Because dental night guards wear through over time, especially if you're a heavy grinder, they give you the opportunity to sign up for a replacement plan. Every three months, you will be sent a new night guard. Or you can just try it out once. If you know you're a heavy grinder and you will bite through them quickly, the replacement plan can give you a little discount.
Hardness
You can choose between a soft and a hard night guard.
Soft: The soft Cheeky night guard is created from BPA-free and latex-free EVA plastic. According to Cheeky, they are made to be as comfortable as possible while still giving you a good protection from tooth grinding. If you are new to night guards or want a relaxed fit, then this is the ideal choice for you.
Hard: The Cheeky "hard" night guard is formed of durable acrylic material. It's free of BPA, phthalates, and latex. The hard Cheeky night guard protects your teeth from grinding while also functioning as a retainer, preventing your teeth from moving over time.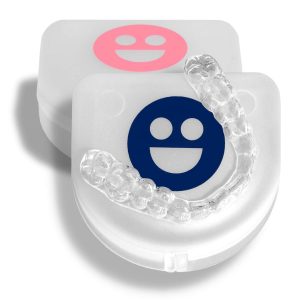 Teeth
With this option, you get to pick which arch of your mouth your night guard will cover. You can choose between
Upper
Lower
Upper and lower
This is a personal preference and comfort decision. With a cheeky sleep guard in your mouth, no matter which arch you pick, you'll be protected against grinding and clenching. According to Cheeky, the majority of the customers go with the upper arch night guard.
Thickness
If you select the soft Cheeky night guard, you can choose between three thicknesses:
The hard Cheeky night guard has only one thickness option:
Cheeky night guard accessories
When you reach this step of the Cheeky night guard order process, you will be offered a range of accessories to purchase. You will be offered a water flosser, an electric toothbrush, and a teeth whitening kit to add to your order. If you really need these gadgets too, we believe you'd be better off buying them separately.
Summary of Cheeky night guard choices
Cheeky night guard reviews
All of this sounds amazing, but can the Cheeky night guards deliver on their promises?
Let's take a closer look at some Cheeky night guard reviews to determine if they are worth the cost.
When you visit their website, you will find many reviews from customers who are excited about this product. However, keep in mind that the reviews are sorted by "highest rating."
If you want to read the critical reviews about the Cheeky night guard, you can use the filter option in the top right corner to select "lowest rating." The same thing applies if you're looking to buy the Cheeky night guards on Amazon.
Fit – ★★★★☆ (4/5 stars)
A proper fit is essential because you'll need to be able to wear your mouthguard at night without noticing it or feeling irritated by it. As a result, many people prefer custom-made guards to one-size-fits-all or those that must be fitted at home.
However, when reading through the Cheeky night guard reviews on the company's website and on Amazon, you'll see that many customers are quite happy about the fit and comfort of these dental mouth guards:
I've been using my Cheeky Guard for about two weeks now, and have no complaints! It does take a while to get used to, but as long as you get a good fit it won't affect your sleep.

Leah S.
To get a good fit you need to follow the molding instructions to the letter. If you don't do it correctly, your Cheeky night guard won't fit, and might even fall off while you're sleeping.
Comfort – ★★★★☆ (4/5 stars)
The materials, the fit, and the mouthguard type will all influence this. The most comfortable mouth guards are those that are custom-made to fit your teeth.
When reading through the Cheeky night guard reviews you find online, you'll see that most are satisfied with the comfort. There are just a few critical reviews claiming that these dental night guards are really inconvenient.
I have only had my nightguard for under 2 months and I have already bitten through it. I thought the material would be a little more substantial. However, the fit is amazing and it is very comfortable.

Mary S.
Very minimal, fairly comfortable. A lot better than the boil and bite guard.

John Y.
However, a few people who bought these dental mouth guards via the retention plan have mentioned that the quality and comfort of the orders differed.
My first Cheeky mouth guard was all hard plastic. I preferred that fit. This one should have been the same, but came hard/soft. It works fine, but the other was far more sturdy.

Katie F.
Durability – ★★★☆☆ (3/5 stars)
The length of time a dental night guard can protect your teeth from grinding before it has to be changed determines its quality. Heavy teeth grinders may need to replace their dental night guards more frequently.
Read what customers report about the product's durability in their Cheeky night guard reviews:
I ordered the "heavier duty" mouth guard since I tend to grind my teeth quite a bit at night, but it only lasted a few months before I had worn a few holes into the hard plastic on the outside and only the soft inside remains. I've now returned back to the dentist to have them make a new mouthguard that will last longer.

Drew Z.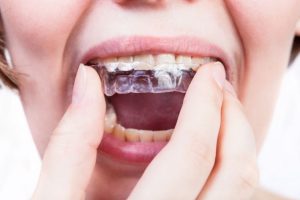 I am a serious teeth grinder, and the soft guard is not going to do it for me. I probably should have done a bit more research before committing to spending the money on this mouthguard. I will grind through this guard in a couple of weeks. It also doesn't feel like it fits very well, the edges are not smooth and irritate my gum

Noortje G.
Price – ★★★★☆ (4/5 stars)
It will be less expensive to get a Cheeky night guard online than it would be to buy it from your dentist or to obtain custom-fitted night guards from a professional dental lab.
For many individuals, however, a greater price tag is well worth the better fit, enhanced comfort, and increased effectiveness.
Great price but could be more consistent with the fit.

Barbara J.
At the time of writing this article, the Cheeky night guards cost $97 (with promo code) on getcheeky.com and $89 on Amazon. However, if you buy from the company's website, you may have more options for customizing your order. It should also be mentioned that the price may fluctuate depending on the market.
By clicking the button below, you can check the latest Cheeky night guard price on Amazon and see if there are any discounts available.
Cheeky night guard pros and cons
Cheaper compared to a dental night guard from the dentist

Different materials for a soft or hard night guard

Different thicknesses available

It requires you to follow instructions carefully, or the night guard will not fit.

Less durable for heavy grinders

Cheeky night guard alternative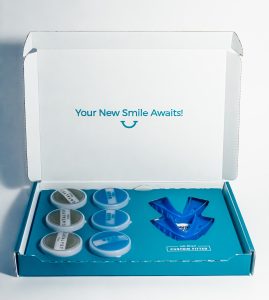 Cheeky makes excellent dental night guards at a reasonable price. If you're not a heavy grinder, they might be a viable option. Many heavy grinders claim that these teeth night guards barely last a few weeks.
You may want to invest in a higher-quality mouthguard that will last longer and give you greater comfort. Therefore, we recommend the Smile Brilliant Night Guards instead of the Cheeky dental guards.
Comparison: Cheeky night guard vs Smile Brilliant night guard
SmileBrilliant Night Guards

Hand-crafted by dental lab technicians

100% money-back guarantee
Conclusion
These mouth guards have some fantastic features, as we mentioned in this Cheeky Night Guard review. If you're not a heavy grinder, Cheeky Dental Night Guards will probably be sufficient. However, many customers say that the durability of the Cheeky Night Guards is not the best, and they bite through them quickly.
If you're a heavy grinder, you should invest in a higher-quality dental night guard that will last longer and provide more comfort.
The Smile Brilliant Night Guards are pricier than other products on the market, but you'll get a product that's customized to your requirements and feels good in your mouth. They may last up to one year and are hand-crafted by dental lab technicians.
FAQ
Where can I find a Cheeky night guard promo code?
Cheeky night guard promo codes, discounts, and coupons may be found on a variety of websites. They may, however, only function for orders placed on the company's website and not for Amazon purchases.
Sign up to receive the latest news and offers from Dentaly.org