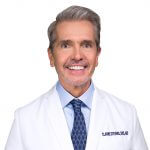 Orthodontist and Contributing Expert
Dr. Clarke Stevens, DDS, MS, attended dental school at the University of Nebraska Dental College and completed his orthodontics residency at the University of North Carolina at Chapel Hill. He now runs his own orthodontic clinic in Omaha, Nebraska. 
Before establishing an independent practice, Dr. Stevens served as an Assistant Professor of Orthodontics at the University of Nebraska for 12 years, and while there he founded the Dentofacial Program for patients in need of orthodontic and jaw surgery.
Dr. Stevens believes that service should be performed with a smile, and his positive spirit has driven his clinic to provide expert, compassionate care. He is Board certified by the American Board of Orthodontists and is a member of the American Dental Association and the American Association of Orthodontics. Dr. Stevens is also the creator and patent owner of WildSmiles® Braces.
When he's not at the office, Dr. Stevens can be found pursuing artistic ventures and supporting professional and civic organizations in and around Omaha.