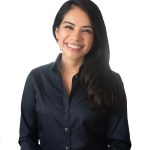 Dentist
Dr. Alvarado is a native of San Antonio. She completed her undergraduate studies at Texas A&M University where she received her bachelor's degree in biomedical science.
She is a board-certified graduate of the University of Texas Health Science Center at San Antonio Dental School where she received her Doctorate of Dental Surgery. Dr. Alvarado is proud to provide healthy and confident smiles to the community she lives in.
She is an experienced and devoted dentist whose ultimate goal is to build long-lasting and trusting relationships with her patients built on a solid foundation of dental education and quality care with a gentle touch.
When Dr. Alvarado is not perfecting beautiful smiles, she enjoys all that the world has to offer.. She loves to travel, enjoy amazing food, spend time outdoors and spend quality time with her family, friends and pups.