If you're thinking about getting your Doctor of Dental Surgery (DDS) or your Doctor of Medicine in Dentistry (DMD), you probably first want to know what the average dentist salary is.
According to salary.com, the average salary for a dentist this year in the US is anywhere from $154,000 to $205,000, depending on where your practice is, your level of education, and a whole range of other factors.
In this article from Dentaly.org, we'll help you take a closer look at the average salary of dentists based on specialty and location, so you can get a little bit closer to deciding if this really is the profession of your dreams.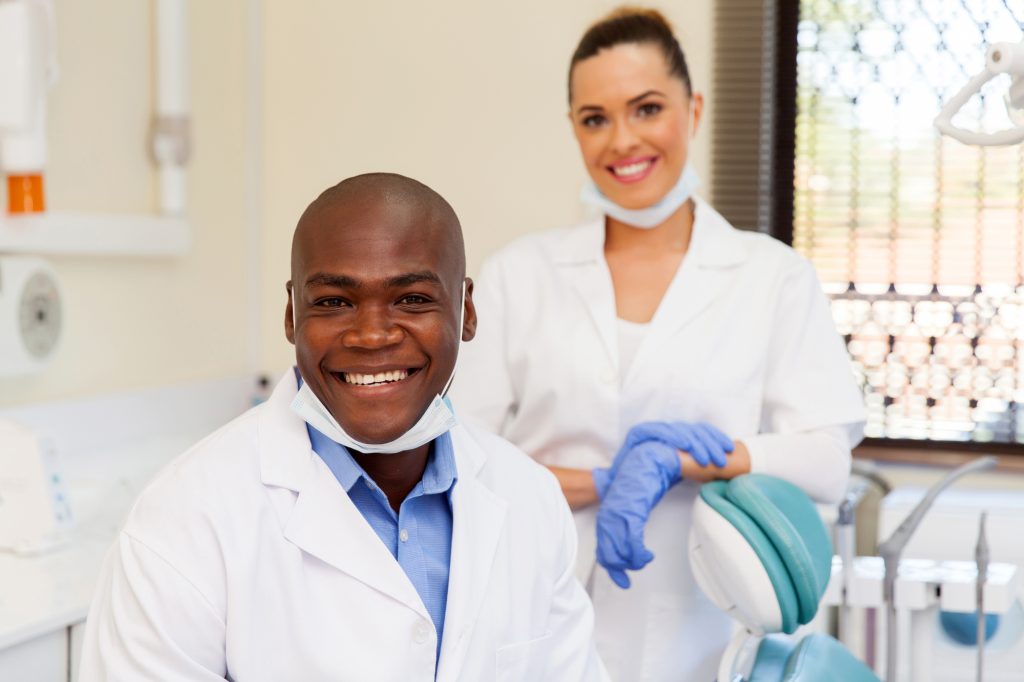 Average general dentist salary
If you're thinking about being a dentist, that's great, we need you. Dental practice ownership has fallen from around 84% to 74% in the past 15 years according to the ADA.
The good news, if you're a prospective dentist, is that dentists make decent wages. According to Salary.com, the average salary for a general dentist is between $154,376 and $204,543, the median being $177,158. Let's now have a look at what dentists typically make depending on their specialty.
Pediatric dentist salary
Pediatric dentists (or dentists who are trained specially to work with children's growing mouths) make an average of $147,898 and $183,225, with the median earnings at $167,769.
Prosthodontist salary
A prosthodontist is a dentist who works mainly on the rehabilitation and recuperation of the mouth following trauma or the loss of teeth. They are who you might see if you need implants, dentures, or reconstructive oral surgery. The average salary for a prosthodontist is between $140,829 and $176,823, with a median of $156,879.
Orthodontist salary
Orthodontists are dentists who have specialized training in the movement and alignment of teeth — these are the dentists you go to when you need braces. They make an average of $147,587, falling within a range of $121,249 and $178,952.
Dentist salary by state
Your salary as a dentist will also vary depending on which area of the country or state you live in. The table below shows the typical range of average salaries by state.
Colorado, Illinois, Kentucky, South Carolina, Utah, West Virginia

Louisiana, Nebraska, Wyoming

Indiana, Maryland, Montana, Nevada, Pennsylviania, South Dakota, Texas

Alaska, California, Florida, Georgia, Mississippi, Missouri, North Dakota, Oklahoma, Tennessee, Virginia

Alabama, Arizona, Hawaii, Massachusetts, Michigan, New York

Arkansas, DC, Iowa, Kansas, Maine, Minnesota, New Mexico, North Carolina, Ohio, Washington, Wisconsin

This data is provided by dentalpost.net
You can also check out the fun video below where two dentists run down the different dentist salaries by state as well, based on an internet search they do.
Conclusion
As you can see, dentists make a pretty good salary, even in Idaho which on average is where dentists make the least. But on average, a dentist can expect to make anywhere from $154,376 and $204,543.
How much you make as a dentist will depend on your specialty, where you live, and how many years of experience you have. But as with any profession, the most important part is that you love what you do.
No amount of money will make a job you dislike worth doing. So if you love helping people and you want to improve people's self-confidence and oral health, then we say, go for it!
FAQs
What is the average salary for a dentist?
A general dentist can expect to make anywhere from $154,376 and $204,543 with a median of $177,158. The exact amount will depend on where they work, their years of experience, and their specialty.
What do orthodontists make?
An orthodontist (dentists who specialize in straightening teeth and fixing bite misalignment) makes an average of $121,249 and $178,952 with the median being $147,587.
What do pediatric dentists make?
A pediatric dentist (a dentist who has special training and studies in children's teeth and taking care of growing mouths) makes between $147,898 and $183,225 with a median of $167,769.
Sign up to receive the latest news and offers from Dentaly.org