Looking for an unbiased TruSmile veneers review?
Veneers are becoming a more common cosmetic dentistry option for people looking to enhance their smile appearance. Most individuals, however, find the procedure of acquiring veneers daunting. This is due to the fact that it is often permanent.
This is where snap-on veneers like TruSmile come in. TruSmile is a company that creates clip-on veneers using modern 3D technology to help people disguise their dental flaws. TruSmile is a more cost-effective and budget-friendly way to improve one's teeth.
But do TruSmile Veneers and other snap-on veneers stand the test of time?
This, as well as a few other concerns, will be discussed in this article, including:
What are TruSmile veneers?
How much do TruSmile veneers cost?
We'll have a look at various TruSmile veneers reviews
Comparison: Snap-on veneers vs. traditional veneers
Comparison with other snap-on veneer brands: TruSmile vs. Instasmile
We hope this article helps you to determine if Trusmile veneers or other snap-on veneers are right for you, or if you should go for traditional veneers.
If you want an in-depth article on veneers, you can read our complete guide to dental veneers.
We also offer a comprehensive guide about snap-on veneers that explains what clip-on veneers are in detail. Read our article on snap-on veneers.
Find a dentist available now for veneers near you.
What are TruSmile veneers?
TruSmile veneers (snap-on veneers) are a non-permanent alternative to traditional veneers. They're a great option for folks who want a nice smile but don't want to commit to permanent veneers.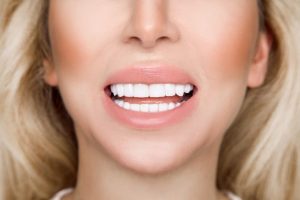 Snap-on veneers are often a painless and simple procedure. Molds of your teeth will be taken by a dental professional and sent to a dental laboratory. When your snap-on veneers are finished, your dentist will do a final fitting to confirm that they fit properly.
With TruSmile Veneers you'll be sent a mold or putty to get an impression from your teeth. So when purchasing TruSmile veneers you don't have to go to a dentist, and you can do everything from the comfort of your own home. Of course, there are benefits and drawbacks to this, which we'll go over later in this article.
TruSmile Veneers may hide a variety of dental flaws, including:
Gapped teeth
Missing teeth
Stained teeth
There are, however, certain limits. More serious issues, such as crooked teeth, cannot be corrected with snap-on veneers. This is due to the fact that they are not intended to affect the structure of your teeth. You should see an orthodontist if you have more serious issues that need to be addressed.
How do TruSmile Veneers work?
TruSmile veneers (or other snap-on veneers) are similar to mouthguards in that they fit over the top of your teeth. They may be easily removed without the assistance of a dental professional at any time.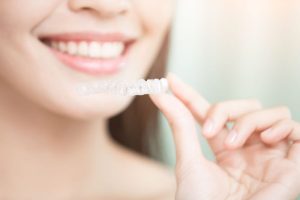 Getting TruSmile snap-on veneers to enhance your appearance is a straightforward procedure. Simply get an impression kit from the provider online and use the mold to make impressions of your teeth. The company provides an online instruction manual to help you make those first impressions.
Furthermore, TruSmile offers a multitude of "how-to" tutorials, ensuring that you are never left confused. You may need you to take images of your mouth and submit them to TruSmile. Then TruSmile will make the perfect snap-on veneers for you based on your impressions and ship them to you with instructions on how to use them while you enjoy your new appearance.
How much do TruSmile veneers cost?
Traditional veneers might cost thousands of dollars, but TruSmile veneers are just $499 for the whole set. You may also choose a payment plan in which you pay $259 upfront, and pay the remaining $259 within a month.
The price of TruSmile veneers is also determined by whether you want only the top, the bottom, or both parts. If you just want to cover one part, the cost is $299.
When ordering TruSmile Veneers you'll also have a few color options to choose from:
TruSmile shades
B1 – Very bright (bleaching shade)
A1 – Bright (close to natural white)
A2 – Not very bright
TruSmile price structure
The pricing options for TruSmile Veneers are as follows:
Only single bottom veneers


Details correct at time of writing; check with trusmileveneers.com for current price and complete policy details.
TruSmile veneers vs traditional veneers
Traditional veneers are made up of a very thin layer of porcelain or composite that is shaped, sized, and colored to match the form, size, and color of your teeth for a flawless smile. Good-quality traditional veneers that are made to seem like natural teeth may last anywhere from 5 to 15 years, depending on the materials used.
However, traditional veneers are not reversible and can cost thousands of dollars. In this situation, TruSmile Veneers have become a more viable option.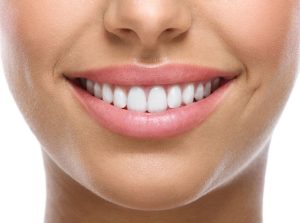 Snap-on veneers, unlike actual veneers, may be installed and removed at any time. They don't need any dental bonding, or gum or tooth tissue cutting. Snap-on veneers are often made of resin and serve as a cover for your natural teeth. When the veneer is properly placed, it makes a snapping sound as it wraps around the teeth. Snap-on veneers are much less expensive than regular veneers.
TruSmile veneers pros and cons
TruSmile veneers are simple to get and are substantially less expensive than regular veneers. However, before purchasing them, you should do a thorough study to see if they are appropriate for you. The following are some benefits and drawbacks of TruSmile clip-on veneers:
Advantages of TruSmile veneers
Less expensive.
Traditional porcelain veneers may be expensive, costing tens of thousands of dollars. Composite veneers, which are less expensive, may still cost up to $1,200 per tooth. As a result, veneers from a dentist might be too expensive for many individuals who want to enhance their smile.
On the other hand, the cost of the TruSmile Veneers is only $499. They're a wonderful alternative if you're looking for a stepping stone to permanent veneers or just want to test how veneers look.
Simple and painless procedure.
You won't need to visit a dentist, have a numbing injection, or have any enamel removed from your teeth if you get TruSmile veneers.
In order to acquire your TruSmile veneers, you will take molds and impressions of your teeth and send them to the company. Your TruSmile snap-on veneers will arrive in a few weeks after your molds arrive.
Disadvantages of TruSmile veneers
Safety concerns
TruSmile veneers are not a replacement or alternative to professional dental work. They're nothing more than band-aids that can only be used for a brief time to hide cosmetic flaws in your smile. While this may seem innocuous, it is not if you use veneers to conceal issues like chipping, cracks, rot, or missing teeth rather than seeking expert help.
Furthermore, these veneers may hurt your teeth further by applying too much pressure or rubbing against your gums, speeding up the gumline decline. If the veneers are used for an extended period of time, food and germs may get trapped between the veneers and your teeth, causing deterioration.
Quality concerns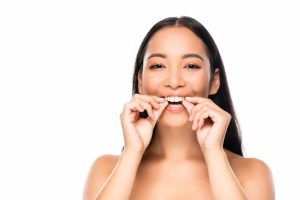 Snap-on veneers like TruSmile might deteriorate over time. Traditional veneers, on the other hand, may last up to 20 years depending on the materials used and regular dental maintenance.
They can be inconvenient.
Inserting and removing the TruSmile or other snap-on veneers might be time-consuming and challenging at times.
They might not look like your real teeth.
They may be a good temporary fix for some people who have missing front teeth. However, when picking a color from a website, they probably won't look like your real teeth. In addition, the plastic composition of the veneers reflects light differently. As a result, if you're having a close chat with someone, they will likely notice that these aren't genuine teeth.
They may last only around 12 months.
Snap-on veneers are intended to be semi-permanent or temporary dental treatments. The average lifespan of snap-on veneers is around a year.
Food restrictions
Many clip-on veneer manufacturers claim that you can eat while wearing veneers. However, if you read the fine print, you'll see that they really warn against it. Even those that are intended to resist the pressures of eating have restrictions on the kinds of meals that may be consumed. You'd have to stay away from hard or sticky meals.
It's also best to avoid foods and beverages that might stain the veneers, including red wine and curries. Acidic drinks, such as carbonated beverages, might make the materials porous.
Find a dentist available now for veneers near you.
TruSmile veneers reviews
Finding authentic TruSmile Veneers reviews might be tricky. You may read reviews from individuals who have used the product on sites like the Better Business Bureau, Yelp, or Trustpilot.
In certain circumstances, the organization's score is based on more than simply customer reviews; it also takes into account other factors, such as how fast the company answers concerns.
You can find many positive TruSmile Veneers reviews. However, this can also be due to the fact that many people are keen on improving their smiles for a low cost and without having to see a dentist. They don't want to or can't afford to undergo the costly aesthetic dental treatment that would be necessary otherwise.
If you go through the reviews more carefully, you'll notice that many dissatisfied customers have had trouble with the impression and have had to wait for more putty to arrive. And after the fake teeth appearance, one of the most common concerns is that the TruSmile Veneers company is difficult to interact with.
Customers who are disappointed with their purchases have a tough time securing a refund. Keep this in mind since you're spending a lot of money!
Here's a very thorough TruSmile Veneers review. Watch this video and then keep reading to see our final opinion on this product.
Here is a TruSmile Veneers review from BBB. You'll find many positive reviews of happy customers.
These veneers are great! They boost your confidence like no other.

by Ramon G
However, not all reviews are positive, and if you go to BBB and sort by "lowest rating", you'll also find many reviews from dissatisfied customers. Here are two examples:
I've purchased some veneers and they took forever to get here. When they finally arrived last weekend, the "so called snap on veneers" doesn't even snap on to my teeth, they keep falling off. Also, the veneers are so cheap looking. I've seen people online complaining how their veneers broke in a week or two, but I did not believe them at first till I saw how cheap they were when I received mine.

by Danny D
The customer service is great until they receive all your money. Barely responsive after that. I received the wrong order or what seemed to be the wrong or & they've done nothing about it. Haven't even responded back to me it's been 3 days now.

by Daamontae
As with everything you buy online, do your own research and judgment before making a purchase.
TruSmile vs InstaSmile Veneers
Are you looking for snap-on veneer manufacturers and trying to decide between InstaSmile and TruSmile Veneers? They both give services that are similar. Instasmile Veneers come in five different colors, whereas TruSmile Veneers come in only three variations. Here's a comparison between InstaSmile and TruSmile Veneers:
B1 – Very bright (bleaching white)

A1 – Bright (close to natural)

A2 – Not very bright

Multi-Tonal Shade

BL1 - Hollywood White

A1 - Pure Natural White

A2 - Light Ivory

A3 - Medium Ivory

Details correct at time of writing; check with the provider for current and complete information.
As you see, TruSmile is a bit more affordable than InstaSmile Veneers when it comes to price comparison between these two.
TruSmile Veneers alternatives
A trip to the dentist to address any oral health issues you may have and then following your dentist's care instructions is the best alternative to TruSmile Veneers. This might include receiving permanent veneers or, in more serious circumstances, getting dental implants.
Veneers that are professionally fitted by a dentist are, of course, much more costly. Yet, depending on your requirements, you have a few alternatives:
Teeth whitening
If you want to wear TruSmile Veneers to cover yellow or brown stains, you might consider getting professional teeth whitening instead. You may be surprised to learn that teeth whitening is often faster and less expensive than custom-made snap-on veneers.
A dentist-performed teeth whitening procedure takes less than an hour and produces excellent results. Even some over-the-counter whitening products or home remedies can be very effective.
Cosmetic dental bonding
Your dentist will apply a tooth-colored composite resin to one or more of your teeth during cosmetic tooth bonding. This helps in the restoration of any damage. It is usually a cost-effective alternative since it is less expensive than other cosmetic dental treatments like crowns and veneers.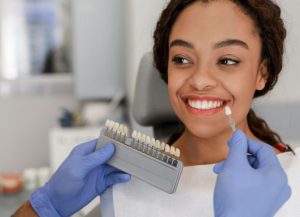 Porcelain veneers
Porcelain veneers are thin shells that are attached permanently to your natural teeth. They have the ability to change the size, shape, and color of your teeth. Porcelain veneers can also be used to correct minor cosmetic issues like small gaps. Composite veneers are the more affordable option, utilizing cheaper materials.
Going abroad for dental treatment
Going to a reputable clinic overseas for your veneers might also be a fantastic alternative. With dental tourism, you can save a lot of money since prices are up to 70% lower in other countries. You can read more about going abroad for dental treatment in our dental tourism guide.
Financing your dental treatment
Dealing with the problem is always the best option. And this could mean getting an implant to replace the entire root and tooth. Dental implants, however, may be rather pricey.
If you need assistance paying for dental care, read our dental financing page. Getting a loan for your treatment can help you acquire the actual treatment you need, instead of just covering the problem and delaying the procedure.
Conclusion
TruSmile Veneers (and other clip-on veneers) are promoted as a quick and inexpensive option to improve your smile. They are available from a wide variety of companies, with costs ranging from less than $20 to more than $700. Many are pre-formed, while others, like TruSmile, are custom-made to suit your teeth precisely.
The idea is brilliant, and it can be a quick solution to dental issues. However, the term "quick" isn't entirely accurate. When purchasing TrueSmile Veneers, expect to wait weeks, if not months, for your custom-made veneers to arrive.
A quick fix to get a flawless tooth appearance

It's quick and easy since you won't have to go to the dentist.

It is not permanent since no tooth or enamel cutting is necessary.

Gaps, fractures, stains, missing teeth, and other dental flaws are effectively hidden.

When compared to the porcelain veneers procedure, it is less painful and much easier.

TruSmile Veneers just cover the problem, which must be treated by a dentist.

TruSmile Veneers may cause further problems by rubbing against your gums.

Since TruSmile veneers are not meant to modify tooth structure, they are not suitable for more serious issues such as crooked teeth.

They aren't as long-lasting as porcelain veneers or other professional options.
Even though TruSmile veneers may be a viable option for some individuals, we always recommend consulting with a dentist. Keep in mind that snap-on veneers do not actually fix dental health issues; they only cover them up.
While TruSmile veneers (or other clip-on dental veneers) may seem to be a handy approach to getting a flawless smile, they seldom fit well and may potentially cause severe harm to your teeth and mouth.
Instead of these temporary dental veneers, dentists often prescribe orthodontic therapy, whitening, or actual permanent veneers, and if you have lost teeth, an implant to replace the whole root and tooth is the better alternative.
Professional treatment might seem very expensive compared to getting snap-on veneers. But keep in mind that professional veneers may last anywhere from 5 to 20 years, depending on the material. Because TruSmile veneers may only last 1-3 years, you may need to purchase them more than once. These expenses also add up, and you may be better off dealing with the problems rather than just covering them.
Sign up to receive the latest news and offers from Dentaly.org