If you're considering trying to improve the aesthetics of your smile with snap-on veneers, you may be interested in reading instasmile reviews. Reading reviews gives you the opportunity to find out how actual customers of instasmile feel about their snap-on veneers, and if it's worth it for you to try.
That's why in this article, we've compiled some relevant customer reviews, and we'll also answer the following questions:
What is instasmile?
How much is instasmile?
How long does instasmile last?
We hope that this information helps you decide if this is the right path for you!
What is Instasmile?
Instasmile is a company that makes custom clip-on veneers. Unlike traditional veneers, clip-on veneers are designed to clip on over your natural teeth, with no adhesives required. They can be used by people who have stained, missing, damaged or gappy teeth to achieve a perfect smile look. You don't have to visit the dentist and Instasmile is considerably more affordable than other teeth replacement options.
Instasmile may appeal to those considering veneers, but looking for a more affordable and non-invasive option. That's because, with veneers, some healthy tooth that you have may need to be shaved down in order to make room for the veneers, whereas instasmile simply goes on right over your natural teeth.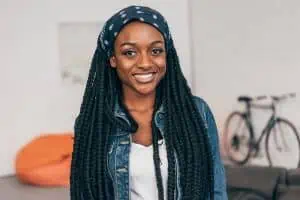 According to the instasmile website, instasmile clip-on veneers are comfortable and convenient, and are created by skilled technicians to look like your natural teeth. They are also durable and difficult to stain, even when drinking coffee, wine or soda.
To get instasmile, you simply go online to their website and you fill out a form with some contact information like your email address and phone number. Then the online form will ask you some questions about your teeth, like which ones are missing and what you are looking to improve. At the end, they will tell you how much your instasmile will cost, and you can go ahead and pay. The online form is actually pretty easy to complete.
After you've submitted your payment, you will be sent a kit to take the impression of your teeth. This kit includes a sort of impression putty and trays. With the impression kit, you make molds of your arch or arches. If you need help with taking your impression, you can call the instasmile helpline for assistance.
You then send your molds into instasmile and their technicians will approve them. At which point they will start making your veneers. Once your veneers are finished, they send them to you!
It should be noted that if you are looking to stop the adverse health effects of missing teeth, such as jawbone deterioration, you should consider another option like dental implants. Clip-on veneers are no substitute for tooth replacements like implants—they are only meant to enhance the superficial aspects of your smile. Implants are most likely the best course of action when it comes to your overall oral health.
How much does Instasmile cost?
There are currently three types of Instasmile available, each costing a different amount. The low end costs $300-$500, while the top tier costs up tp $1,499. Have a look at the three options below.
instasmile Moment
Made for: Temporary wear
Single arch: $375
Set of arches: $500
instasmile Classic
Made for: Occasional wear
Single arch: $500
Set of arches: $799
instasmile Platinum
Made for: Everyday wear
Singe arch: $999
Set of arches: $1,499
Alternatively, instasmile offers 0% interest payment plans that you can choose from.
How long does the Instasmile process take?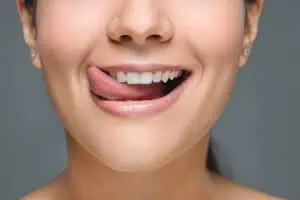 According to the website, production time for your Instasmile veneers takes around three weeks, beginning from the time that they receive a viable impression from you in the mail. Viable in this case means that their technicians approve it for use. You can also select an Express option for an extra $100, which you must specify at checkout.
Of course, this doesn't include mailing time, or other delays that may occur, so our reviewers will let us know what the actual timeframe could be a little further on down.
Can you eat with Instasmile?
You can eat and drink most foods and hot and cold beverages while wearing your Platinum Instasmile veneers. However, if you are going to eat especially hard or chewy foods, you should remove them. You can also eat with Classic veneers, but again, you should only eat soft foods, and you shouldn't make a habit of it. And finally, the Moment model should be taken out before eating and drinking, although you can sip on cold drinks with them still in.
Instamile notes on their website that some people may find it difficult to eat with their veneers in.
How long does Instasmile last?
Instasmile is designed to last a long time, but this will also depend on various factors such as if you eat with them, which model you purchase, and how many days you wear them.
They come with a 30-day manufacturing warranty, and you can also purchase a 12-month extended warranty at checkout.
Instasmile competitors
The other names in the clip-in veneers game include Secret Veneers and Snap-on Smile. You can see the differences between these veneers in the table below.
| | | | | |
| --- | --- | --- | --- | --- |
| | | | | 12-month warranty included? |
| | | Website says "As long as you need them, with good care" | With Platinum and Classic | With Platinum, must be purchased with Classic |
| | | Website says "As long as you need them, with good care" | | |
| | | | | |
Is Instasmile safe?
If you limit your use of instasmile to special occasions, then the risk of harm is minimal. Additionally, your natural teeth don't need to be shaved down in order to use this kind of veneer.
However, if you choose the Platinum option and wear them every day, food particles could get trapped underneath, increasing the risk of decay.
Additionally, clip-on veneers shouldn't be used to simply cover up tooth decay. The problem will only get worse and chances are you can find free or low-cost dental care for you to get it taken care of. Try checking out a local community health center, or seeing if you're eligible for Medicaid.
Reviews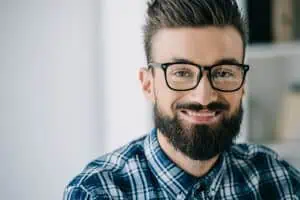 Now you know how instasmile clip-on veneers work, so let's read a review or two from some real customers.
"Instasmile is an affordable solution to the smile of your dreams"
That's what this review from newagemama's blog says. She has had insecurities about her teeth for many years. A look at her 'before' picture shows that she doesn't have any gaping holes in her smile, but according to her, her teeth do have some spacing issues and she has a small fang tooth that she doesn't like.
Throughout the years she would visit dentists and orthodontists to see if there was an affordable remedy for getting the smile she wanted, but things like braces and veneers were too expensive, making them out of the question.
She decided to try out instasmile because she'd like to have a nice smile during grad school as she begins a new chapter in her life. She purchased both upper and lower Classic veneers.
She says their customer rep was really helpful in walking her through the steps before she placed her order, and then again when she needed help with making her impressions.
She says the veneers were a beautiful color and perfectly fitted her teeth. And they look good on, garnering many a compliment from friends and family.
She has so far experienced only two side-effects: minor pain in her bottom teeth and a small lisp for the first few days, but which goes away after a couple of minutes. She loves that she can eat and drink with them and that they seem to resist staining.
She concludes her review by saying that if you want to improve color, appearance or overall smile, then instasmile is a good choice.
"Y'all go get yours, cause they work!"
This review is from Destiny, a 35-year-old professional who works in the medical sector. She's always maintained good dental hygiene, but she has inherited sub-par dental genes from her family and has never had a lot of love for her teeth. And to make matters worse, she had to get four teeth pulled a few years ago.
She is familiar with feelings of embarrassment or shyness and not being willing to smile for photos or when she meets people. She has even suffered from depression because of her teeth. That is, until she saw an instasmile ad on Facebook one day.
So she did her research, just like you!—and decided to give instasmile a try. She called them, to ask if it would work for her and was told that she would be a candidate. And just a week later she received her impression-taking tools, and an instasmile rep walked her through the process. A little while later she got her smile. From start to finish it was about a month and a half.
She says she was very happy with them and they lasted for two years until they broke. She had initially bought the Platinum model, and now to replace them she bought the Classic model. And as a person who works in the medical sector, she's especially happy that she can show her patients a beautiful smile now.
You can watch her full instasmile video review below:
"Not only is the product not a good quality product, I'm not happy with their customer service."
Our next review is from a man who does not give his instasmile experience a very good rating. He says he went online to order instasmile with his wife because she has missing teeth. They followed the instructions on the website and selected which teeth she had missing. After filling out the form, his wife was accepted as a candidate.
So they went through with their purchase. He says that when they got the product it didn't cover the teeth they promised to cover. He called instasmile with his complaint but the instasmile rep said that they wouldn't be able to fix the veneers, and they wouldn't give him a refund, so his issue was never resolved. He concludes his review by advising people to 'watch out' for the instasmile company.
Watch his full video below if you want to know more.
Conclusion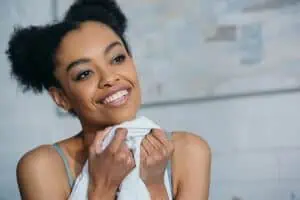 Thanks to instasmile customers who are willing to share their experience, we know a little bit more about if these veneers work. As you can see, some people absolutely love the product, while others have clear complaints. If you're tempted to invest in instasmile, but have some reservations, you can always ask your dentist for their feedback.
It may be that this type of veneer is a good fit for some people, but for others it's not worth the money. You can also check out a similar brand, TruSmile.
It's important to remember that these are no substitute for implants, and they won't stop the bone loss that can happen when you have missing teeth. But, if you want to enhance your smile in the short-term with affordable veneers, clip-on might be the way to go, especially if you can't afford other more expensive ways to do it.
Sign up to receive the latest news and offers from Dentaly.org