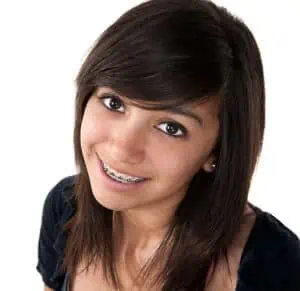 For people with crooked or misaligned teeth, braces make for an optimal solution. And though most of us are familiar with what braces are, many don't know that braces function properly with the help of spacers for braces.
Understanding intricacies like spacers can help you obtain a transparent picture of the procedure involved with getting braces. And that can assist in you being mentally prepared for all that's involved.
In this post, we're going to fill you in on all there is to know about teeth spacers. We'll offer the answers to questions like:
What do spacers do for your teeth?
Are spacers for braces painful?
Can you eat with them?
What happens if they fall out?
Let's dive in.
What are spacers for teeth? What do they do?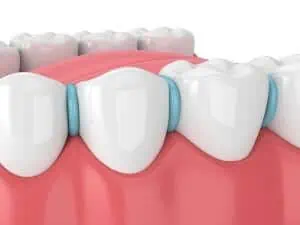 Orthodontic separators, commonly known as tooth spacers, are rubber bands or orthodontic metal bands measuring about a centimeter in diameter. They are typically placed between the molars (back teeth), or between specific front or middle teeth, to create space before braces are fastened on. A patient may have one to eight spacers installed before braces are fitted.
More often than not, a tooth spacer is used if the patient's teeth are too close together. To secure it in place, the orthodontist stretches it and presses it firmly between the teeth with a word of caution that it must not be picked at or it may fall out.
Typically, dental spacers are secured between teeth a week or two before braces are put in. This time is enough for the molars to move sufficiently far apart. The gaps, or spaces, that spacers create are required for brace appliances like molar bands or expanders to be fitted afterward.
In the following video, Dr. Williams explains why he uses spacers for his patients, and how they differ from molar bands.
Are orthodontic spacers painful?
Depending upon how much space a patient has between their teeth, the degree of discomfort that spacers cause may differ:
For people with relatively small or no space between their teeth, braces spacers can cause irritation in the nerves which may result in constant, but bearable pain.
For some people, they may not hurt when initially applied but may start to ache after a while.
Spacers can also become painful while chewing hard or chewy foods.
In a few rare cases, spacers can dig into the gums causing swelling and occasional bleeding.
Usually there's nothing to worry about if any of the above happens. Orthodontists suggest that it is perfectly normal. Discomfort can be minimized by drinking cold drinks, eating ice cream—yum!—and taking over-the-counter pain-relievers as prescribed.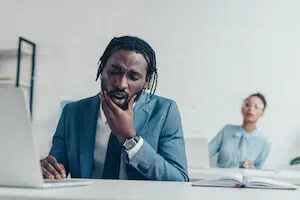 After having spacers installed, a patient may feel like there's something stuck between their teeth, (because there is!) and they may be inclined to remove it. But trying to do so isn't advised. Attempting to dislodge or adjust spacers might lead to their falling out, which, although may relieve patients from the discomfort at that moment, will make the next step in the process tougher and more painful.
Keep in mind, this is no excuse to stop brushing your teeth! Brushing doesn't lead to the displacement of spacers. In fact, regular brushing is encouraged while spacers are in place.
How long do spacers hurt?
The level of discomfort caused by spacers differs for each patient. However, more often, after getting spacers fitted, the initial soreness should fade away after about four to six hours. However, you may feel an aching that can get worse over the following day or two. If it happens, take solace in the fact that it is normal, and the pain will dissipate.
Can you eat with orthodontic separators in your teeth?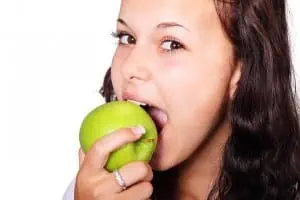 One of the most significant negatives of having spacers and braces is that you can eat only specific kinds of food once they've been put in place. Let's take a look at foods you should stay away from.
Which foods should be avoided?
Chewy, sticky foods like caramel, taffy, and gum can stick on and around the braces and spacers.
Hard foods that need more strength while chewing, like nuts, corn on the cob, and raw hard fruits can lead to breaking of the wires in your braces. If you're still on spacers, chewing hard foods can cause quite a bit of pain as well.
If you eat something that's exceptionally high in sugar and starch, it can cause plaque to accumulate around spacers and braces, increasing chances for decay.
This last reason is also why your orthodontist will advise you to continue a proper brushing routine once you get spacers or braces put in. It will not only help prevent staining and decay, but also make sure food particles don't get stuck in the new space that spacers create. However, you may want to stay away from flossing between the teeth that have spacers. To be sure, ask your dentist.
The best kinds of food to stick to if you have spacers or braces are soft food like pasta, yogurts, mashed potatoes and soup.
What should I do if separators for braces fall out?
If you've been following your orthodontist's advice carefully, there are minimal chances of teeth separators falling out on their own. However, it might happen in rare circumstances. If it does, it may be because there is already enough room between your back teeth.
If your mouth spacers fall out on their own, or due to your attempt to alleviate pain, call your orthodontist immediately. They might then take a look at your teeth and advise if replacing them is needed.
Conclusion
Have a look at the table below for a summary of the above information about teeth spacers:
Getting braces can be inconvenient, but knowing that your teeth will look more beautiful afterward makes it all worthwhile. Spacers form an essential initial step for many in completing the application of braces, and the more you know about them, the more you can anticipate what's in store. We hope this article has helped you feel more prepared for your orthodontic journey.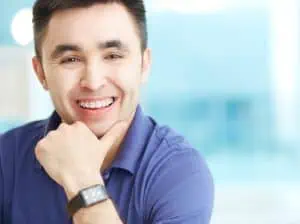 FAQs
What's the difference between a molar band and spacers?
Molar bands and spacers may seem similar, but their function is quite different. A spacer for teeth is placed around the molars before you get your braces, to create more space for the braces to do their job. Then, when it's time to get braces, your spacers come out and a molar band will be placed around each of your back molars, in order to anchor your braces.
What happens after spacers are removed?
You will only have your separator for braces for a week or two before it's time to get them taken off by your orthodontist. After your spacers are removed, they'll typically be replaced with a molar band for braces, which acts to anchor your braces in place.
Do I need spacers before braces?
If your teeth, especially your molars, are very close together, you may need spacers. That's because when you get your braces, molar bands will need to be placed around your back molars in order to anchor the braces in place. Rubber or metal braces spacers will help make room for those molar brands. Your orthodontist will be able to let you know if you need a spacer before braces.