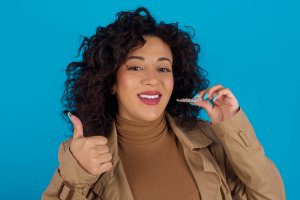 If you have crooked teeth, you may be wondering how to straighten teeth without braces. The good news is there are plenty of options for doing so, typically using clear aligners or invisible braces. There are other treatments available as well, including a palatal expander or jaw surgery.
Purely cosmetic options exist as well, like porcelain veneers. However, these don't actually straighten your teeth — they just make them appear straighter.
In this article, we'll go over all of your options for straightening your teeth without braces, including:
Clear aligners
Palatal expanders
Jaw surgery
Veneers
Keep reading to find out the best option for you and your smile!
Who needs braces
Before we jump into how to straighten your teeth without braces, let's quickly discuss who needs to straighten their teeth. Do you need braces? Does your child? There are a few ways to tell if you or your child needs teeth straightening treatment, but here are the most common:
Visibly crooked teeth
Difficulty speaking
Problems with chewing
Clicking in the jaw
History of thumb-sucking
Sometimes, however, a person can have slightly crooked teeth or some overcrowding, but they may not have any negative health implications. In this case, the patient could decide if they wanted to straighten their teeth for purely cosmetic reasons.
Only your dentist or orthodontist can determine if misaligned teeth or misaligned jaws are affecting your oral health, and if they are, then it's important to seek treatment.
Different braces options
Typical orthodontic treatments consist of a series of metal brackets cemented to the fronts of each tooth attached by a wire and secured by elastic bands. The wires are tightened every so often to apply pressure and gradually guide your teeth in the right direction.
These traditional metal braces may not be the most aesthetically pleasing option, but they are very effective. In severe cases of tooth misalignment, they might the best or only option.
However, you may be able to choose from other types of braces that are less noticeable but equally or nearly as effective. These include:
Lingual braces: Brackets are fixed to the back of the teeth instead of the front
Ceramic braces: Brackets are made of clear or white ceramic material instead of metal
Apart from actual braces, there are other options for straightening teeth that we'll go over more below.
Can I straighten my teeth on my own?
No, you can't and you shouldn't try because whatever alternatives to braces you try on your own to make your teeth straight could seriously harm your oral health and overall health.
Consider how many years of training and education orthodontists and dentists have — that's not for nothing. Experience, knowledge, and some serious licensing are needed for any medical treatment to be completed safely.
Sure, you'll find plenty of tutorials online on how to make your own braces, but the side effects are not worth it. You could end up with cracked and broken teeth, severe pain, oral infections, or even lose your adult teeth!
Safe ways to straighten your teeth without braces
Now that we've made it clear that you shouldn't try straightening on your own, let's have a look at some actual ways to get straight teeth with an alternative to braces.
Clear aligners
This first option for non-braces orthodontic treatment is one of the most common ways to straighten teeth without braces.
Clear aligners and invisible braces are often used interchangeably to refer to the same removable trays. But if you really wanted to split hairs, you could say that invisible braces, like Invisalign, usually require in-office treatments with direct orthodontic supervision; aligner treatment can be completed remotely.
Both types involve treatments with a series of clear plastic trays that go on the upper and lower teeth. These trays are developed as part of your treatment plan and are typically changed every two weeks.
When you change your trays, it serves the same purpose as when you get the wires of your braces tightened with traditional braces treatment. As your teeth adapt to their new position, it's time to get them started moving on to the next position in your orthodontic treatment plan.
If you opt for in-office invisible braces, then you'll need to talk to your dentist or orthodontist if you want to begin treatment.
But if you want dental aligners, the process is a bit different than traditional braces. Clear aligners are also considerably cheaper than Invisalign and traditional braces. Read more about how much braces cost a month.
Typically, the first step is to complete an online assessment to see if you're eligible for getting teeth aligned this way. Then you:
Purchase a dental impression kit: Use this kit to make molds of your teeth at home, then send them in to a dental lab.
Create your trays: Using your impressions, an orthodontist will assess your case to determine if you are eligible for wearing clear aligners. If you are, your upper and lower dental aligner trays will be created in the dental lab.
Receive your trays: You'll get your aligner trays in the mail. As soon as you do, you can begin wearing them.
In summary, while clear aligners aren't technically braces, they do straighten teeth just like braces do. Besides the lower price, aesthetics, and in-office vs remote alignment, the other big difference is that traditional braces can treat more severe cases of malocclusion. Thus, the process of getting teeth aligned tends to take longer.
Clear aligners, on the other hand, are only for mild to moderate cases and average around 6 months of treatment time. Read more about braces treatment time.
If this option interests you, compare some of the most popular and effective clear aligners on the market with the interactive table below:
Find the right clear aligners for you

There are so many companies offering remote teeth straightening with aligners! Take a look at our top picks and discover why we recommend these over any others.

Best service
Complete treatment 100% remotely
Amazing customer service
Nighttime-only option
$1,395 or $83/month
NewSmile aligners are made from the clearest Essix plastic and come with a daytime or nighttime-only option to suit you. For just $1,395 you'll receive everything you need to straighten and whiten your teeth – and maintain your new smile:
Home impression kit
Full aligner treatment
Free whitening
First set of retainers
A full refund if you're not a good fit
NewSmile go above and beyond to provide a great experience to all their customers, beginning with a live video call to help you with your teeth impressions. Mail these back, and they'll send a 3D Treatment Preview for you to approve before going ahead.
Alternatively,
click here
for an extra $20 off an impression kit!
Best value
Complete treatment 100% remotely
6 month average treatment time
Nighttime-only option
$1,145 or $95/month
If you're looking for the best value aligner package, here it is! For just $1,145 you'll get:
Impression kit
Full aligner treatment course
Free teeth whitening kit
Your first set of retainers
In short, everything needed to straighten your teeth remotely and keep them looking great, with a full money-back guarantee if you're not a suitable candidate.
This low price doesn't mean you're compromising on quality of care, though. ALIGNERCO just choose not to put so much into marketing, and they pass on the savings to their customers. They are also known for their responsive and helpful customer care, which is important when you're doing things from home.
Plus, if you're in New York, you can visit their SmileStudio for a free consultation and help taking your impressions.
Nighttime-only aligners are also available for anyone who doesn't want to wear aligners during the day.
Get $150 off!
Faster treatment
3-4 month average treatment time
Assessed and planned by orthodontists
Includes whitening and first retainers
$1,895 or $83/month
Byte's HyperByte technology uses High Frequency Vibration to help your teeth move faster and with minimal discomfort. Their average treatment time is just 3-4 months, compared to 6 months for most others.
Treatment includes your first set of retainers. You'll also get their BrightByte 3-in-1 foam to whiten your teeth, clean your aligners and freshen your breath. And their Byte-for-life guarantee means you'll get free adjustments if your teeth start to move again.
Begin by ordering an impression kit so their orthodontists can assess whether you're a good match.
Get 75% off with code 02DENTALY100TS
Palatal expander
Palatal expanders are dental devices that widen the upper jaw and create more space in a child's mouth while their mouth is still growing. The created space gives the teeth the room they need to shift into the correct position. This works because the jaw is made of two separate halves, and these halves don't fuse together completely until after puberty.
Expanders are custom-made to each individual mouth, and they hook onto the top teeth in the back of the mouth. An expander uses tension at the point where the two palatal bones meet to make them move apart. The process is gradual and although it may cause soreness or pressure, it shouldn't result in pain.
These devices are typically worn before braces alignment, especially if a child has a crossbite, crowding, or impacted teeth. However, in some cases, a child may only need a palatal expander without requiring braces treatment after.
Jaw surgery
This is officially known as orthognathic surgery and can be used, among other things, to correct jaw misalignment. Usually, this surgery is a supplement to when orthodontics won't work on their own, in which case you would have braces before surgery and after surgery during recovery.
Although in a small number of cases you may be able to have jaw surgery to correct your bite without needing braces, braces are usually required to move your upper teeth and lower teeth into a precise position.
You will need to consult your orthodontist or oral surgeon to know for sure if oral surgery is an option for you instead of braces.
Cosmetic dentistry options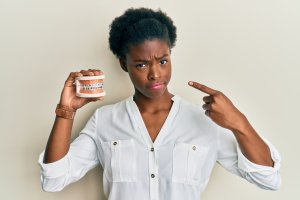 One of the most common ways to improve the appearance of teeth without braces is with composite or porcelain veneers. First of all, you should know that dental veneers don't actually straighten teeth.
Instead, they are thin shells made of porcelain or a composite material that is fixed to the front of your teeth, making them the ideal size and color for your desired aesthetic. This option may be available to adults with only slightly misaligned teeth and who don't actually need orthodontic intervention for health reasons.
Another cosmetic option without braces is contouring. Dental contouring involves reshaping the actual teeth — removing small portions of the tooth to achieve the desired shape, length, or surface.
Both veneers and dental contouring are used for cosmetic purposes and both require healthy tooth to be shaved off, so make sure to consider every option before making a decision with such permanent results.
Retainers
Retainers are typically used to keep teeth aligned and in the desired position after alignment with braces, whether traditional metal braces or invisible aligners. However, in some cases where only mild alignment is needed, a retainer without braces may be a viable way to straighten teeth.
There is a type of aligner that is specially designed to help with slight tooth movements. These are called spring retainers. These retainers look like a typical Hawley retainer, but there are add-ons that can help with slight tooth movement.
Herbst appliance
The Herbst appliance is made from steel and is fixed to the first molars in the top and bottom jaw. The molars are connected by the steel framework, which works to exert force and move the jaws in line gradually.
Like the palatal expander, the Herbst appliance is used in children whose jaws are still growing and is typically, but not always, a supplement to braces.
Conclusion
There are many ways to get straight teeth without traditional metal braces. You can use clear aligners, invisible braces, palatal expanders, retainers, and more. If you want a purely cosmetic fix, there are options for that as well, like contouring or veneers.
All of these options can be safe and effective as long as they are supervised by a licensed doctor. That being said, you should never try to get straight teeth at home on your own. And you never try to remove braces without your orthodontist.
While it may seem tempting to try to save money, self-directed tooth straightening can have serious and permanent consequences, including pain, infection, and tooth loss.
Talk to your orthodontist or dentist about your best options if you want to straighten your teeth.
Sign up to receive the latest news and offers from Dentaly.org