If you are thinking of getting braces, then you may be interested in getting white braces rather than traditional metal braces orthodontics. These are much less noticeable than other kinds of braces, but are they as good? And how do they compare to other options like clear aligners?
These braces are a popular and just as effective alternative to 'train tracks'. But if you've come across this article, you probably want to know more to help you decide whether they are right for you.
So we will discuss these braces in detail, including the following topics:
What are white braces?
What are the different types of white ceramic braces?
Pros and cons
White braces vs clear aligners
Before we get into the finer details, let's find out exactly what white braces are.
What are white braces?
If you haven't heard of white braces before, it may be because they are more commonly known as ceramic braces.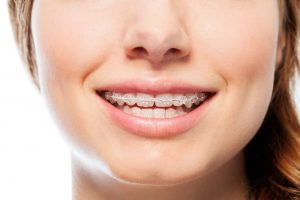 They are braces that are made from a ceramic material that makes them blend in with your teeth. As they are much less noticeable than conventional braces, they are a good choice for those that are self-conscious about their appearance.
What are white braces made of?
They consist of porcelain, plastic, or ceramic brackets as opposed to the metal brackets that conventional braces are made from. They are also made up of wire and, in some cases, rubber 'o' ties that secure the wire to the brackets.
More recently, the wire is made from a clear, white, or tooth-colored material which makes these braces much less visible when worn. However, this isn't always the case — the wire can also be metal, which was more common in the past with these braces.
Not all of these braces require rubber bands to secure the wire, depending on the type of brackets.
What are the different types of white braces?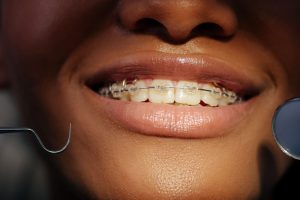 There is not just one type; there are different styles, brackets, materials, and of course different brands. Some of the kinds of white braces that we will discuss in this article include the following:
Traditional braces
Clear braces
Colored white braces
Different brands
Traditional white braces
White braces can be just like traditional braces in everything but the color and the materials they are made from. The brackets are not actually white as the name suggests, instead, they are generally tooth-colored and can be matched with your exact tooth color in some cases.
Most types of white brackets are made from polycrystalline which helps them to match your tooth color. In the past, plastic was used but with numerous issues. Thankfully ceramic technology has come a long way in more recent years.
These braces work the same with a system of brackets, wires, and rubber bands that an orthodontist monitors and adjusts every couple of weeks. And they can treat the same complexity of orthodontic cases.
How do white braces compare to traditional metal braces?
White braces are very similar to metal braces in the treatment method and end results, and many dentists will offer the choice between them. However, there are some minor differences including cost, durability, and treatment time.
They do tend to cost more because of the material and the fact that they may have a slightly longer treatment time, and therefore more dental appointments. They are also slightly less durable than metal braces which may account for the longer treatment times.
The brackets can also be more comfortable than metal brackets as they have a polished finish and are usually smaller.
Self-ligating white braces
Clear or ceramic self-ligating braces are a popular option, but also a much more expensive option. They are the same as metal self-ligating braces, but less visible due to the white braces color.
These braces don't require rubber bands that are prone to staining as the brackets have spring-loaded clips to secure the archwires.
Self-ligating braces also generally have heat-activated wires which means that they have a shorter treatment time as the wires never get loose like conventional braces. Self-ligating braces also require fewer dental appointments and are a little bit more comfortable to wear for this reason.
While self-ligating braces may cost more, the fact that these braces hurt less than regular braces and may have a shorter treatment time can make it worth the extra cost.
Clear braces
Clear braces are made up of translucent brackets, are less visible than train tracks, and blend into the teeth underneath. The brackets are made from ceramic material or sapphire. The clear brackets are much stronger than polycarbonate and more stain-resistant.
However, you still need rubber bands with traditional fixed clear braces, and they aren't resistant to staining. So if you decide these braces are right for you, be mindful to avoid consuming highly pigmented food and drink.
Colored white braces
People with white braces typically want their braces to appear less obvious. However, if you get the more traditional style of fixed braces that require rubber bands to secure the archwires you can still opt for colorful bands.
So if you're not concerned with being discreet, but still want to get these braces, you can jazz them up with different braces colors of your choice!
Different white braces brands on the market
There are a few different brands to choose from when it comes to ceramic white braces, some higher priced than others. Some of these brands include the following:
Radiance Plus
Damon
Clarity
InVu
Pros and cons of white braces
Now that we have discussed all of the different types on the market, let's discuss the pros and cons of white braces.
Pros
Less noticeable than metal braces
Can treat a range of orthodontic cases
Suitable for teenagers and adults
Stain-resistant brackets
Brackets can cause slightly less irritation to gums and cheeks
Cons
Less durable than metal braces
Longer treatment time
More expensive
White braces on yellow teeth might be more noticeable
Alternative orthodontic treatments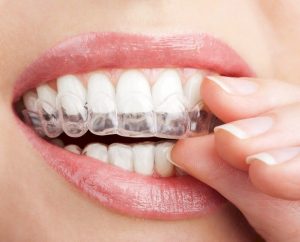 If you are interested in this type of treatment because of its aesthetic appearance, there are some alternatives that you can consider before deciding which is right for you. Some of these alternatives include invisible braces, clear aligners, and lingual braces.
Lingual braces are a type of fixed brace that sits inside of your teeth so they are not visible unless your mouth is wide open.
Clear aligners are different from fixed braces; for starters, they are removable. But they also look quite different as well. They are custom-made clear plastic trays that fit snugly to your teeth to apply pressure and guide your teeth into position.
Not all clear aligners are equal though, and only invisible braces like Invisalign can treat more complex orthodontic cases. It is worth checking with your dentist before you decide that your dental issues are too complex for this orthodontic treatment.
White braces vs clear aligners
As we have already discussed, braces are quite different from clear aligners in both function and design. However, depending on the type of clear aligners that you choose, the end results are very much the same.
Clear aligners are generally for milder orthodontic cases, but it is better to discuss this with your dentist or orthodontist before dismissing them. Invisalign can treat up to 90% of orthodontic cases, so you may be eligible.
If you are on a budget, there are cheaper treatment options available, like ALIGNERCO, Byte, or NewSmile. But if you have more complex orthodontic issues and you are conscious about wearing metal braces, you may find that white braces and Invisalign are similar in cost.
Conclusion
If you want to straighten your teeth without having a mouth full of metal, then white braces may be the solution for you.
Ceramic braces consist of clear or tooth-colored brackets secured by a similar colored or metal wire. There are different types including traditional and self-ligating as well as different brands and different materials.
The pros seem to outweigh the cons with these braces, but a major con is that they are more expensive but slightly less durable than metal braces.
And while they are not completely invisible like alternative treatment options such as clear aligners, they are still good for those that are concerned about their appearance.
Sign up to receive the latest news and offers from Dentaly.org