Looking for LIVFRESH reviews and trying to find the best toothpaste on the market?
LIVFRESH (previously Livionex) claims that its dental gel has been shown to be 250% more effective than regular toothpaste in cleaning teeth and removing plaque.
The LIVFRESH toothpaste (or dental gel) has some fantastic benefits while being safe because it contains no harsh abrasives or detergents. Brushing with LIVFRESH toothpaste, according to the manufacturer, produces greater effects than ordinary toothpaste.
So how does the LIVFRESH toothpaste work? And can the company back up its claims? In this article, we'll have a look at some LIVFRESH reviews, and we'll discuss the following:
How does the LIVFRESH toothpaste work?
Is LIVFRESH a toothpaste or a dental gel?
What are the LIVFRESH ingredients?
What is activated edathamil?
LIVFRESH dental gel reviews
We hope that this information will help you decide whether LIVFRESH toothpaste is right for you.
The problem with regular toothpaste
Plaque is removed with traditional toothpaste by scraping teeth with abrasives and detergents. These chemicals, however, are only modestly beneficial. The toothbrush is the one performing most of the job.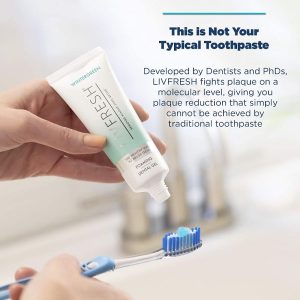 Brushing using standard toothpaste, which mostly focuses on scrubbing, makes cleaning hard-to-reach regions, such as along the gums, in-between teeth, and in the nooks and crannies of our mouth, practically impossible.
If you brush your teeth twice a day for two minutes each time, as the ADA recommends, you'll spend almost five minutes of your day with toothpaste in your mouth. As a result, the effect of the toothpaste on your teeth during those five minutes is critical.
However, with so many kinds of toothpaste on the market, separating the excellent from the okay is getting more difficult. Often, we are swayed by whichever toothpaste is on sale at our local shop, which is not the ideal method to buy toothpaste!
What makes a good toothpaste?
It's difficult to determine if toothpaste is "good" or not, and it's rather a subjective thing. A good toothpaste should perform several tasks, including cleaning and protecting teeth.
It should also prevent causing tooth damage, which means it must have components that are safe for your teeth.
The American Dental Association (ADA) has established standards that decent toothpaste should meet. It should include at least 1,000 ppm of fluoride to help strengthen and maintain the health of your teeth. It should not include sugar, and instead, use artificial sweeteners to prevent damage to your teeth.
It should also have a relative dentin abrasiveness of less than 250. Finally, and probably most important, a good toothpaste should help you keep your teeth clean.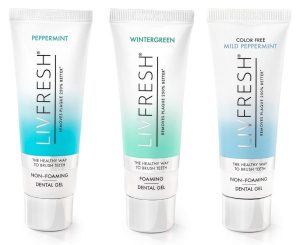 In the realm of toothpaste, LIVFRESH dental gel is a pioneer. It has a blend of ingredients that have been shown to thoroughly clean and eliminate plaque. As a result of this, it doesn't have to contain fluoride to thoroughly clean teeth.
The unique ingredients in LIVFRESH dental gel have comparable benefits to fluoride in terms of preventing cavities and enamel damage. This is done by removing tartar and plaque quickly, as well as removing and killing germs.
In this LIVFRESH dental gel review, we'll look at the benefits, drawbacks, and some important things you should know about this dental gel.
3 facts about LIVFRESH toothpaste
LIVFRESH has come up with a new recipe that uses "activated edathamil" in its toothpaste. We'll analyze their main ingredients later in this article.
But first, here are some features that differentiate the LIVFRESH toothpaste from other regular toothpaste.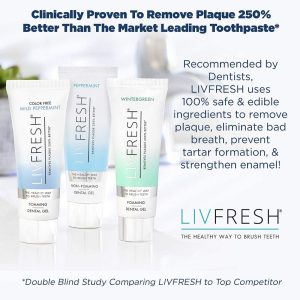 1. LIVFRESH toothpaste uses an innovative patented formulation
Activated edathamil, a unique ingredient in LIVFRESH dental gel, breaks down existing plaque and delivers a thorough, long-lasting clean.
Dr. Peter Jacobson, a dental pharmacologist, said, "Any product that can improve the effectiveness of tooth brushing at a level demonstrated by Livionex is not only a breakthrough, but can be categorized as a disruptive innovation with major public health implications." It redefines what toothpaste and oral hygiene are all about. "

Dentistryiq.com
2. LIVFRESH toothpaste fights plaque while you sleep
Plaque accumulates in our mouths at a fast rate each night. LIVFRESH was shown to be two times better than the top toothpaste in controlling overnight accumulation on teeth after a single brushing at night in a double-blind crossover study done at a major US university.
This study is one in a series of projects to evaluate the effects of a novel formulation of dental gel that contains 2.6% edathamil on oral biofilm and periodontal health. Previous studies have demonstrated effective plaque removal and reduced overnight plaque reaccumulation after one-time tooth brushing with the test dental gel.
According to this study, the LIVFRESH dental gel was shown to be more than four times more efficient at eliminating plaque than a popular toothpaste after users brushed with it in the morning.
3. LIVFRESH is 250% more effective a removing plaque
According to LIVFRESH, research by the University of California, Irvine Beckman Laser Institute, has shown that this formulation is 250% more effective in removing plaque than recipes of other market leaders.
You can read more about this study here.
LIVFRESH products
LIVFRESH provides a small variety of toothpaste:
Can LIVFRESH toothpaste damage my teeth?
Because sugar is a leading cause of tooth decay, many kinds of toothpaste use artificial sweeteners. LIVFRESH takes it a step further with this dental gel by using stevia as the primary sweetness.
Stevia is a sugar substitute that does not have the same bad consequences as sugar. It is, however, a natural sweetener that works in a similar manner as artificial sweeteners.
LIVFRESH dental gel is made up of a special mix of components that doesn't include any harsh abrasives or detergents. This means that it is much gentler on your teeth than most popular toothpaste.
Does LIVFRESH Toothpaste protect your teeth?
LIVFRESH dental gel eliminates and repels harmful microorganisms, which is one of its main aspects. It helps to avoid potential tooth decay and damage by doing so.
Despite the fact that LIVFRESH toothpaste does not include fluoride, it has been proven to be more effective than several popular kinds of toothpaste that do.
LIVFRESH (formerly Livionex) featured by CBS This Morning
LIVFRESH toothpaste ingredients
Maybe you are still wondering what differentiates the LIVFRESH toothpaste from the regular toothpaste you can buy at the store and what the ingredients are.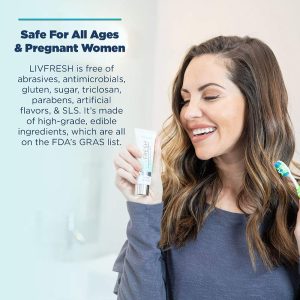 LIVFRESH Wintermint/Wintergreen (foaming): According to LIVFRESH, the Wintermint dental gel contains wintergreen flavoring, peppermint, menthol, edathamil, baby foam, aqua, sulfonylbismethane, sodium bicarbonate, stevia, FD&C Blue 1, natural gums, and stabilizers.
LIVFRESH Peppermint (non-foaming): The LIVFRESH Peppermint dental gel contains, according to the manufacturer, stevia, peppermint, menthol, sulfonylbismethane, edathamil, sodium bicarbonate, aqua, FD&C Blue 1, natural gums, and stabilizers.
LIVFRESH Mild Peppermint (non-foaming) has the same ingredients as the Peppermint but it is colorless, and the peppermint flavor is not as strong.
According to LIVFRESH, there are no abrasives, antimicrobials, or parabens in any of the three products. There are no detergents in non-foaming LIVFRESH toothpaste, and the foaming one includes just a trace of detergent to cause the foaming. Furthermore, LIVFRESH toothpaste is FDA GRAS (Generally Regarded As Safe) approved.
What is activated edathamil?
Activated edathamil, in the form of a dental gel, is applied like regular toothpaste and alters the calcium levels in the biofilm, resulting in a significant decrease in plaque.
The Wall Street Journal explains "Activated Edathamil" as follows:
The gel contains a chemical called edathamil that binds to calcium in plaque, neutralizing the positive charge that causes the bacterial film to adhere to teeth. Edathamil, also known as EDTA and used as a food preservative, is safe to consume.
Another article on RDHMAG.com explains activated ethadamil:
The scientists at Livionex have succeeded in finding a way to activate the FDA-approved, food-safe chelator, edathamil, so that the negative charges of the chelator are masked. This allows the edathamil to penetrate into the biofilm and reduce the calcium levels in the plaque fluid.

The activated edathamil, in the form of a dental gel, is brushed on like any other toothpaste and strategically disrupts the calcium levels in the biofilm, resulting in a dramatic reduction in plaque.

Livionex Dental Gel delivers results that no other toothpaste has ever been able to achieve. And it is done without the abrasives, detergents, or antimicrobials found in traditional toothpaste.

rdhmag.com
LIVFRESH reviews
In theory, everything sounds fantastic, but let's take a look at what consumers have to say about LIVFRESH toothpaste. There are positive and critical reviews for every product.
Effectiveness of cleaning – ★★★★☆ (4/5 stars)
When reading through LIVFRESH reviews, you'll find many happy customers like this one:
Good: It seems to perform as advertised. Teeth have that post-dental-cleaning feel. Decent taste rinses clean.

Bad: Very high price for that little tube.

Review by Rich H.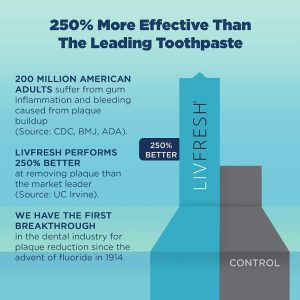 Not all of them are satisfied, though. Some customers are claiming it doesn't clean the teeth very well and is just overpriced.
For the price, it is ridiculously small. The taste is void. You certainly do not end with a fresh, clean feeling in your mouth. I am a registered dental hygienist in the State of Ohio. I wouldn't recommend this product.

Review by Amazon Customer
Taste – ★★★☆☆ (3/5 stars)
Taste is a very subjective opinion. You'll find customers who like it and others who don't. Here's one customer who thinks the LIVFRESH toothpaste tastes good, but he's not happy about the price at all.
Decent But Not Worth The Price. It has a nice taste, and I like that you have a choice of foam or no foam option.

Review by Amazon Customer
Price – ★★☆☆☆ (2/5 stars)
Lastly, the price of the LIVFRESH toothpaste. At the time of writing this article, the price of one LIVFRESH toothpaste was $24.95 (check for discounts on Amazon). The price may change, though. We think it's quite an expensive toothpaste, considering you can get a regular toothpaste for just a few dollars.
When reading through the LIVFRESH reviews you find online, you'll quickly figure out that many people find it too expensive to use for the long term.
Too pricey for the small amount! I really want to love this toothpaste, but the price is insane for the amount of time it lasts. I do really like the toothpaste and it helps my gums, but this is unaffordable in the long term.

Review by DonnaV
It's pricey, but it's not the only consideration. You'll get a high-quality dental gel with vital ingredients. For some people, it may still be a viable option.
Conclusion
The LIVFRESH is a fantastic toothpaste, and you'll get all the benefits a regular toothpaste with fluoride has, without the disadvantages. On the other hand, the price of the LIVFRESH dental gel is significantly higher than the price of regular toothpaste.
However, if you are looking for good toothpaste with only natural ingredients, it might be a good option for you. Click the button below to purchase the LIVFRESH toothpaste from Amazon.
LIVFRESH toothpaste alternatives
If you're looking for a good toothpaste, you might also be interested in checking out thes options:
FAQ
How does LIVFRESH Toothpaste taste?
LIVFRESH dental gel has a peppermint taste that leaves your mouth minty fresh after brushing. There's also a Wintermint and a "Mild Peppermint" flavor.
Does LIVFRESH toothpaste have fluoride?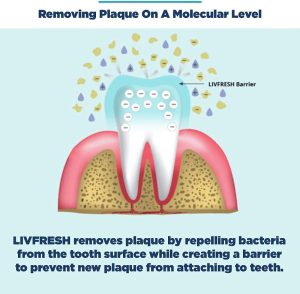 No, the LIVFRESH toothpaste does not contain fluoride. It contains only natural ingredients, including edathamil, which provides a special cleaning effect.
Is LIVFRESH toothpaste ADA approved?
Yes, according to the manufacturer, LIVFRESH (formerly Livionex) toothpaste has only ADA and FDA-approved ingredients. It has been confirmed that it is a safe product.
Is LIVFRESH a toothpaste or a dental gel?
It is being referred to as a dental gel by the LIVFRESH manufacturer. It is smoother and produces less foam than regular toothpaste. It's also less abrasive than regular toothpaste.
Can LIVFRESH dissolve plaque?
According to LIVFRESH, the dental gel removes plaque up to 250% better than other popular toothpaste on the market. This has been confirmed by a study at the University of California.
Is LIVFRESH the best toothpaste?
If you're searching for a toothpaste that efficiently cleans your teeth but contains no fluoride or harsh abrasives, the LIVFRESH dental gel is a good way to go.
Sign up to receive the latest news and offers from Dentaly.org