Did you know you could pay for your teeth whitening treatment with a Snow teeth whitening payment plan? Snow makes their treatment more accessible by offering payment plans through Afterpay.
It's super easy to do — just choose the payment plan option during checkout, and if you don't already have an account with Afterpay, you'll be guided through the process.
In this article we'll talk all about Snow teeth whitening with Afterpay, including:
How it works
How much it costs
How to sign up
What to watch out for (late fees)
We hope this helps you decide if using a payment plan is the best option for you. And if you aren't familiar with Snow yet, you can check out our Snow teeth whitening review.
Snow teeth whitening
Before we dive into the Snow teeth whitening payment plan, let's quickly go over how the Snow teeth whitening system works, so that you can be sure you're in the right place.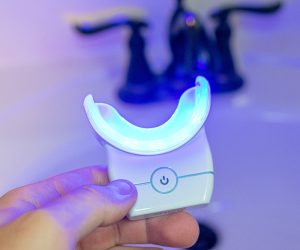 The Snow company offers an at-home teeth whitening kit. This kit comes with an LED mouthpiece and whitening gel that you insert into the mouthpiece.
Once you've got the mouthpiece in your mouth, you turn the LED light on and whiten for anywhere from 9 to 30 minutes — repeating daily for 21 days.
The active whitening ingredients in the Snow serum are carbamide peroxide and hydrogen peroxide. Thanks to these ingredients and the LED mouthpiece, with Snow you can see substantially whiter teeth in just weeks — erasing years of stains from tea, coffee, wine, tobacco, and more.
Cost of Snow
Since with Snow you can achieve professional-level results cosmetic dentistry results, then it probably doesn't come as much of a surprise that it is a bit more expensive than the typical white strips that you can buy at Target or Walmart.
Snow costs $149 for the standard whitening kit. They also make a wireless kit that costs quite a bit more — $299. Plus there are all sorts of other products you can buy, like the LED electric toothbrush, extra-strength whitening serums, mouthwashes, toothpastes, whitening strips, and more.
Thankfully, Snow has made their products more accessible by allowing payment with various payment plan options — something becoming more popular in oral health — which is what we will talk about below.
Snow teeth whitening Afterpay
While in the FAQs section on the Snow website, it says that Snow works with three payment plan companies — Afterpay, Sezzle, and Klarna — that no longer seems to be the case.
Currently, as far as we could tell, Snow only accepts payment plans through Afterpay.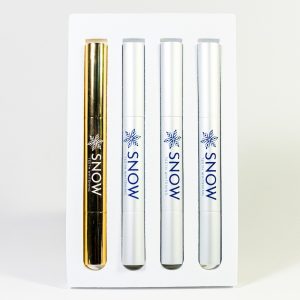 How does Snow Afterpay work?
Snow Afterpay is an interest-free payment plan. You can make your purchase on Snow, and then pay it off in four payments, every two weeks. It's easy to use Afterpay with Snow.
Just follow these steps:
Select Afterpay as your payment option during checkout
Sign up while checking out for your Afterpay account (the prompts are easy to follow)
Receive your order, and pay it off with 4 biweekly installments
Afterpay will automatically process payments on the scheduled dates from your card, so you don't even have to remember to make the payment — you just need to make sure there's enough money in your account.
Two important points to keep in mind:
There are late fees with Snow Afterpay if you miss your payments. But Afterpay will help you out by sending you regular notifications as a reminder.
If you're worried about missing payments, you can make your repayments any time before the payment due date.
You can watch the video below for an explanation straight from Afterpay:
How much does the Snow Afterpay payment plan cost?
The price that you see on the product is the same price you'll pay — the only difference is that you can break it up into four smaller payments so that you don't put so much stress on your bank account.
It doesn't cost you any more to pay with an Afterpay teeth whitening payment plan than it would to pay all at once.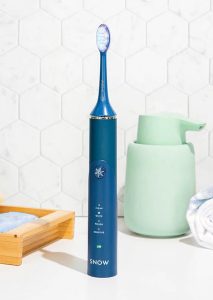 Snow Afterpay late fees
Be aware that there are late fees with Afterpay if you don't make your payments on time. Afterpay doesn't want this to happen, so they send you notifications when it's time to make a payment.
If you don't make your payments on time, there is an initial late fee of $10, and then another $7 if you haven't made your payment a week after the due date.
For orders below $40, there is a maximum of one $10 late fee per order.
For orders $40 and over, the total amount of your late fees will either be capped at 25% of the cost of your purchase or capped at $68 — Afterpay will go with the lesser amount.
How to sign up for a Snow teeth whitening payment plan
You can sign up for Afterpay ahead of time, or you can create an account when you checkout on the Snow website.
Once you choose the payment plan payment option, you'll be prompted to create an account — the steps are clear and easy to follow, and there aren't long contracts to read.
Afterpay teeth whitening costs
The table below shows what your payment plan might look like, based on some of Snow's most popular products:
Conclusion
If you need help paying for your Snow whitening treatment, you may want to pay with a Snow teeth whitening payment plan. Snow uses Afterpay, an Australian company turned international, which lets you break up your payments into four manageable installments.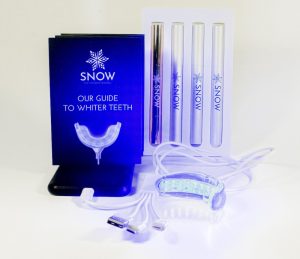 All you have to do is select the payment plan option on checkout, and you'll be guided through the rest. These payment plans have no interest, and you'll end up paying the same amount you would if you purchased the product up front.
Make sure you make your payments on time, because there is a late fee.
FAQs
Does Snow teeth whitening offer payment plans?
Yes. Snow offers a payment plan through Afterpay, an Australian-based company that has become popular worldwide. With this plan, you can break your payments up into 4 installments.
How does Snow Afterpay work?
Snow Afterpay lets you pay for your purchase from the Snow website in 4 maneable increments. There are no interest fees, and you end up paying the same amount as if you would if you paid upfront.
Sign up to receive the latest news and offers from Dentaly.org