The Nest Toothbrush is an award-winning, super hygienic toothbrush with both manual and electric options.
The bristles are made from a combination of soft nylon and silicone, and the silicone handle is hypoallergenic. The built-in toothpaste dispensing mechanism delivers the perfect amount of toothpaste at the touch of a button, and a UV sterilizer with two superefficient UV-C lights ensures that your brush is free from harmful bacteria and viruses by 99% — proven by an independent lab.
In other words — this toothbrush has it all.
In this article we'll cover the following:
How the Nest Toothbrush works
Who this toothbrush is for
Options for bundling or separate purchases
Nest Kids Toothbrush
…and is it worth the price?
Let's get started so you can find out if the Nest is going to be your new favorite toothbrush. Or check out our guide to the best electric toothbrushes of 2023 for more options.
What is the Nest Toothbrush?
The Nest Toothbrush is the world's first toothbrush that self-dispenses toothpaste, is refillable, and uses UV-C technology for unparalleled cleanliness. It holds enough toothpaste for two weeks, and it always dispenses the perfect amount (pea-size) for optimal brushing, just like your dentist recommends.
The UV Sterilizer neutralizes microorganisms that may be left behind after you brush, including bacteria and coronaviruses. This is an attractive feature to many of us looking for ways to ensure a clean environment — especially when it comes to what we put in our mouths!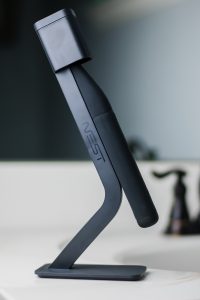 It also has a silicone handle which feels nice to hold and doesn't slip easily in your hand. Just as importantly, it makes the whole brush more hygienic since silicone is naturally resistant to bacteria.
The unique design of the Nest brush head combines hygienic silicone bristles around the outside with soft charcoal-infused nylon bristles in the center. This combination helps to gently massage gums while being effective at removing plaque. All bristles are sapphire-rounded for gentle polishing.
You can buy the Nest Toothbrush and the UV cleaner as a bundle, but you also have other bundle and individual purchase options, including a manual brush and a kids' brush.
You can also just get the Nest Toothbrush, which, even without the UV cleaner, is still pretty revolutionary.
The video below shows the Nest in action. Then, we'll go into more detail regarding the various Nest products.
Nest brushes
If you're looking to purchase a Nest Toothbrush on its own, you've got three options — the electric brush, the manual brush, and the kids' brush.
Electric brush
The Nest Electric Toothbrush features:
Sonic vibrations: Sonic vibrations offer a deep and gentle clean, with tens of thousands of vibrations per minute breaking up plaque and swiftly removing it. By pairing regular brush motions with bristle micro-vibrations, you enhance your brushing experience
Self-dispensing, built-in toothpaste tech: Just press the button and this toothbrush dispenses the ideal amount of toothpaste for optimal cleaning, with enough storage for a 2-week supply
Smart timer: A 2-minute smart timer lets you know how long to brush, and a 30-second quadpacer tells you when to switch quadrants
Charcoal bristles: The brush head combines hygienic silicone with soft nylon charcoal-infused bristles for optimal cleaning and sanitation
Silicone handle: A skin-safe, hypoallergenic silicone handle has an anti-slip grip for optimal comfort
Get 30% off your Nest Toothbrush by using code DENTALY30 at checkout.
Read more about the benefits of silicone toothbrushes.
Manual brush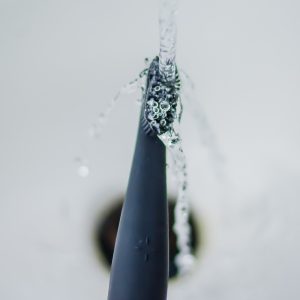 The Nest Manual Toothbrush features the same self-dispensing toothpaste technology as the electric version but has up to one-month toothpaste supply capacity. This doesn't need any batteries since it uses a patented mechanical valve system.
It also has the same charcoal-infused bristles (a combination of silicone and nylon) which are sapphire-rounded to be extra gentle on teeth and gums.
You don't get the sonic vibrations or the smart timer if you opt for the manual version.
Whichever model you opt for in the end, make sure to use code DENTALY30 to get 30% off your order.
You can read more about manual toothbrushes in our guide here.
Kids brush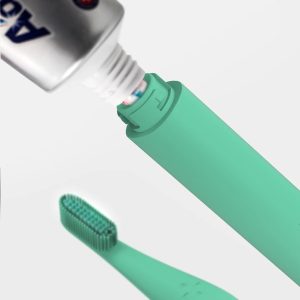 The Nest Kids Toothbrush is a manual brush designed to be comfortable and easy to use for children ages 4 and up. It was designed in collaboration with pediatric dental specialists to be one of the best toothbrushes for kids on the market.
Its main features include:
Safety: The handle is made from and BPA-free ABS plastic — the same materials used in the best baby bottles. The brush head is made from hypoallergenic silicone
Easy and mess-free: Kids just push the button and a pea-sized amount (as recommended by the ADA) is dispensed onto the brush head
Time-saving: The toothpaste comes right out onto the bristles, and kids can do it themselves
Fun: Kids will have fun brushing while developing healthy oral habits
Nest bundles
The Nest Toothbrushes on their own, both manual and electric, can definitely help you improve your oral hygiene routine, but when you bundle them with the UV cleaner, the experience is transformed.
UV Electric Brush Set
This bundle includes the full package of high-tech oral hygiene on offer from Nest:
Nest Electric Toothbrush: An electric toothbrush delivering sonic vibrations that clean teeth gently and efficiently by effectively breaking up and removing plaque by pairing regular brush motions with bristle micro-vibrations. Hygienic silicone and soft nylon bristles go easy on enamel, while infused charcoal makes for a deeper clean. The self-dispensing toothpaste container delivers the perfect amount every time for up to 2 weeks at a time.
UV sterilizer: This device uses UV-C lights to neutralize microorganisms like bacteria and viruses — Coronavirus included. It has been tested by an independent lab and can be used with the MagPad and the travel case. The sterilizer switches on automatically when you place your Nest toothbrush in its holder or case.
Magnetic stand: This is a minimalistic magnetic stand that works with the UV Sterilizer. The Nest brush sticks to it effortlessly, keeping countertops clear and clean.
Travel case: The Air Capsule travel case is light and perfect when you're on the go. No extra toothpaste needed, and you can slot the UV sterilizer inside for extra sanitation.
USB-C charging cable: This toothbrush is easy to charge with a standard USB insert.
UV manual brush set
With the manual brush bundle you get everything mentioned above, plus the added capacity for up to one month's supply of toothpaste, except with the manual toothbrush rather than the electric one.
Since there's only a $5 price difference between the two options, we'd recommend purchasing the electric toothbrush for improved cleaning performance, unless you particularly want a manual one.
Note that the package still contains a USB-C charging cable for the UV sterilizer.
Nest Toothbrush accessories
You can complete your bundles by adding these ultra-modern accessories that make brushing your teeth more convenient and sleeker than ever.
MagPad
The MagPad is a magnetic stand made from sleek and hygienic silicone. It features a sticky gel pad that is reusable so you can change where you place your MagPad whenever you like. Place it on the countertop or on the wall to free up space.
The ultra-minimalistic design works with a magnet, so there aren't any clips or attachments — you simply stick your Nest Toothbrush to it.
AirCapsule
The Nest AirCapsule is a light, compact case for your toothbrush. It is made from soft silicone and hard BPA-free ABS plastic inside and will keep your Nest Toothbrush clean when you're on the go. It's ideal for backpack overnights or use in a hotel.
Unlike other toothbrush cases, and thanks to the Nest design, this case lets you carry your toothbrush and toothpaste without becoming bulky.
If you purchase the UV sterilizer too, this fits inside the case and will turn on automatically when you place your toothbrush inside.
Nest Toothbrush price
So how much does the Nest cost? And what about the accessories? Have a look at the table below for all you need to know.
Self-dispensing toothpaste

Charcoal-infused-nylon bristles

Ergonomic silicone handle

Self-dispensing toothpaste

Charcoal-infused-nylon bristles

Easy to hold for little hands

Self-dispensing toothpaste

Super soft nylon bristles

Self-dispensing toothpaste

Travel case & magnetic holder

Self-dispensing toothpaste

Travel case & magnetic holder

Magnetic toothbrush stand

Sticks to wall or counter

Carry case for electric, manual, or kids brush
Is the Nest Toothbrush worth it?
In short — if style, function, and hygiene are all important to you, then the Nest Toothbrush is worth it. This brush is in the same price range as other electric toothbrushes like Sonicare and Oral-B. Plus, it's got the added benefit of being self-sterilizing.
And if you want to spend less on your toothbrush, the Nest Toothbrush on its own, even without the sanitizer, has a lot of cool features. The minimalist design, compact build, ergonomic handle, and soft silicone and nylon hybrid brush head all make this brush unique and innovative.
One possible downside to this brush's technology is that refilling the toothpaste compartment can be a bit messy. We found that the best technique was to hold the tube right against the brush and squeeze from there. Even if a little bit escapes, it's easy to clean thanks to the silicone surface.
Overall, we think this toothbrush combines stylish design with great innovation, and we like the fact that you can purchase whichever accessories you want.
Get [nest_discount_amount] off your order when you use code DENTALY30 at checkout.
Conclusion
The Nest Toothbrush is a multi-award-winning sonic brush that features a built-in airtight toothpaste compartment, allowing it to self-dispense the perfect amount of toothpaste every time. You can also get it with a UV Sterilizer to ensure your toothbrush is free of bacteria and viruses — including Coronavirus.
The Nest Toothbrush also became a CES 2023 honoree in the accessibility category, which means that this toothbrush is ideal for seniors and people with disabilities.
We love all the extra accessories, like the magnetic stand that sticks wherever you want it to, and a super sleek, lightweight, and compact silicone travel case.
If you like the idea of a toothbrush with new technology, a minimal aesthetic, convenience, and optimal hygiene, then this is the toothbrush for you. You can see other toothbrushes like this in our full guide to electric toothbrushes with UV sanitizer.
FAQs
What's a self-dispensing toothbrush?
A self-dispensing toothbrush like the Nest Toothbrush, is a brush that holds toothpaste in an airtight compartment, keeping it fresh until it's time for a refill.
How does the Nest Toothbrush work?
The Nest electric Toothbrush cleans teeth with sonic vibrations in combination with regular brush motions. It also self-dispenses toothpaste and self-sterilizes with UV-C.
Can the Nest Toothbrush protect against COVID?
Yes! One of the great features of the Nest if you're worried about COVID is that the UV-C light component sterilizes the toothbrush, keeping it free from bacteria and viruses.
Sign up to receive the latest news and offers from Dentaly.org