If the cost of dental work in your home country seems unaffordable, you might find it cheaper to get treated overseas. Visiting a dentist in Phuket, Thailand makes it possible to save money on dental care and enjoy a vacation at the same time.
Thousands of patients from the US, the UK and Australia travel to dental clinics in Phuket each year for procedures including:
dental implants (including All-on-4)
veneers
crowns
dentures
bridges
root canal work
teeth whitening
other cosmetic dentistry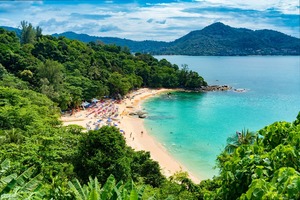 If you need any of these things – and even smaller procedures like fillings or extractions – consider how much you could save with a dental holiday in Phuket. But before you book anything, be sure to read this article and do your own research so you can choose the right dentist for you and be fully prepared for your trip.
Why get treatment like dental implants in Phuket?
It's a combination of several factors, including low Phuket dental prices, and the high quality of work Phuket dentists provide which makes getting dental work in Phuket an attractive idea.
A dental vacation in Phuket
Phuket, an island just off the west coast of Thailand's peninsular, has been a popular tourist destination for many decades. Now its sandy shores welcome over 9,000,000 visitors per year who come to relax, swim, dive, party, play golf, and enjoy the food, culture and nature the island has to offer.
Thailand's dental tourism industry began in the capital, Bangkok, where hundreds of dental clinics now offer their services to foreign patients. With so many tourists heading to Phuket, it was only natural that the industry spread there as well. Many of the bigger clinics and hospitals in Bangkok have opened branches in Phuket but there are also plenty of independent dentists operating on the island.
If you're going to have major dental work that takes a few days to recover from, there are worse places to do it than on the beach or by a pool.
Phuket dental prices
The low cost of dentistry in Phuket means you may well be able to enjoy a tropical vacation, get your dental work done, and still save money on the price you were quoted back home. As you read reviews from former patients you'll find examples of people who saved thousands of dollars, even after paying the full cost of their trip.
The table below gives you an idea of a typical Phuket dentist price list for some of the most common treatments. You'll find that the more costly the procedure, the more you can save by getting it done abroad. That's why so many people travel to Phuket for dental implants.
| | |
| --- | --- |
| | Approx Phuket dentist price (USD) |
| | |
| | |
| Porcelain fused to metal (PFM) crown | |
| | |
| | |
| | |
Keep in mind that these are approximate Phuket dental prices and you'll need to get a personalized quote from the dentist(s) you're interested in. We'd recommend you don't just go for the cheapest dentist you find; make sure they have a good reputation as well.
If you're ready to get started planning your trip abroad you can get help from Medical Tourism Corporation (MTC). They have years of experience helping people in the US find quality dental treatment abroad. Just fill in your details below for a free quote.
Request a free quote for dental treatment abroad
Standards of care for Phuket dentistry
To qualify as a dentist in Thailand, students must complete six years of training. They usually work for at least three years in the public system before entering a private practice. All dentists are governed by the Thai Dental Council.
The dental tourism industry is highly competitive so it's in dentists' best interests to keep their standards of care and service as high as possible. They know how damaging a single negative review can be.
This patient was impressed with the care she received when she went to a dentist in Phuket for two fillings:
In dental clinics which cater to international patients you can expect to find modern equipment and high levels of hygiene at least on a par with what you'd expect back home. However, wherever there are tourist dollars there will always be a few shady operators. This is why it's important to do as much research as possible before you choose a dentist.
Considerations when visiting a dentist in Phuket
Choosing a Phuket dental clinic
There are several things you'll need to consider as you look for the best dentist in Phuket for your needs. Firstly, what treatment do you need and does the dentist specialize in this field? Someone who is skilled at root canal work may not be so experienced with crowns, for example.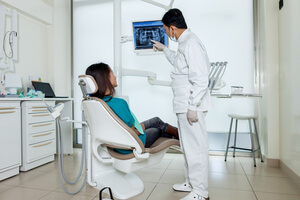 Secondly, how much experience does the dentist have with the work you need? Qualifications are only half the picture; you'll probably feel more comfortable with someone who has proven experience with your procedure. If you're visiting a cosmetic dentist, make sure you like the look of the work they have done on former patients.
Some other questions to ask your dentist in Phuket include:
Does the clinic adhere to any international standards?
What continuing education does the dentist have?
Is his or her English good enough for you to feel comfortable communicating?
What materials do they use? (You may have a choice of different options)
How long is the work guaranteed for?
What would happen if you experienced complications after returning home?
What is included in your treatment package? (E.g. airport pick-up, transfers, accommodation, insurance, aftercare)
Ask as many questions as you need to feel comfortable you're making the right choice.
Accommodation
Your clinic might include accommodation in your treatment package, especially if they have on-site rooms and you're spending enough with them! Not all dentists offer this, but they should at least be able to recommend places for you to stay. They may also partner with nearby hotels to offer you a discount on your stay.
There is also the option of booking a complete dental holiday package with a medical tourism company. This will include your flights, accommodation and dental work. Having everything organized for you can be helpful, especially if you haven't been to Phuket before. Just be aware you might not have as much choice as if you booked everything yourself.
When choosing accommodation, it's best to be close to your clinic. This will cut down on your travel time and give you an easy trip back to your room to recover after each visit. Depending on the work you need you might have to make several visits to your dentist, so the convenience of staying nearby can really pay off.
You'll find that most dental clinics in Phuket are located in the more heavily populated tourist areas like Patong Beach and the main city. If you're hoping to stay somewhere quieter, you can always move to a different part of the island once your treatment is over.
Currency and payments
Some clinics provide quotes and request payment in Thai Baht, whereas others will accept US dollars or other currencies if requested. You'll need to work out what is easiest – and most cost effective – for you. Don't forget that if you pay by card, both your clinic and card provider may charge a fee.
Dentists are sometimes willing to offer a discount for cash payments, so it's worth asking if this is the case.
For a more comprehensive guide on the things to consider before getting dental work abroad, read our main dental tourism article.
Phuket dentist reviews
As you research your decision you'll probably read lots of reviews of dental clinics in Phuket. You can find these on travel advice forums and independent blogs and websites.
One such example comes from this traveler who got teeth whitening in Phuket for around half the price she was quoted in the UK. She describes how she narrowed down her choice of clinic and what the experience was like.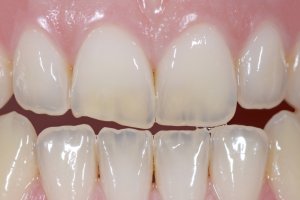 We have also created a separate article with more reviews of Thailand dentists so you can read about other people's experiences.
Since Phuket has an active expatriate community, try searching expat forums for advice on the best dentists in Phuket. Or, if you're already there, ask around for recommendations. It's always reassuring to speak to someone who has had a positive experience first-hand.
As well as checking out Phuket dentist reviews, make sure you research the procedure(s) you're having done. This will prepare you for your time at the dentist and for any important decisions you have to make along the way.
If you found this article useful, be sure to read our main guide to getting dental work in Thailand. This has more helpful information to help you make the right decision.
You might also consider visiting a dentist in Bangkok instead. Prices here may be slightly cheaper, but you don't have the benefit of a seaside location.
Are you ready to get dental implants in Phuket or other treatments, like Phuket dental veneers? Fill in your details below and MTC will reach out to you shortly.
Request a free quote for dental treatment abroad
Sign up to receive the latest news and offers from Dentaly.org