Every year, thousands of people from countries like the US, the UK and Australia travel to visit a dentist in Bangkok, Thailand. Why? It's the combination of high standards, low Bangkok dentist prices, and the chance for a vacation which make it such a popular choice.
If you need extensive dental treatment or a costly procedure like a tooth implant, Bangkok dental prices could save you hundreds or thousands of dollars. Even with less expensive treatments the savings can be significant. People travel to Bangkok for all kinds of dental work including:
dental implants (including All-on-4)
crowns
veneers
bridges
dentures
teeth whitening
root canal work
But before you commit to getting dental work in Bangkok you'll need to do some research and planning. We have created this guide to answer some common questions and help you prepare for your dental trip.
Why visit a dentist in Bangkok
Dentist in Bangkok prices
The main reason people travel overseas for dental work is the chance to save money – particularly if their home country has high dental costs.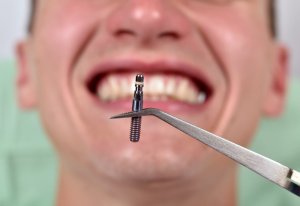 Even if you have dental insurance, this may only cover part of the cost of your treatment. Certain cosmetic dentistry procedures like teeth whitening and veneers may not be covered at all. So if you have the chance to save enough money that you can afford an exotic vacation as well, why wouldn't you take it?
The following table gives an idea of Bangkok dentist price lists for some of the most common procedures for dental tourism:
| | |
| --- | --- |
| | Approx Bangkok dentist price (USD) |
| | |
| | |
| Porcelain fused to metal (PFM) crown | |
| | |
| | |
| | |
Of course, you'll need to contact your chosen Bangkok dental clinic to discuss your personal treatment needs. If you're getting dental crowns, veneers, Bangkok dentures or dental implants in Bangkok, prices will depend on the materials the dentist uses. You may get a choice of materials, so make sure you research your procedure ahead of time and know what will suit you best.
It's a good idea to get quotes from a few different dentists, since prices can vary considerably. At the same time, you should also consider other factors such as the dentist's experience and reputation.
If you're inspired by these low dentist in Bangkok prices, you can start planning your dental vacation with the help of Medical Tourism Corporation (MTC). They have lots of experience helping patients in the US find reputable clinics abroad. Fill in your details below to get started.
Request a free quote for dental treatment abroad
Location
Bangkok may not be the nearest location for you to travel to for dental work, but it's the chance to vacation in Thailand which makes it worthwhile. The country is famed for its beaches, temples, and national parks so there is plenty to do and see before or after having your dental work.
Bangkok is quite centrally located so from there it's easy to travel north to cities like Chiang Mai or south to the many smaller islands. You can also visit a dentist in Phuket, which has its own established dental tourism industry.
Bangkok dental quality and standards
Dentists in Thailand train for six years to become qualified and are then governed by the Thai Dental Council. In international clinics catering to foreign patients you can expect to find excellent standards of hygiene and modern equipment. After all, they have to stay competitive to gain business.
That said, there is no guarantee of quality just because you choose a clinic that advertises to dental tourists in Bangkok. That's why it's important to do your own research into the dentist's qualifications, experience and track record.
Some of the larger Bangkok dental hospitals and clinics are ISO 9001 accredited, which is a good sign that they take quality seriously.
Certain Bangkok dental clinics market themselves as 'dental spas', offering a serene environment and massages to relieve the stress and discomfort of being in the dentist's chair. That's far beyond the service you'd expect from your dentist back home!
Choosing the best Bangkok dental center for your needs
The best dental clinic in Bangkok for you will depend a lot on your treatment plan. Ideally you should search for a dentist who has specialist training and extensive experience in the type of work you need. If you are going for cosmetic dentistry, a cosmetic dentist may be your best choice.
As well as smaller dental clinics, there are several large dental hospitals in Bangkok. These typically have a large network of dentists specializing in fields like implants, prosthodontics (e.g. crowns and veneers) and endodontics (root canals). They may also have in-house labs, making it quicker to produce crowns, veneers, bridges and dentures.
Other things to consider include:
Do you like the look of similar work they have done for other patients?
Are you comfortable with their level of English?
How long will your work be guaranteed for?
What happens if you experience any complications while in Thailand or after returning home?
What does your treatment package include? (E.g. accommodation, transfers, aftercare, insurance)
Preparing for your Bangkok dental trip
Getting to your Bangkok dental center
Thailand's capital city has a population of over 8 million and covers more than 600 square miles. Taxis are plentiful and the comprehensive public transport system includes sky-trains, subways, and river taxis. This makes getting around fairly easy, but not necessarily quick.
Bear this in mind when planning your trip, since you probably won't want to be stuck in traffic for ages immediately after major dental work. You may also want to avoid walking around too much in the heat of the day.
If you want to explore other parts of the country before or after your dental work, there are plenty of transport connections via bus, train and plane to all popular tourist areas. It's probably a good idea to give yourself a few extra days in Bangkok to recover – and to allow for delays – before moving on.
Accommodation near your Bangkok dentist
Your clinic may provide accommodation – or at least offer discounted rates – as part of your treatment package, but this will depend on the size of the clinic and the work you're having done.
Failing that, they will certainly be able to recommend some places to stay nearby. You may choose to stay in a different part of the city altogether, but be realistic about the amount of travel time needed to reach your clinic for each visit. If you're having extensive dental work you may need to visit several days in a row.
There is a wide range of accommodation on offer in Bangkok. Budget hostels start from around $15 per night and many 3-star hotels have rooms for $25-$30 per night. With prices so low, you might even decide to splash out on some 5-star luxury while you recover.
Currency and payments
The currency in Thailand is Thai baht. Your hotel and dental clinic might accept payment in US dollars, but exchange rates are likely to be skewed in their favor. Check in advance what currencies and payment methods they accept.
If you intend to pay by credit card, check beforehand what transaction fees you will incur from your card provider and the dentist. You may be surprised at how much these fees add up to – especially if your treatment runs into thousands of dollars. You may not be able to avoid losing out one way or another, but be sure to add currency conversion costs or transaction fees into your overall budget for the trip.
Some dentists in Bangkok offer a discount for paying in cash, so this is also worth considering.
Bangkok dentist reviews
Before you get dental treatment in Bangkok it's important to do plenty of research. This includes checking reviews of Bangkok dentists from other patients who have had work done there.
You can check forums like TripAdvisor to research your dentist, but blogs can be a valuable source of detailed, independent information too. You'll also find more general advice and tips for your planning your trip from people who have written about their experience getting dental work in Bangkok.
For instance, this blog contains a highly detailed account of one man's decision to get teeth implants in Bangkok. He describes how he chose a clinic, what the process involved, and how he felt about it. He had to visit on three separate occasions but he was happy that the clinic seemed to be acting in his best interests rather than getting the treatment done as fast as possible.
You can also check video reviews to find out about other people's Bangkok dentist experiences. A good example is the one below from Brian, who had to have an emergency tooth extraction on the first day of his trip. He only gets to the dentist about 6 minutes into the video but the first half gives an interesting insight into what it's like walking around Bangkok and using the public transit system.
The whole procedure, including a difficult extraction and medication, cost 5,000 baht – about $150 dollars. So although Brian wasn't planning to visit a dentist in Bangkok, he saved quite a bit of money compared to US prices.
Check out our separate article for more reviews from dental patients in Thailand.
We also have a more detailed article about getting dental treatment and dental implants in Thailand. And if you're ready to get started planning your trip, fill in your details below.
Request a free quote for dental treatment abroad
Sign up to receive the latest news and offers from Dentaly.org